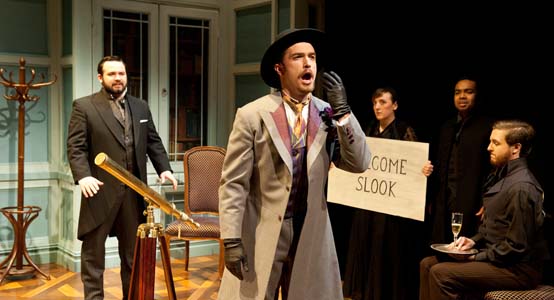 photo by Nan Melville for the Juilliard School

scene from "La Cambiale di Matrimonio

.......................................................................................................................................................................................
Juilliard Opera's early-February offering has been a pair of farcical early Gioachino Rossini one-act comedies, with striking casts, sparkling as guided by Maestro Vlad Iftinca, of the Metropolitan Opera's Lindemann Young Artist Development Program, and Director David Paul. The first night's performance, on February 3, in Juilliard's intimate Rosemary and Meredith Willson Theater, is considered here.
In "La Cambiale di Matrimonio" (The Marriage Contract, 1810) and "La Scala di Seta" (The Silk Ladder, 1812), clueless parent figures, an actual father and a guardian, would have their daughters wed inappropriate suitors of their, rather than their children's preference, regardless of that both offspring have already made other selections, with one, in fact, already secretly married to hers. In the first opera, the suitor actually abandons his claim in order to aid the young couple, and, in the second, he winds up with his 'intended's' more compliant cousin.
In "Cambiale," soprano Ying Fang, as Fanny, and tenor Cullen Gandy, as Edoardo Milfort, sang sweetly of their love in duet "Tornami a dir che m'ami." The company gave John Brancy, as Fanny's American suitor, Slook, an extravagant welcome, and Brancy, waving an American flag with 15 stars, replied with an over-the-top solo. Fang distinguished herself in her bravura solo, "Vorrei spiegarvi il giubilo," its cabaletta an early version of duet "Dunque io son," from "Il Barbiere di Siviglia," inspiring Brancy to start responding with Figaro's lines, until hushed by Gandy. In a buffo tour-de-force, bass-baritone Leo Radosavljevic, as Fanny's father, Tobia Mill, and baritone Brancy prepared to fight a duel, because Slook feigned rejecting Fanny, with Radosavljevic practicing by disemboweling a teddy bear and Brancy, working his character's American-ness, showing up in war paint, ready to fight with a tomahawk. Mezzo-soprano Nathalie Mittelbach and bass-baritone Davone Tines made worthy contributions as knowing servants. Brancy also sang in the New York Festival of Song's "Goyishe Christmas" program.
In "Scala di Seta," soprano Lara Secord-Haid, as Giulia, made her mark with a well-sung, well-ornamented aria, "Il mio ben sospiro e chiamo." In an inspiring account of his bravura rondo of love and jealousy, "Vedrò qual sommo incanto," tenor Kyle Bielfield, as Giulia's spouse, Dorvil, demonstrated that he might, one day, make an apt successor to Juan Diego Flórez and Lawrence Brownlee. Lyric mezzo-soprano Laetitia de Beck-Spitzer, as Giulia's clever cousin, Lucilla, had a notable moment in the spotlight, singing "Sento talor nell'anima," as she set her cap for baritone Takaoki Onishi, as Blansac, the unwanted contender for Giulia's hand, favored by her guardian, Dormont, played by tenor Spencer Lang. Where "Cambiale" had clever servants, "Scala" had a blundering one in baritone JeongCheol Cha's Germano, who dreamt of love and fell asleep in the wrong bed—Giulia's—in "Amore dolcemente." At one point, Georges Feydeau French farce-style, in the ensemble "Dorme ognuno in queste stanze," characters were hidden in a closet, under a table, and behind a screen, as Blansac mounted the eponymous "scala di seta" that Giulia left for Dorvil, and all were discovered by Dormont. Ultimately all plots were unraveled and deceptions revealed and the casts of both operas joined forces for a happy ending in the finale, "Questo amor si fa sentire."
Brent Funderburk and Daniel Fung shared piano and harpsichord duties, under Iftinca's capable baton. Apt designs were by Caite Hevner (sets), Anne Kennedy (costumes), and Ben Pilat (lighting).
Repetitions of "Cambiale di Matrimonio" and "Scala di Seta" are on February 5 at 2 p.m. and 7 and 9 at 8 p.m. Tickets are free and for information on any that may remain, visit www.juilliard.edu, telephone 212/769-7406, or come to the Juilliard Box Office at Lincoln Center at 165 West 65th Street.
Next on tap for Juilliard Opera is its collaboration with the Metropolitan Opera on semi-staged concert performances of Christoph Willibald Gluck's "Armide" on February 8 and 11 at 8 p.m. at Juilliard's Peter Sharp Theater. Tickets at $30 are available from Juilliard's web site and box office or by calling CenterCharge at 212/721-6500. Jane Glover conducts, Fabrizio Melano directs, and the singers are Emalie Savoy (Armide), Alexander Hajek (Hidraot), David Portillo (Renaud), Alexander Lewis (Artémidore), Luthando Qave (Ubalde), Noah Baetge (Le Chevalier Danois), Wallis Giunta (Phénice), Devon Guthrie (Sidonie), Evan Hughes (Aronte),
Renée Tatum (La Haine), Soo Yeon Kim (La Naïade), Raquel González (First Coryphée), Pureum Jo (Second Coryphée), Deanna Breiwick (Une Bergère), Lilla Heinrich-Szász (Lucinde), and Raquel González (Mélisse).