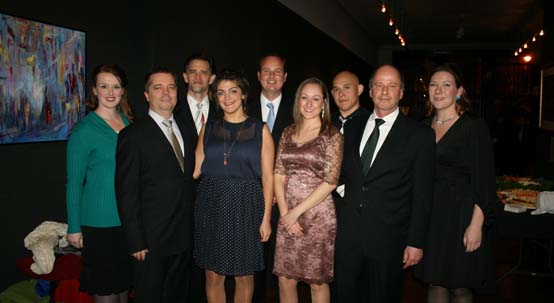 photo by Bruce-Michael Gelbert

Center for Contemporary Opera gala cast (left to right) Jennifer Youngs, Shaun Brown, Stephen Morscheck, Maria Bellanca, Christian Bester, Lara Wasserman, Sergio Cepeda, Richard Croft & Emily Hueske

.......................................................................................................................................................................................
The 29-year-old Center for Contemporary Opera (CCO) showed off some of the kind of work that it, happily, champions in a Gala, on March 15, at the National Arts Club, on Gramercy Park, consisting of one brief complete opera and excerpts from five others by American composers Jake Heggie; William Mayer, who was present; and Anthony Davis. Classical WQXR-FM radio's Elliott Forrest served as MC and Stephen Dubberly, opera music director for the University of North Texas, whence most of the young singers came, was the pianist.
Heggie's short and surprising "Again," which opened the program and was given in its entirety, posits a dark, domestic violence side lurking beneath the situation comedy of "I Love Lucy." Lucy (soprano Lara Wasserman) has a black eye, thanks to Ricky's (tenor Sergio Cepeda) anger management problem: her singing—auditioning?—has incited him to hit her—"again." Lucy is packing to leave, to go home to her mother—"again"—but Ricky tries to bribe her with the promise of getting to sing some songs at the club—she knows they would end with a pie, which she would have to bake, in her face. Ethel (mezzo-soprano Emily Hueske) and Fred (baritone Shaun Brown) arrive, he, to watch the fights, on television, with Ricky, and she, telling Lucy that Ricky should be the one to leave. In a quartet, the cast members share their disparate views about the endless black-and-white reruns. Ricky kids Lucy, singing "Babalu," convincing her not to depart, and promptly slugs her—"again."
In a light-hearted scene, with serious underpinnings, from "Three Decembers," soprano Maria Bellanca and baritone Brown played the adult children, Bea and her gay brother Charlie, of a self-centered, Tony-nominated actress, whose great escape valve is a shoe collection to rival that of Imelda Marcos.
In a gripping confession scene, from "Dead Man Walking," baritone Christian Bester, as the condemned man, Joseph, who has steadfastly maintained that the rape and murder of a high school girl and boy, for which he has been serving time, were committed solely by his brother, and that he was but an innocent bystander, was prompted by mezzo Hueske, who has the range to go from playing Ethel Mertz directly to portraying Sister Helen Préjean, to clear his conscience by reliving the night of the crime with her. He tearfully confessed that he killed the girl after all, to make her stop screaming, he says, and Sister Helen told him, "You did a terrible thing, Joe, but you are still a son of God."
In "The Symphony," a rhapsodic solo from "Moby Dick," Metropolitan Opera tenor Richard Croft, as Captain Ahab, pondered his long life on the ocean—"Forty years on the pitiless sea, forty years making war on the horrors of the deep"—and the sacrifice of humanity that it involved, leaving his wife "a widow with a husband."
In a lyrical scene from Mayer's "A Death in the Family," after James Agee's novel of the same name and Tad Mosel's play "All the Way Home," soprano Jennifer Youngs as Mary, Bellanca as Sally, Hueske as Jesse, Bester as Jay, Brown as Ralph, bass-baritone Stephen Morscheck as John-Henry, and Wasserman, cross dressing, as young Rufus, three generations of the Follet family, waxed particularly mellifluous as they marveled over Ralph's profession as "[a]n understanding undertaker;" took a ride in Ralph's new car to visit centenarian Great Grandmaw, and Aunt Sadie; and in the ensemble "How lonely," aired their private thoughts about the family during the drive. In a moving scene between Youngs, whose character is expecting a baby, and Bester, as her husband, "I've been thinking, Jay. Maybe I should tell Rufus … about the baby and all," they shared a romantic operetta duet, "No gulf, no river, no matter how deep or wide," not knowing, when they said "Goodbye," that this would the last time they would ever see each other, before Jay's death in an auto accident.
Rounding out the Gala was Morscheck's performance, as then former President John Quincy Adams, of the lofty aria "We've Only Had Fifty Years to try our Experiment," that is, to design "a nation built on liberty," from Davis' "Amistad," about the historic early 19th century mutiny aboard a slave ship, after which Adams successfully argued the slaves' case.
From March 27 to April 1, at the Flea Theater, 41 White Street, CCO presents operas-in-progress "The Mark of Cain," by Matthew Harris and Terry Quinn, "The Human Zoo," by Mark N. Grant, "Ada," by Kim Sherman and Margaret Vandenburg, "Big Jim and the Small Time Investors," by Eric Salzman, and "Europera 5," by John Cage, starring Emily Pulley and Todd Willander, with Cage's staged arrangement of Erik Satie's "Socrate," and "Cheap Imitation," Cage's work for piano. CCO gives "A Death in the Family" on September 14 and 15 at the Kaye Playhouse at Hunter College. Visit www.centerforcontemporaryopera.org for further information.