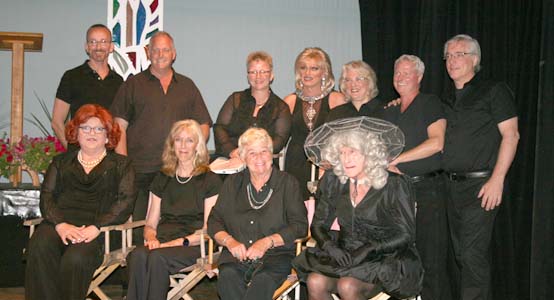 photo by Bruce-Michael Gelbert

cast of "Standing on Ceremony"

.......................................................................................................................................................................................
Same-sex marriage and the issues that surround it—the legal successes and failures, the ramifications and the debates—have been at the forefront of discussions within and with our community for several years now, while gay/lesbian marriage, with any legality at all, was no more than a wild dream not so very long ago. Now that same-sex marriage, though still without Federal recognition, is more or less a reality in six states and the District of Columbia, the debates on its many facets continue and, in "Standing on Ceremony," subtitled "The Gay Marriage Plays," consisting of nine short plays by eight authors and, directed by Matt Baney, presented by the Arts Project of Cherry Grove, at the Grove Community House, on June 30, a number of these were examined from a variety of perspectives. The concept was by Brian Schnipper. To say that we laughed, we cried and, at times, did both simultaneously helps to sum up the fantastic experience that this staged reading proved to be.
Matt, Barbara Dowd, Bob McAleavy, Dennis McConkey—who also contributed the stage design, Gay Nathan, Panzi, Sherri Rase, Shirley Ritenour, Philip Stoehr, and Timothea made up the cast and Alison Brackman, Kathy Morroni, Michael Romanelli, Ronnie DiSimeo, Arthur Cohen, and Martha Pitkin, the tech and backstage crew. As narrator, Homecoming Queen Robin Kradles announced the plays, during this intermission-less performance, as each one began, and helped set the scenes for them.
The evening began with "The Revision," an at once wry and moving comedy, by Jordan Harrison, with Bob and Phil playing a couple who differ on what the vows in their forthcoming nuptials should be. Bob's character has written a very traditional ceremony, but Phil's has other ideas. "Lawfully wedded" was only the first sticking point. "Lawfully civil unioned or domestic partnered" would be more accurate, Phil suggested, and "for richer or poorer" quickly morphed into the whim of "the rising or falling of our fiscal portfolios." Little of Bob's original remained, ultimately, as each phrase was replaced by some more pertinent, or impertinent, alternative.
In Wendy MacLeod's endearing "The Flight Tonight," Shirley and Barbara were on their way to Iowa, where we can wed, from California, where we can't, for their wedding. Shirley's character was nervous about the flight, about her in-laws, and about committing to monogamy legally! Barbara allayed her fears. They could still relish appreciative looks at or from other women—they'll be married, not dead, after all—but they'd be each other's in the eyes of the law.
In Paul Rudnick's "The Gay Agenda," Panzi portrayed a staunch conservative, on the boards of organizations from Family First and Save the Family to Fuck with the Family and You'll Die, who tried, she claimed, to be open-minded about her gay neighbors, but still held that "gay people should not be allowed to get married—it's too dangerous!" A little voice from within, a "gay voice," she said, kept making bitchy comments to her that clouded her clarity about oh so many things, including whether or not her husband, who believes that "Satan created gay people as a crafts project," may actually want to have sex with the guys next door! And speaking of husbands, in Rudnick's "My Husband," Gay and Bob played a Jewish mother and son, and her issue was, now that same-sex marriage has become legal in New York State, "When is Michael going to get married" already? She can barely hold her head up, in her liberal circles, as one mother's son married his husband in an extravagant ceremony, staged by Julie Taymor, while another's daughters married twin African-American lesbian sisters. And who hasn't wanted to see their same-sex wedding announcement in the New York Times Styles section? Will Mama's guilt-trip work?
Doug Wright's "On Facebook," a dramatization of a heated Facebook thread, found Gay, as "the intolerant one," and Panzi, as her low-tech friend, taking on irate gays Phil, as the playwright; couple Dennis and a bitingly sarcastic Matt; and Barbara, providing the lesbian perspective, none of whom will tolerate the intolerance. Matt's character brought up our woeful lack of hospital visitation rights, while Barbara's challenged Gay about her divorce, as obvious proof of her lack of respect, despite her protestations, for the sanctity of marriage.
The atmosphere turned considerably darker with Neil LaBute's "Strange Fruit," with its echoes of the song of the same name, about lynching, written by Abel Meeropol and made famous by Billie Holiday. Phil played a man who was once heterosexually-married—because "I was supposed to"—but whose simple desire, "I like cock," led to his realization that he'd been barking up the wrong tree. He proposed, to partner Matt, "Let's make this real," and they flew to California, sometime during the five months that same-sex marriage was legal there in 2008, before Proposition Eight repealed it; went to a courthouse in their tuxedoes; and did the happy deed. But gay-bashers guaranteed that their happiness was not to last. Another bleak note came with Moisés Kaufman's "London Mosquitoes," in which Dennis, wearing a yarmulke, delivered an eloquent eulogy, sometimes tearfully, for a partner of 46 years, who had rejected marrying, claiming that it reduced their invaluable first 45 to no more than "messing around." Their evolving, living through "the plague"—AIDS—in which they lost literally all of their friends, and their activism were matters he considered, before he recited the Kaddish, the prayer for the dead, for his love.
On the lighter side, in Mo Gaffney's tickling and touching "A Traditional Wedding," Sherri and Shirley sparred over the traditional trappings that their wedding could involve. The white dress, the flowers and flower girl, the wedding planner, and the expense in general were all at issue—Shirley's character wanted them, and Sherri's wanted to reject them—guess who won? They discussed parents as well—Sherri's wouldn't be there because, she said bitterly, "They were going to Boca." Finally, in José Rivera's "Pablo & Andrew at the Altar of Words," Matt and Bob were a couple who wrote their own vows, including swearing to criticize constructively and not to coast unthinkingly through their lives. Aired as well were their thoughts about hopes, pain, and death. In conclusion, Timothea contributed a single line, and the cast threw white roses to the audience. Its members were rewarded with well-deserved rousing ovation for its efforts on this last day of LGBT Pride Month.