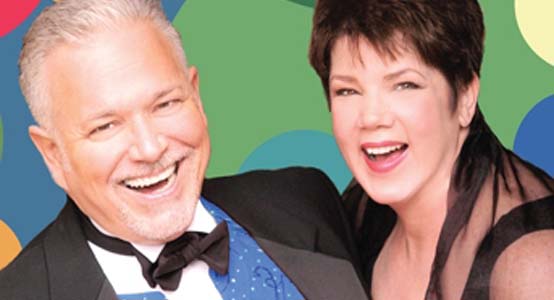 photo by Heather Sullivan


Edd Clark & Sue Matsuki

.......................................................................................................................................................................................
On August 14, you could feel the love in the room as Don't Tell Mama's show room was wall to wall with fans of Steve Lawrence and Eydie Gormé. Edd Clark and Sue Matsuki's tribute show, "It's Us Again," is a loving look at Steve and Eydie as a duo and as solo artists, as well as a peripatetic selection of more than 50 years of tasty tunes.
Steve Lawrence was a regular on the Steve Allen show and when Allen decided to hire a "girl singer," Eydie won the spot. Soon she also won the heart of her duet partner, and they were married in 1957—in Las Vegas, of course! Sue and Edd kicked things off with "This Could Be The Start of Something Big," Steve Allen's theme song, and clearly Steve and Eydie's. I think Sue and Edd may be prophetic. The "orchestra" for this evening was a bit different from what Steve Allen had in the studio, but John DiPinto on piano and accordion, as well as serving as music director, really knows how to swing. Marco Panascia, on bass, has gravitas and can grab your heart to melt it when he bows those strings like a giant bari-cello and Perry Cavari, on drums, gave rhythm, texture and our hearts beat in time. The three work in concert, pun-intended, to make the duo truly a quintet.
The programming begins with early '40s tunes like Edd's solo on "I Hear a Rhapsody" and Sue's Latin-flavored "The Gentleman is a Dope," from "Allegro". Their vocal blend in "I've Got a Gal in Kalamazoo" and "Bei Mir Bist du Shon" makes you wonder how warm, sassy appreciation between men and women ever went out of style. Perhaps, though, when people see the magic, Sue and Edd will have started a movement. You'll tap your feet and your fingers and sing along under your breath, wondering in some cases "when did I learn the words to THIS song?"
There's a "trading fours" type of duo Sue and Edd have created, giving us historical background on each of the songs that they sing, in an arc that begins with the delicious harmonies of "Sentimental Journey" and take us from "Blame it on the Bassa Nova" and "Go Away Little Girl," which Steve originated in 1962, to "But Beautiful," which was Steve's song. Sue sings it in tribute to her friend and mentor Julie Wilson, who was in the audience for the August 14 show. It's Ms. Wilson's signature song. Sue's rendition of "Gypsy in My Soul" also included her wailing on the faux horns—impressive—and when Edd duets with himself on "Ain't No Sunshine" and "You Are My Sunshine," the full brilliance of the show will remain with you for days to come.
The highlights of the evening for me included Sue's rendition of "If He Walked Into My Life" from "Mame," where I had to find a hankie, and Edd's "I Gotta Be Me," from "Golden Rainbow," a movie that starred both Steve and Eydie. The audience is part of the action and at an intimate club like Don't Tell Mama, every seat in the house is front-row.
A grand evening of live music, catching fire from a brilliant performance that puts past and present singers together, is what "It's Us Again!" is all about. Reserve now for the August 21 show as that room fills up quickly! Reserve online at DontTellMamaNYC.com and tell them QonStage sent you!