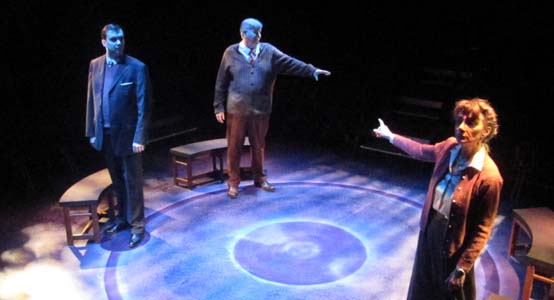 photo by Amanda Faison

Ian Gould, Paul Murphy & Linda Setzer in "Copenhagen."

.......................................................................................................................................................................................
Michael Frayn's "Copenhagen" is the thrilling production that is closing the Luna Stage season and it is a must-see. Frayn's expert writing and lightning quick repartee is reminiscent of the work of his that most of us know, "Noises Off." While this drama would resist the commonly known definition of "farce," the old English meaning of farce is "to enliven, with humor" and this is the sense of this production. The Faustian aspect is much more veiled, convoluted and troubling. The "physics of ethics" is the new frontier according to one of the characters, and this is what is being explored.
The premise of Frayn's brilliant imaging, and imagining, is the real-life meeting. in 1941, between Niels Bohr, the celebrated Danish physicist, and his former assistant, now eminent in his own right, German physicist Werner Heisenberg. These two men did stunning work together in the early part of the 20th century, building upon one another's work to yield quantum physics, the uncertainty principle—for which high school chemistry students will alternately curse and revere Heisenberg's name—and complementarity, among others, this last being the idea that you could analyze items separately as possessing seemingly contradictory properties. You won't need to remember this: Frayn and our two sparring physicists agree that their rules of engagement in their discussion will utilize common speech, as they are explaining themselves and their actions to Bohr's wife, Margarethe. She was Bohr's amanuensis, continually typing and retyping her husband's drafts and final papers. Consequently, while not a physicist herself, she had a quite excellent understanding of her husband's work.
The exploration of relationships, within both the Bohr family and the extended family that came to include Heisenberg, originally gained its strength from the father-son relationship of the two men. The result of their collaboration was greater than the sum of its parts and yet neither could have made his later leaps in learning without the direction the brilliance his colleague lent to earlier work. Fathers and sons, however, often grow in different directions—neither apart nor together—but also no longer connected.
The cast is stellar in this production and, under the direction of James Glossman, they are burnished to greater brilliance. Ian Gould is an earnest Heisenberg, who is bursting to reveal information to his mentor, the paterfamilias of theoretical physics. Paul Murphy's Bohr is fatherly and firm, guiding and refining Heisenberg, alternately with gruffness and with love. It is Linda Setzer's Margarethe, however, who is the emotional border collie who binds them together and provides a Danish Chorus, versus the traditional Greek one, to enlighten us and remind us of what is really afoot in many of the scenes. It is Margarethe who also questions some of the motivations and articulates the thoughts streaming through many of our minds. Each actor has energy of his or her own that is very distinct from the others, yet this portrait that is out of space and out of time–existing and not just like Schrodinger's cat–demonstrates that matter and energy are constant, and constantly exchanging shapes.
The characters roam the Carrie Mossman set, which is the nucleus of an atom with hazy shells around it, embellished with equations on four sides. Four benches describe partial arcs and provide the dramatic and physics-oriented anchor and entry points, and the entire theatre provides performance space for our three seers. Glossman's vision has one, two, three electrons roaming, sometimes one acting as nucleus, as they demonstrate the physics concepts that they describe, which work in the theoretical physical world, the actual physical world, and the psychological world. These electrons often move in contrary motion to one another. Or does the motion only seem contrary? Is it sympathetic, but seemingly demonstrating a version of complementarity on its own? Difficult to determine, but any way you split it, this show takes a poke at atom's rib and gets a quantum leap in return. There is humor, often rueful, but there are unbidden burbles of laughter that come from different audience members, as they are struck by the turns of phrase and meaning and the recollection of high school and college classes we had thought long forgotten. This farce is not broad, but laser surgical and at times the laughter is bitter indeed.
Act Two is when the Faustian aspects kick in. It's not so much about Margarethe and "good girl gone bad," as in Goethe's Faust, but rather whether it is Bohr or Heisenberg who has made the deal with the Devil. The swirling morass of the ethics of the work–should we do something because it is possible?–keeps each man questioning his own motives as well as the other's. While history has come down on the rectitude of the Allies, it remains that the cost was upward of a quarter million Japanese lives when the United States bombed Hiroshima and Nagasaki. The suffering that rained down on those who were not immediately killed, on the day the bombs were detonated, was beyond reckoning. While Heisenberg failed to give Nazi Germany the competitive edge in the war, it was Bohr whose work on the Manhattan Project added the adjective "nuclear" to winter, and the world has been struggling to overcome the vertigo ever since.
Visit Luna Stage, a jewel in the band of the Hat City, West Orange, New Jersey. There are a number of restaurants close by, and on the evening I attended, actor James Rebhorn–fresh from a brilliant performance in George Street Playhouse' production of "Twelve Angry Men"—was there to enjoy the show, so you never know whether you'll be sharing space with a famous actor, a producer, director, thinker, friend, or all the above. The house is very intimate and the quality of production is so strong that, whatever you see, you'll leave either humming the song you've just heard, or with your brain humming with a hive of activity on its own. Get your tickets now for "Copenhagen" by visiting Luna Stage at www.lunastage.org and explore the world.