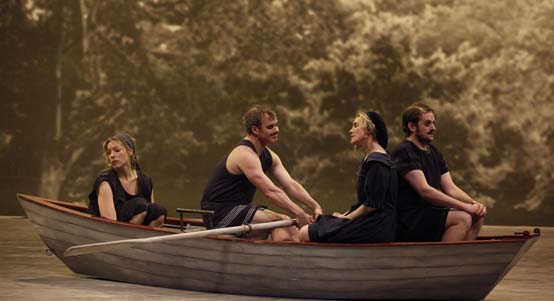 photo by Carol Rosegg

Jennifer Holloway, Philip Cutlip, Sara Jakubiak & Allan Clayton

.......................................................................................................................................................................................
New York City Opera's (NYCO) latest rendering of Wolfgang Amadeus Mozart and Lorenzo da Ponte's "Così Fan Tutte" is certainly tapped into the zeitgeist of the modern day. This is not your parents' "Così!" Written and set in the late 18th century, this one plays in the 21st century in a style reminiscent of Georges Seurat meets Jack Vettriano–you have that late 19th century vibe realizing director Christopher Alden's dark vision of virgins gone awry. After all, "women are like that."
This season, NYCO is producing its operas in different venues in Brooklyn and Manhattan and I feel that's giving the City a great benefit. There are people, who may not have attended a NYCO production before, who feel more comfortable sampling something right in their back yard. This production has been given at the Gerald W. Lynch Theatre on the campus of John Jay College of Criminal Justice. While not far from their former Lincoln Center locale, it is a world away in exposure to potential new audiences.
This production, which opened on March 18 for a run ending on March 24, is set in a park with a surreally long park bench, used to great effect on the otherwise unfurnished stage. Further the audience can see the machinery and wiring in the wings and the impending entrance of the chorus and supernumeraries, while the backdrop, in a reflexive and reflective mode, echoes itself vertically above and below, even lapping over into the razor thin crescent of the orchestra pit, which conductor Christian Curnyn could practically span with his outstretched arms. The percussion was nearly out of site to audience left, and the bass player was cheek by jowl with the Exit sign on audience right and that makes for a very intimate experience with the music.
We knew we were in for something different when Don Alfonso (baritone Rod Gilfry) loomed onstage and took a seat at one end of the bench, set in imperfect diagonal on the stage. Forget eminence grise, he is eminence noire. He stalks the stage, perhaps capitalizing on both the current fascination of John Q. Public with the supernatural–vampires and such–as well as embodying a certain cynicism about love that many people in the City share. Is Don Alfonso correct when he says there is no such thing as fidelity? Events would seem to bear him out, but sans the catalyzing effects of his work and Despina's, might not our lovers have fared as they sought? But that's a different story entirely.
Don Alfonso advises his young friends Ferrando (tenor Allan Clayton) and Guglielmo (baritone Philip Cutlip) to be wary of the fidelity of their lovers as all women are fickle. Our young men defend their ladies and then Alfonso proposes his wager. Perhaps to indicate how callow they are in matters of love, our heroes both are dressed in pants that are a bit too short for fashion, even for the late 19th century. They spill around Alfonso almost like puppies in their protestations of the faithfulness of their women, yet agree to go along in a deception that is destined to reveal their mettle as much as the women's.
The sisters, who are Guglielmo and Ferrando's lovers, soprano Sara Jakubiak as Fiordiligi and mezzo-soprano Jennifer Holloway as Dorabella, make quite a picture, as pools of light separate their "world" from that of Don Alfonso. Dorabella looks like she shares a tailor with Eliza Doolittle, as she pages through a most engrossing book … perhaps a volume of Christina Rossetti poetry? Fiordiligi is in paroxysms of spring, dreaming of her Guglielmo. Well paired initially and then well sung while undone, we know what cloud awaits the sunshine of their love.
Mezzo Marie Lenormand's Despina seems to share roots with thorny "destiny," as she steers the young women toward their undoing as Alfonso steers their men. She is a gamine-bobbed Siren, who advises them to take multiple lovers while their men are otherwise occupied, as they are human also and bound to have hungers of their own. While they first resist, the sisters conspire together to succumb to the temptations of new beaus, really their old beaus in different clothes.
The singing was nonpareil and it almost felt like cheating to sit so close to such world class talent. Mozart's trios, quartets and quintets are favorites for the richness of the harmonies and each of these voices worked so well in the groupings that, while each stood out, this cast was as strong in ensemble as in solo work. The ornamentation each added enriched the work, and it seemed effortless. We all know how much actual effort "effortless" sounds require.
Gilfry was deadpan during most of his work, his rich baritone lurking in the depths as his shark's tail roiled the miasma that clouded the clearer-minded lovers. Occasionally he betrays a bit of Snidely Whiplash and, when hatching plans with Despina, he almost seemed like he should be wringing his hands in anticipatory glee. His appearance at the beginning of Act II as Ursa Major was evident to me by his ankles–his pants had distinctly vented hems, and as he lumbered bear-foot—pardon the pun—in this new bit of staging, it is not until he first sings that one is certain that this is Adonis in Fur.
Despina was pure delight, as Lenormand added many dashing touches, not a few of which were moustaches drawn on with a handy eyebrow pencil. A number of items seem to come out of her well-worn canvas Gladstone bag, and when did she don the suit, when she impersonated a doctor, in Act I? You'll need to be quicker than I to determine … no stranger to pants-roles, Lenormand was a truly Cunning Fox in last year's New York Philharmonic production of Janácek's "Cunning Little Vixen," and the self-absorbed antics of Fiordiligi and Dorabella provided a canvas on which she truly shone.
This production included strip tease, implied nudity, implied sex, alcohol abuse, and all of the things that made life back then and life right now worth living. That said, I'd recommend this as an excursion for adults only. Each production of "Così" that you'll see is a little bit different–trust me, this one is well worth seeing. While at times very overtly sexual, what I've carried with me is the lingering aftertaste of cynicism that differs with my own view on love. It is a dark portrait Alden paints, very much like a 17th century cum 19th century version of "The Bachelor." While that darkness lingered, it was, however, overpowered by the talent on the stage, in the pit, and behind the oh-so-cozy "Così" that NYCO has produced.
Next on the company's agenda is its premiere production of Georg Philipp Telemann's "Orpheus," playing at El Museo del Barrio, at 1230 Fifth Avenue, from May 20 to 20. Visit NYCOpera.com or call its Ticket Services 212/870-5600 for more information.