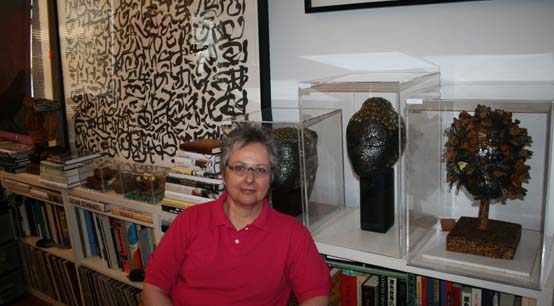 photo by Bruce-Michael Gelbert

artist Catherine Eckdahl

.......................................................................................................................................................................................
April 15 was the date for the highly anticipated Open Studio at the home of the artist presently known as Cathy Eckdahl and her partner Susan Freedner. Brooklyn rolled out the flower'd carpet for Cathy and Susan's visitors in a stunning array of bearded iris, freesia, lilies that held back for Orthodox Easter, and a variety of fragrant seasonal flowers who were not visible but were very much in evidence.
Early arrivals were rewarded with abundant parking and the first look at many new works. Some of the works on paper and the sculptures were Manhattan-studio-size in scale, while other pieces were beautifully large works–one had a gray ground and cursive writing, part of whose charm was, I found, that I could almost–but not quite–read it. Another large painting was in shades of blue ranging from graphic-novel-neon through cobalt to indigo and back again. There were Eckdahls wall to wall and in large leaf'd portfolios. Had there been more space available, it would still have been filled. In addition to the works on paper, several of the new sculptures in the Guardian series were featured.
As Cathy is prolific in a number of media, there was literally something for everyone. Wei-An Huang is a sometime collaborator, who made an appearance with her husband Dr. Vincent Lin. The mix of artists, Fire Island habitués, and friends from all over New York City echoed last Summer's Parallel Journeys show, when Eckdahl and Huang's work shared space at the Tenri gallery. At the Tenri show last June, the separate works of the two artists were featured, as were their collaborations.
Collectors present included yours truly, Thom Hansen, Matt Baney, Diane DiPrima, Kathy Morroni and Phil Stoehr, as well as Bruce-Michael Gelbert, Joe Saporito, and many more friends and arts aficionados. All were enjoying the art, the ambience and the specialités de la maison–gourmet chopped liver, cream cheese spreads, and bagels, as well as desserts by Philomena. Spring cooperated generously and the day retained its luster till well into early evening. The key to this particular event is to make sure you speak to the artist early to assure your selection becomes your latest treasure, before somebody else takes it home.