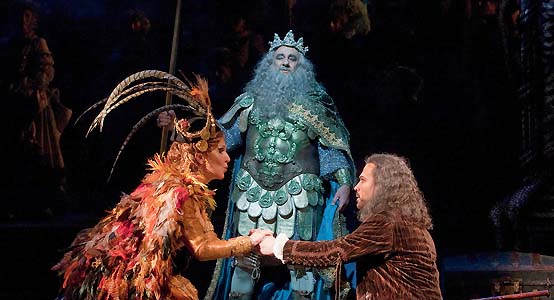 photo by Ken Howard/Metropolitan Opera
A scene from "The Enchanted Island" with Joyce Di Donato as Sycorax, Plácido Domingo as Neptune,and David Daniels as Prospero

.......................................................................................................................................................................................
To usher in the New Year, the Metropolitan Opera commissioned a new pastiche, "The Enchanted Island," drawing on music by George Frideric Handel, Antonio Vivaldi, Jean-Philippe Rameau, Henry Purcell, and other Baroque composers, to continue the adventures of characters familiar from William Shakespeare's "The Tempest" and "A Midsummer Night's Dream." "The Enchanted Island" was devised and written, in English, by Jeremy Sams, who also composed some of the recitatives, and was advised, in his choice and arrangement of the music, by Ellen Rosand, as well as by the singers. Both Sams and Rosand are new to the Met. Baroque specialist William Christie conducts with authority and Phelim McDermott directed the outstanding cast of favorite established stars and promising up-and-coming singers. The lavish and imaginative production was designed by Julian Crouch (sets, and also associate director), Kevin Pollard (costumes), Brian MacDevitt (lighting), and 59 Productions (animation and projections), and its "Masque of the Wealth of all the World" was choreographed by Graciela Daniele. "The Enchanted Island" opened on New Year's Eve and the second of 10 performances, on January 4, is the one reviewed here.
Sams and Rosand, giving us an embarrassment of Baroque riches, chose the music well, to showcase the singers and tell persuasively a tale of the powerful in decline, learning to ask and grant forgiveness, and love, in all its complications, on a remote and magical isle, perhaps Bermuda, as late writer Paul Monette suggested in one of his novels.
Beloved bel canto and Baroque singers Joyce DiDonato and David Daniels star as, respectively, Sycorax, the witch, mentioned in "The Tempest," and Prospero, the exiled Duke of Milan. DiDonato makes her entrance, looking most undiva-like, disheveled and in rags, singing a bravura aria about her hope that her power will be restored, "Maybe soon, maybe now," to music from Handel's "Teseo," and proves unafraid to permit herself some gnarled, ugly sounds, wholly appropriate to her character. She grows more glamorous and assured-looking as the evening proceeds, vowing vengeance in "My strength is coming back to me," to music from Vivaldi's "Argippo;" consoling her monstrous son Caliban (Luca Pisaroni), after his first rejection by a potential love, with feeling with "Hearts that love can all be broken," to music from Giovanni Battista Ferrandini's cantata "Il pianto di Maria;" and finally forgiving Prospero, who had wronged her. Daniels shines in arias florid and lyrical, "Ah, if you would earn your freedom," following Christie's spirited pacing of the overture—to Handel's "Alcina"—and sung to the spirit Ariel (Danielle de Niese), to music from Vivaldi's cantata "Cessate, omai cessate;" "Chaos, confusion," considering what he has wrought, to wring down the first act curtain, and taken from Handel's "Amadigi di Gaula;" and finally, humbly, "Lady, this island is yours … Forgive me, please forgive me," sung to Sycorax, to music from Handel's "Partenope."
If the pastiche boasts a deus ex machina, it is Neptune, sung by commanding veteran Plácido Domingo, who, in a tour de force, in quick succession, rages "Who dares to call me?"; asks forgiveness of Ariel for his outburst; laments mankind's pollution of the oceans—BP and Exxon, nota bene; and remembers his omnipotence in "I'd forgotten that I was Lord," to music from Handel's "Tamerlano" and Rameau's "Hippolyte et Aricie." Cosmic visions, out of a Hayden Planetarium show or Walt Disney's "Fantasia," introduce the King of the Sea, and mermaids and other sea creatures attend him. Domingo's Neptune also ultimately brings about the reconciliation between Prospero and Sycorax with his dignified "We gods who watch the ways of man," to music from Handel's "L'allegro, il Penseroso, ed il Moderato."
De Niese, Pan-like as Ariel, enters wearing brown fur and wings; makes as much mischief as Puck by matching up the "Midsummer Night's Dream" Athenians with wrong partners, which must then be undone in a sextet, "Follow hither, thither, follow me," to music from Handel's oratorio "Il trionfo del Tempo e del Disinganno;" and finally, restored to glory, is backed by projections of fireworks, as she dispatches vocal fioriture in "Can you feel the heavens are reeling," based on "Agitata da due venti," from Vivaldi's "Griselda." Pisaroni, as Caliban, has his share of furious florid music, but also, a surprisingly tender "If the air should hum with noises," reassuring Helena (Layla Claire), who's been identifying the island's flora, that she should be unafraid of its fauna, to music from Handel's "Deidamia." Ignored by Miranda (Lisette Oropesa), Prospero's daughter, and rejected by Helena, once Sycorax's spell wears off, he is temporarily placated by grotesques of his own ilk, dancing the Masque, which is introduced by a striking quartet made up of Ashley Emerson, Monica Yunus, Philippe Castagner, and Tyler Simpson, singing "Wealth and love can be thine," after "Tendre amour," from Rameau's "Les Indes galantes," until even his own kind turn against him, and Prospero must call a halt.
The Athenians, looking like a quartet out of Mozart's "Così Fan Tutte," enter on a ship, riding waves made to roll, we are shown, by Baroque theater machinery, and happily anticipating "Days of pleasure, nights of love," which originated as the aria "Endless pleasure, endless love," from Handel's "Semele," until, thanks to the mistaken machinations of Ariel, they are shipwrecked. Each of the fine young singers has a solo moment. Paul Appleby, as Demetrius, waxes lyrical in "Oh, Helena, my Helen … You would have loved this island," to music from Handel's oratorio "La Resurrezione," his apostrophe interrupted once he catches sight of Miranda. "Why am I living?" Clare, as Helena, laments, to music from Handel's "Teseo," until Sycorax bewitches her. Emerging from the turbulent sea, newcomer Elliot Madore's Lysander vehemently cries out "Curse you, Neptune," to music from Vivaldi's "Griselda." And Elizabeth DeShong, as Hermia, opens the second act in style with her coloratura "Where are you now?" after "Where shall I fly?" from Handel's "Hercules." Each celebrates, with a wrong new partner, with "Wonderful, wonderful," taken from Handel's "Ariodante," until they reconcile in a dulcet "Darling, it's you at last," to music from Vivaldi's "La verità in cimento."
Oropesa's Miranda is wooed, variously, by Caliban, Demetrius, and Lysander, before uniting with her true intended, Anthony Roth Costanzo, as Prince Ferdinand of Naples, who makes a flashy entrance aboard another ship, and stops the show with his florid "Gliding onwards," to music from Handel's "Amadigi di Gaula." He sings a sweet love duet with her, "I have dreamed you," taken from Handel's cantata "Tanti strali al sen mi scocchi," and brings Prospero a pardon from the King of Naples. Prospero reassures the audience, in a spoken address, that what we've experienced is pure fantasy, and the full company celebrates that "Now a bright new day is dawning," to the "Hallelujah" from Handel's oratorio "Judas Maccabaeus."
If I've one discouraging word to say about "Enchanted Island," it's that, while this commissioned pastiche has rightly been treated to a fantastic and beautiful production, standard repertory must languish in drab, depressing or annoying new trappings that are supposed to be an improvement over the beloved picturesque ones that they replace.
Further performances of "The Enchanted Island" take place on January 7 at 8 p.m., 12 at 7:30 p.m., 14 and 17 at 8 p.m.; 21 at 1 p.m., which is transmitted worldwide as part of The Met: Live in HD series and broadcast over the Toll Brothers-Metropolitan Opera International Radio Network; and 25 at 7:30 p.m., 28 at 8 p.m., and 30 at 7:30 p.m. For tickets, priced from $25 to $345, visit www.metopera.org, telephone 212/362-6000, or come to the Met box office in Lincoln Center on Monday through Saturday, from 10 a.m. to 8 p.m., or Sunday, from noon to 6 p.m. Discounted rush tickets are available, on the day of performance, as well.