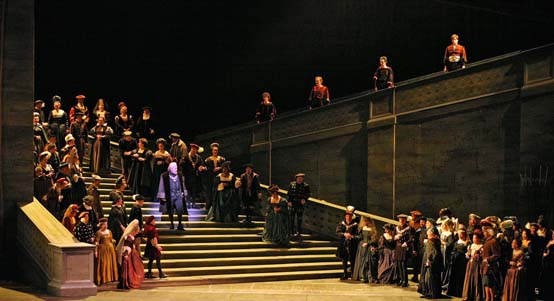 photo by Marty Sohl/Metropolitan Opera

Act 2 of Verdi's "Ernani"

.......................................................................................................................................................................................
An occasional visitor to the Metropolitan Opera repertory, which has racked up fewer than 90 performances since its company premiere on January 28, 1903, Giuseppe Verdi's fifth opera, "Ernani" (1844) took its place on the Met stage again on February 2, after just three seasons' absence. A successful "Ernani" needs four dramatic bel canto singers, in its principal roles, paced by a commanding maestro, to make its mark and, on the first night, this month, it sometimes seemed to have them. Half of the leads were new to their assignments here.
Roberto De Biasio, as the nobleman-turned-bandit, the honorable-to-a-fatal-fault Ernani, displayed, in entrance aria "Come rugiada al cespite … O tu che l'alma adora" (Like dew to the blossom … O you whom my soul adores), a promising tenor, drawing considerably on head tone and showing the influence of the vocally elegant Carlo Bergonzi, who recorded the role opposite Leontyne Price and opened the Met's 1970-71 season, on September 14 '70, singing it with Martina Arroyo—not at all a bad role model. De Biasio eschewed the second act aria, "Odi il voto … Sprezzo la vita" (Hear the prayer … I despise life), added after the opera's premiere and included here by Luciano Pavarotti and Marcello Giordani.
Angela Meade, who made her Met debut in 2008, replacing an indisposed Sondra Radvanofsky as Elvira, beloved of three suitors, returned to the role this season. She contributed some lovely floated piano tone in the cadenza near the end of "Ernani! Ernani, involami" (Ernani, carry me away), her entrance cavatina. Recent winner of the seventh annual $50,000 Beverly Sills Artist Award, for young Met singers, Meade indeed displayed considerable bel canto ability here and in "Tutto sprezzo che d'Ernani" (I despise all but Ernani), as befits a Sills Award winner, but taking a breath mid-word—"Tra[breath]mutar" (transform)—which Meade did in both verses of this cabaletta, is unacceptable practice.
Ferruccio Furlanetto, recreating the role of Don Ruy Gómez de Silva, Elvira's uncle and one of the contenders for her hand, made "Infelice! E tuo credevi … Infin che un brando vindice" (Unhappy one, you believed to be yours … As long as a vindictive sword), one of the highlights of the first act, marred only slightly by a high-ish note in the cabaletta, which caught in his throat. De Biasio, Meade, and Furlanetto brought the opera to a rousing conclusion, with the blood-and-thunder final trio, in which the tenor sweetly professed his love for Elvira once more, before both breathed their last.
New to the role of Don Carlo, King of Spain and, later, Holy Roman Emperor, Dmitri Hvorostovsky dulcetly and seductively tendered his proposal, or proposition, to Elvira in their first act duet, "Cedi, Elvira, a' voti miei" (Give in, Elvira, to my wishes), and in his second act solo, "Vieni meco, sol di rose" (Come with me and only with roses); forcefully confronted rivals Ernani and Silva; and, before the tomb of Charlemagne, meditated, in smooth legato tone, on his own dream of power in "Oh, de' verd'anni miei" (Oh, of my youthful years).
Mary Ann McCormick, Jeremy Galyon, and Adam Laurence Herskowitz completed the cast.
Marco Armiliato, leading his first "Ernani" here, kept most ensembles, choruses, and other highlights moving along crisply, but sometimes let the opera drag disastrously.
Repetitions of "Ernani" are on February 6, 10 and 14 at 7:30 p.m., 18 at 8 p.m., and 25 at 1 p.m. Marcello Giordani replaces De Biasio in the last three performances. The matinee will be transmitted live to movie theaters and other venues worldwide as part of The Met: Live in HD series and broadcast live over the Toll Brothers-Metropolitan Opera International Radio Network. For tickets, priced from $25 to $345, visit www.metopera.org, telephone 212/362-6000, or visit the Met box office in Lincoln Center on Monday through Saturday, from 10 a.m. to 8 p.m., or Sunday, from noon to 6 p.m. Discounted rush tickets are available, on the day of performance, as well.