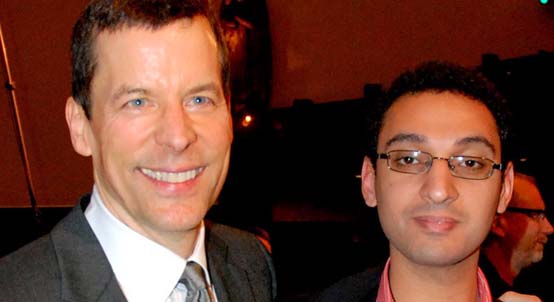 photo by Sherri Rase

Conductor Scott Dunn and Composer Mohammed Fairouz
.......................................................................................................................................................................................
Mohammed Fairouz' introduced the April 2 performance of his opera, "Sumeida's Song," at Zankel Hall at Carnegie Hall, by letting the audience in on a bit of the story. Tawfiq El-Hakim never had a problem finding his voice as a playwright. He was born in 1898, his first plays began to appear when he was in his early 30s and, when performed, they were sometimes popular, sometimes not. His voice was strong, his reach was long, but venue often proved to be such a problem that, in the mid-1940s, he was given an opportunity to publish plays in an article format in newspapers. Among the works featured is "Ughneyyet el-Mawt" (Death Song), a work uniquely fitted for another young genius to set to music to bridge the gap between old worlds and new ones. Fairouz first began work on the opera some two years prior to what we would come to know as the Arab Spring and, while it depicts sentiments that are all too-familiar, the tale is set in the early 1900s. It could as easily be happening today, or could have happened 2000 years ago in a dusty scroll–sadly it is times that change, not the people who live them.
Zankel Hall is an excellent venue for this one-act opera and the chamber setting and acoustics were well suited to everyone in the audience feeling close to the proceedings. The Mimesis Ensemble Orchestra, under the direction of Scott Dunn, played a very challenging program that sends chromatic glissando into a new realm entirely—more about that later. This brilliant young group, founded by Executive and Artistic Director and concert pianist Katie Reimer in 2008, has already garnered critical acclaim. Their emphasis on the modern contemporary classical milieu puts them in harmony with the composers whose works they perform. The composers and Mimesis are hand in hand, working closely to make certain there is a true realization of the composer's vision.
The cast members, for the most part, were veterans of the work, having performed the World Premiere almost a year ago. Jo Ellen Miller, soprano, and Rachel Calloway, mezzo-soprano were respectively Mabrouka and Asakir, two women whose lives in their village were nearly unchanged, living as their ancestors had over decades and decades of memory. Their minds are as one in seeking Asakir's son, Alwan, to revenge his father, dead now for nearly 20 years. Calloway's voice and vocal and facial expression rode the scales from near-chest voice up into head voice and back, with the real drama of the confrontation between Asakir and her son Alwan being the fullest fruition of blood, guts and bitter disappointment on both sides. Miller's brighter tones had strident darkness of her own. Her melodies often included some of the modality of music one would expect from Upper Egypt, swooping and turning as she sometimes conflicted, sometimes harmonized with Asakir's thoughts and deeds. Robert Mack returned as Sumeida, whose youthful swagger contrasted with the young man who is still trying to respect his elders, even as he sets out to be his own man. His fire is easily fanned, and his rashness in violent haste will surely be repented in leisure. Baritone Mischa Bouvier provided much gravitas to Alwan, whose thoughts and plans spanned a world larger than the handful of hectares his mother, cousin and aunt considered to be their purview. Sheik Alwan seeks to bring his village into the current century, but his Luddite family will not permit his hopeful plans to root and flower.
Alwan's scene with Asakir, as they realize they are at cross-purposes is wrenching. A young man losing his mother's love, and a mother losing the hope that she had fostered for almost two decades, is filled with blood and sadness and the deepest disappointment. They argue over how Asakir could be certain that it was one of the Tahawi family who killed Alwan's father and her response is "God knows best" with great finality. His response to her call is a heraldic fanfare reinforcing "I won't kill." The dissonance, as the orchestra limns their thoughts, slides through notes that rub one another, razor sharp in their sense of the wrongness of the moment, the action, and the dissolution of the relationship of mother and son, as Asakir disowns her last family member for rejecting hatred to embrace peace. Mother and son stand devastated by each other's intransigence and the ensuing miasma of orchestral despair winds down like the entropy of the universe, thrumming, beating, deflating until the final chord continues to ring in the ear long after it is played. Their surname is "Azizi," rendered as "powerful", "strong" or "respected," and Asakir and Alwan have divergently different ideas of what that means.
Make no mistake–as difficult as the topic is, as tough as the story may be to watch, this music is equally so for vocalist, orchestra and conductor. Challenging work is very rewarding when performed as well as "Sumeida's Song" was at Zankel. Each person had his or her own conflicts to consider, and how each would make the change they would like to see in the world.
Visit Fairouz's website, www.MohammedFairouz.com, for more information about where to see and hear his works. While you're there, click to the link to purchase your copy of "Critical Models," a sampling of his work that features Katie Reimer on piano. CDs of favorite works make great low-calorie additions to Spring baskets.