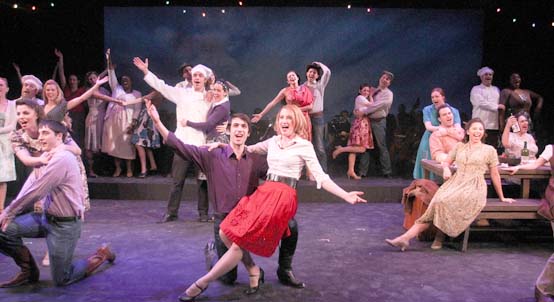 photo by Matthew Peyton
scene from "Most Happy Fella"
.......................................................................................................................................................................................
"The Most Happy Fella" (1956), Frank Loesser's feel-good musical after Sidney Howard's play "They Knew What They Wanted," replete with catchy tunes, colorful production numbers, and classical-style solos, duets, and choruses, returned joyously to New York, for a long-weekend run in March, thanks to Dicapo Opera Theatre. "Most Happy Fella" delighted us and moved us once more, as the pre-Depression romance-cum-melodrama about people who not only "knew what they wanted," but also made the best of what they had, which was, ultimately, quite a bit. Under the baton of conductor Pacien Mazzagatti, who, with his players, was placed behind the singers and John Farrell's simple but sufficient set, and with the knowing guidance of stage director Michael Capasso—who also played the speaking role of the restaurant cashier, a sort of San Francisco Don Giovanni—a strong cast made Loesser's beloved work come alive anew.
In lively title song, "(I'm) The Most Happy Fella (in the whole Napa Valley)," baritone Michael Corvino, as Tony, the older man about to take a young wife, resonantly rejoiced about the imminent arrival of his bride, whom he calls Rosabella and, in Puccinian arias, expansively invoked the spirit of his departed "Mamma, Mamma (up in Heaven)." Corvino and soprano Molly Mustonen, as Rosabella/Amy, offered heartfelt renditions of love ballads "Somebody, Somewhere," "Rosabella," "Warm All Over," and an especially impassioned duet, "My Heart Is So Full of You." Corvino and Mustonen's touching "(lunedì, martedì) How Beautiful the Days" and the chorus' delicate "Song of a Summer Night," haunting numbers both, merit particular mention as well.
Lauren Hoffmeier made an Eve Arden-like, wisecracking Cleo, the heroine's sidekick, kicking off the evening with her wry waitress' lament, "Ooh! My Feet," and with Brance Cornelius, as the good-natured-to-a-fault Herman, and the ensemble, stopped the show with their love-at-first-Texas-drawl, song-and-dance production number, "(You're from) Big D." Cornelius also joined Brian Ribeiro, Nicholas Connolly, and Jonathan Harris, as Jake, Clem, and Al, in harmonizing mellifluously in "Standing on the Corner (watching all the girls go by)," as they indulged in a favorite pastime.
Baritone Peter Kendall Clark, a dashing Joe, foreman of Tony's vineyard, contributed bel canto accounts of "Joey, Joey, Joey," his response to the siren song of wanderlust, and "Don't Cry," his seductive prelude to the one-and-only night he and his boss' bride, confused and dejected when she first finds out what she's gotten embroiled in, spend together. Bess Morrison embodied Marie, Tony's scold of a sister, to a tee.
In "Abbondanza," Paolo Buffagni, Michael Imbimbo, and Vincente Ricciardi, as Pasquale, Ciccio, and Giuseppe, who work for Tony, lustily extolled the abundance of the feast they're preparing for their employer's nuptials, as a prelude to the full ensemble's rollicking "Sposalizio" tarantella, and lyrically welcomed the new bride with a "Benvenuta" trio that could have come from an early 19th century Italian opera. Michael Hopewell as Doc and David Kelleher-Flight completed the cast.
Julie Wyma designed the costumes and Susan Roth, the lighting.
The first night, on March 8, is the one discussed here, and the four-performance run was set to continue through March 11. Next on Dicapo's agenda is Giuseppe Verdi's "La Traviata," on April 12, 14, 20 and 22, at 184 East 76th Street, between Lexington and Third Avenues. Visit www.dicapo.com for further information.
Dicapo has also announced an exciting 2012-2013 season, which features two world premieres and a local premiere. After opening with Ruggiero Leoncavallo perennial "I Pagliacci," on October 11, 13, 19 and 21, with a repeat on Long Island, at the Tilles Center on November 2, Dicapo presents the world premiere of Thomas Pasatieri's "The Martyrs," with libretto and direction by Daphne Malfitano, and starring noted soprano and teacher Catherine Malfitano, with Zeffin Quinn Hollis. American antiheroes seek justice but, vilified by rural society, become modern day martyrs, on November 8, 9, 10, 16, 17 and 18. "Marrying Mozart," employing Wolfgang Amadeus Mozart's own music, with libretto by Dicapo General Director Capasso and Bill Van Horn, after Stephanie Cowells' novel of the same name, limning the young Mozart in Vienna, and sisters Josepha Weber, the soprano who created the Queen of Night in "Die Zauberflöte," and Constanze Weber, whom Mozart married, has its world premiere performances on December 13, 14, 15 and 16. The New York premiere production of Paul Moravec and Terry Teachout's opera noir "The Letter," after Somerset Maugham's play and short story, perhaps best known from the film version, starring Bette Davis—succeeding Katharine Cornell and Jeanne Eagels as Leslie Crosbie—Gale Sondergaard, and James Stephenson, is set for February 7, 9, 15 and 17, 2013. Gaetano Donizetti's popular "Lucia di Lammermoor" closes next season on April 4, 6, 12, 14 and, at Tilles, 19.