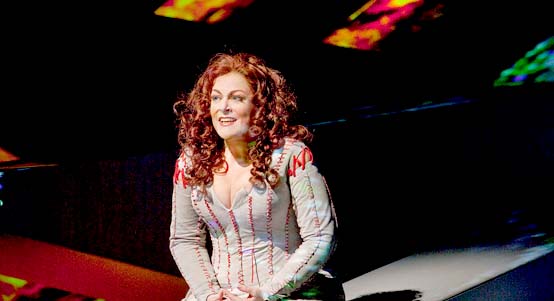 photo by Ken Howard/Metropolitan Opera


Deborah Voigt as Brünnhilde

.......................................................................................................................................................................................
By Bruce-Michael Gelbert
The final installment of the Metropolitan Opera's new production of "Der Ring des Nibelungen," Richard Wagner's monumental tetralogy, was unveiled on January 27, the opening night of the new "Götterdämmerung," which was repeated on January 31, with most of the premiere cast, but for the all-important exception of a new Siegfried.
On the first night, Jay Hunter Morris gave us the completion of his unusually fresh-voiced and lyrical Siegfried, introduced earlier in the season when the new "Siegfried" opened. His replacement on the second night was Stephen Gould, who alternates with Morris in the role. Gould displayed a heftier instrument than that of Morris, and not always the same finesse, as he took his leave of Brünnhilde; met the Gibichungs, Gunther and Gutrune; seduced and abducted Brünnhilde for Gunther, under the influence of a potion which made him forget his own ties to her; swore an oath that he had not wronged her; told his tale to his new 'friends,' as his memory returned; and breathed his last. Some top notes eluded Gould's grasp, while others were forceful and bright. In sum, Gould offered almost as fitting and formidable a foil as Morris for Deborah Voigt's dramatic Brünnhilde, for which she proved more fully in command than she had been for the "Siegfried" Brünnhilde, with its cruelly exposed high notes and phrases. Voigt's fury, titanic and thrilling, was palpable as she found she'd been betrayed, publicly denounced Siegfried, and reveled the secret of his vulnerability to his sworn foe, Hagen. Voigt capped her assumption of the three-part role with an imposing Immolation Scene.
Iain Paterson and Wendy Bryn Harmer made the most of their ungrateful assignments as the wimpy and whiny royal Gibichung siblings, King Gunther and his sister Gutrune, he barely able to lift Siegfried's sword, Nothung, when first offered the opportunity to, and wincing as it pierced his skin for the pact of blood brotherhood with Siegfried, and she harping on the details of the night her 'intended,' Siegfried, spent with Brünnhilde, disguised as Gunther—in short, did they 'do it?' Should one see, in Wagner's portrait of the ineffectual King Gunther, a slap at Ludwig II, the Bavarian Monarch infatuated with the composer, who resented his presenting the premieres of "Das Rheingold" and "Die Walküre" before the "Ring" was finished?
Ebony-toned Hans-Peter König completed his quartet of "Ring" villains with a towering Hagen, singing a sonorous summons to Gunther's vassals and matter-of-factly dispatching Siegfried and his own half-brother, Gunther, in quick succession. His words about his 'impure' blood, when he declines to participate in the blood brotherhood ritual—"Mein Blut verdürb' euch den Trank!/Nicht fliesst mir's echt/und edel wie euch" (My blood would ruin the drink. It does not flow truly and nobly like yours)—chillingly remind us that he is very much the son of Alberich, the Nibelung dwarf, the anti-Semitic caricature arch-villain that Wagner created. Eric Owens rounded out his etched-in-evil three-part portrayal of Alberich, still lusting after world domination and 'his' gold.
Waltraud Meier contributed a vivid cameo as Waltraute, her near-namesake among the Valkyries, urging Brünnhilde, in vain, to return the cursed ring to the Rhinemaidens. Newcomer Maria Radner, Elizabeth Bishop, and Heidi Melton, and Erin Moreley, Jennifer Johnson Cano, and Tamara Mumford made up the strong trios of Norns and Rhinemaidens respectively. Siegfried, Brünnhilde, the Rhinemaidens, and Gunther all clambered up and down planks—which make up the machine, or contraption, that forms the scenic basis of this "Ring" production—when tilted at a 45 degree incline, with no use of body doubles.
Principal Conductor Fabio Luisi, in the pit, continued to demonstrate his sensitivity to the singers, never overwhelming them, while also doing full justice to Wagner's mammoth and colorful orchestral score.
On opening night, the production team, comprising director Robert Lepage, associate director Neilson Vignola, set designer Carl Fillon, costume designer François St-Aubin, lighting designer Etienne Boucher, and video image artist Lionel Arnould, was roundly booed. Planks flapped about distractingly as the Norns reached the climax of their scene. As it shape-shifted, the contraption continued to clatter and clank at the most inopportune times, such as during the peaceful Dawn music between the Prologue and Act One. The conclusion of the opera indeed had a funeral pyre of logs, for Siegfried, and a captivating, animated and armored 'warhorse' Grane, definitely the first depiction of the horse that I've ever actually seen, for Brünnhilde to ride on, after she lit the logs on fire. But then the planks, making up a curtain of fire, descended on the scene, a quintet of chunky 'stone' statues of the gods had their heads blown off, the Rhinemaidens got back the ring and responded to Hagen's demand for it by dragging him into the river and drowning him—and that was the end of the world as we know it—no real cataclysm, no apocalypse: "This is the way the world ends/Not with a bang with a whimper."
Repetitions of "Götterdämmerung" take place on February 3 and 7 at 6 p.m., and 11 at noon and, in the context of complete "Ring" Cycles, on April 24 and May 3 at 6 p.m. and May 12 at 11 a.m. The February 11 matinee will be transmitted live, to movie theatres and other venues internationally, as part of The Met: Live in HD series and broadcast live over the Toll Brothers-Metropolitan Opera International Radio Network. Katarina Dalayman replaces Deborah Voigt on February 3, April 24 and May 3. Morris resumes the role of Siegfried on February 7 and 11, and May 3, and Gould sings on February 3, April 24, and May 12. Karen Gargill makes her Met debut as Waltraute on April 24 and sings the remaining spring performances. Richard Paul Fink replaces Eric Owens and John Keenan deputizes for Fabio Luisi on May 12. For tickets, priced from $25 to $345 for the February performances, visit www.metopera.org, telephone 212/362-6000, or come to the Met box office in Lincoln Center on Monday through Saturday, from 10 a.m. to 8 p.m., or Sunday, from noon to 6 p.m. Discounted rush tickets are available, on the day of performance, as well. Please note that a different pricing scale is in effect for the complete "Ring" Cycles.