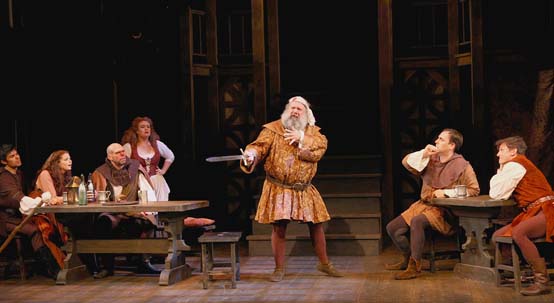 photo ©Gerry Goodstein

John Ahlin (center), as Sir John Falstaff, re-tells his version of a daring robbery

.......................................................................................................................................................................................
It's a story of a profligate, prodigal son, who is learning the ways of the world from some of the most earthy companions. It's the story of a father's disappointed love for a son whom he knows has the makings of greatness within that he's squandering amongst low company, or is it the father's disappointment in his own ability to inspire his son? Is this the revival of "Death of Salesman?" Not yet, Plantagenet! The story is actually even older than Shakespeare, who penned "Henry IV, Part I" as the second play in the "Henriad"–a tetralogy that begins with "Richard II" and culminates with "Henry V." "Henry IV, Part I has been popular since its earliest performances and, now, it's just in time for Father's Day. The play runs through June 24, so you'll want to get your tickets as quickly as possible since there's humor, drama, angst and oh, YES! Sword fights!
Henry IV, whom we "saw" ascend the throne in "Richard II" is now an elder King, played here by Brent Harris who made a brilliant splash as Atticus Finch in last year's "To Kill A Mockingbird." Henry looks to his son, Prince Hal (Derek Wilson), to be his successor. Prince Hal meanwhile is enjoying a lively and lengthy moratorium period, prior to the time when he knows he must take on the mantle of power as his father's son. Henry doesn't believe Hal to be up to it, but the mettle will be proven in Act II.
Jon Barker, now in his fifth season at STNJ, plays the impetuous Hotspur, Henry Percy. While Lady Percy (Izzie Steele) counsels him otherwise, Hotspur insists on striking while the will is high and, though you can see reason warring with passion on his face, Hotspur comes to wisdom too little, too late. One high point among many were the entreaties of Lady Mortimer (Megan Sass) to her husband Lord Mortimer (Doug West), as he's about to go to war. They are in love and married, though neither speaks the other's language–he speaks only English and she only Welsh, and her father, Lord Glendower (Drew Dix), translates. The emotion in Lady Mortimer's voice is abundantly clear, as she speaks quickly and passionately in Welsh–which if you've not heard it, sounds much like it is spelled–very few vowels and with a wild Middle Earth sound to it. Welsh would be well-suited to incantations and Druid poetry and it's easy to see why Lord Mortimer is in love with a woman whom he, technically, cannot understand. When Lady Mortimer sings to her Lord, in what may be her last gift to her husband, Sass' voice is rich, lush and full of a wife's parting bittersweet. Shakespeare plays our emotions like the strings of a vibrating viola.
Part of the appeal of this play has always been the masterful interplay between the deadly serious historical explication of much beloved English history and the humorous antics of one of the most beloved rogues in literature, Sir John Falstaff. John Ahlin's Falstaff is a Bad Santa mix of wily rogue and self awareness that becomes annealed into a charming combination. Even while onlookers smile, they shake their heads and his boisterous faux logic and hale-fellow-well-met-ness lighten the proceedings at just the right time. Falstaff is a big man with a light tread and a lot of manly grace. This renders him the perfect foil and fellow for Prince Hal, who teases him mercilessly, even while looking up to him, as he cannot do with his over-serious father Henry. The result is a show that feels like it passes in an instant, especially when we get to the battles in Act Two. Shakespeare, having writ characters largely, gives them a chance to flex and it's something you simply must see.
Father's Day is just around the corner and birthdays abound all year. Make any occasion special by giving the gift of Shakespeare for this or any of the brilliant productions coming this season at Shakespeare Theatre of New Jersey. "Henry IV, Part I" is only playing through June 24, so check www.shakespearenj.org for details, tickets and more.