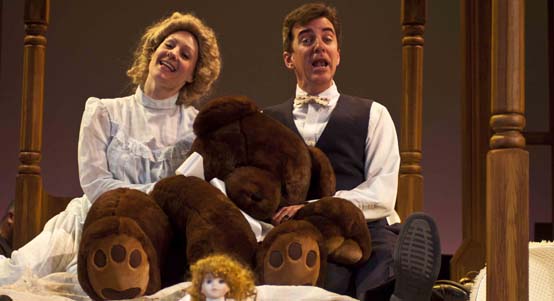 photo by Warren Westura

Christine Marie Heath & Scott McGown in "I Do, I Do."

.......................................................................................................................................................................................
The Bickford Theatre at the Morris Museum is closing its brilliant season with the musical "I Do, I Do." This celebration of married life and the ups and downs it brings is the culmination of Artistic Director Eric Hafen's 10th anniversary of producing and directing at the Bickford and begs the question of what the next years will bring. A completely real look at the married life of a couple beginning in 1898 and ending in the mid 1940s, "I Do, I Do" is characterized by moments of laughter and tears throughout.
Hafen knows that part of being a great director, like being a great chef, resides in selection of the highest quality ingredients. Actors Christine Marie Heath and Scott McGowan, as Agnes and Michael respectively, combined with Tom Jones' book and lyrics and Harvey Schmidt's music, make this a lasting theatrical experience. Adjuring us to remember their innocence, in our lack of it, more than 100 years later, Hafen reminds us that people did not always live in such a highly sexualized society. Agnes and Michael have probably kissed once or twice prior to their wedding, but they never shared a bed, never saw someone of the opposite sex nude, and have never yet Done the Deed until their wedding night. Somehow, that first evening, everything works out all right.
Heath and McGowan have a charming nervous synergy when they are newlyweds, and you can well imagine that they are both pretty anxious, immediately prior to the birth of their first child. The set is dominated by Agnes and Michael's four-poster bed, with their separate dressing areas on either side, and this stage couple moves through the room as if they really have spent their lives together, passing, moving, and even at times dancing. The actors are brilliant, as Agnes does her best to be the good wife, yet chafing at the bit when Michael clearly does not see her dawn till dusk occupation as "work." By the same mark, McGowan's Michael is at times pompous and tender, and lacks the post-Modern vocabulary to put a name on his loneliness and alienation, as he and Agnes temporarily lose the thread of their love. The first act encompasses their wedding through their early years and into the beginning of Michael's success as an author. Toward the end of Act One, however, there begin to be signs of the warp and weft of the marriage beginning to tatter, to tear, to come apart. Starting with "Nobody's Perfect," where Agnes and Michael enumerate one another's faults, then seguing into "A Well Known Fact," the arc continues as Michael patiently explains that women age, while men mature like fine wine, and ultimately bursting into "Flaming Agnes," which the Red Hat ladies will applaud and stop the show, the finale of Act One tells us that what is plain to all is that "The Honeymoon is Over."
Musically, both Heath and McGowan are very accomplished. Nick DeGregorio acts as Musical Director, and he and Jack Bender, on dual pianos, provide an orchestra's worth of support, color, and joy. In solo numbers, such as Heath's fabulous "Flaming Agnes" and McGowan's energetic and charming "I Love My Wife," each shines superbly bright. In duets, Heath's and McGowan's voices harmonize, but remain distinct and separate and I think that's an inspiring choice, as Agnes and Michael's lives do not blend. Consequently, their statements should also remain. The dance routines, however, show that the body has a harmony that sometimes voices do not. As dancers, Agnes and Michael are willing, thrilling partners as the body remembers what the heart sometimes forgets.
Periodically throughout the show, there are the knowing chuckles from the audience that acknowledge just how far we've come as a society, regarding the roles of men and women. That said, it's clear how far we still need to go in terms of communication as Agnes and Michael learn in Act Two. While they make peace with whom and where they are, as evidenced by "My Cup Runneth Over With Love"—incidentally a HUGE hit for Ed Ames, who recorded it when the show first opened starring Mary Martin and Robert Preston—there are still crises that abound regarding identity, sense of self and the continually changing personal place in the world. Agnes sings "What Is A Woman," wondering after their children are both finally out of the nest what possible purpose she has. Her mid-century mid-life crisis is not unusual, but hers is unique to her experience and, ultimately, she determines what to do, where to go, and who she is to herself. That lack of external validation continues to be a problem for men and women today, as we question the value systems our parents put in place, and their parents, and what relevance it has in our lives.
Ultimately, the time comes to move from the house, where they've spent most of their marriage, into a smaller apartment. In the last few minutes of the show, you see a spirit of unity that demonstrates that, while it may not always run smoothly, love is the highest purpose people can have. Love inspires, love remembers, love forgives. Do you? I Do!
"I Do, I Do" runs at the Bickford Theatre within the Morris Museum, in Morristown, New Jersey, through May 6. Visit www.MorrisMuseum.org for details on the Bickford's offerings and ask about subscriptions for next season! You don't want to miss what's in store.