"Once on This Island"–a Paper Mill Triumph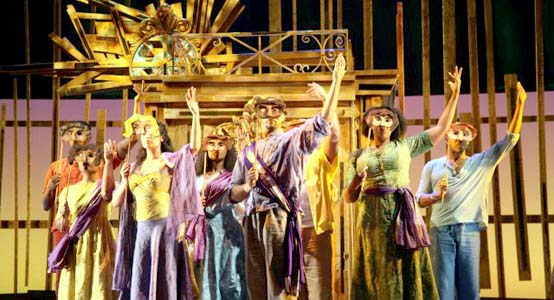 photo by Jerry Dalia

Cast of "Once On This Island" at Paper Mill Playhouse

.......................................................................................................................................................................................
"Once on This Island" is the sparkling production that rounds out a brilliant 2011-2012 season for Paper Mill Playhouse in Millburn, New Jersey. There is magic from the moment you enter the courtyard of the theatre, with warm spring breezes carrying songs of past and future productions on the sultry evening air. Patrons enter the theatre almost reluctantly until the Caribbean blue of the curtain greets them upon entry. Are we under the sea? Are we looking down or through a turquoise pool? The answer is "YES!" in this frothy fantastical world that we've entered, where everyone is as large as life and every player in the ensemble has connected with the divine that is within them. Imagine "Romeo and Juliet" meets "The Little Mermaid" meets Greek Mythology and you'll have a flavor of what's to come.
The winsome cast is like a veritable Who's Who of talent. There is such passion and joie de vivre as these islanders, whose lives are extremely hard, live their lives telling stories and dancing as balms for the hardships they survive. When a small child (Courtney Harris) cries out, the entire village comes to her comfort and aid, and they explain to her that as bad as this storm was, there have been worse. And through it all, they survive.
There was once a storm where little Ti Moune ("little orphan") was found in a tree by Tonton Julian (Kevin R. Free) and Mama Euralie (Kenita R. Miller). They considered leaving her where she was rather than anger the Gods, when Erzulie, Goddess of Love (Saycon Sengbloh) "encourages" them to do the right thing and rescue, raise, and love this foundling child. Ti Moune thrives with their love and guidance and there is a breathtaking bit of stagecraft during "One Small Girl" where little Ti Moune dances around a length of blue cloth with two of the village men, gamboling about and in a single swirl, out comes the young woman Ti Moune (Syesha Mercado). You may recall seeing Syesha Mercado during her tenure on "American Idol," though that would not prepare you for the depth of feeling she puts into her performance. Your heartstrings will be vibrating from that moment of the transformation that is the harbinger for the one that will come. Ti Moune is well-favored, and is at the age where she's trying to see what her future will be, when it comes crashing to her in the form of a young Grand Homme, a man named Daniel (Adam Jacobs). Ti Moune nurses him nearly back to health and falls in love with him in the process. When he is taken back to his family, Ti Moune is bereft and you share her heartbreak as she cries herself to sleep. It is then that the Gods step in with a plan.
Agwe, God of Water (Darius de Haas); Papa Ge, Demon of Death (Alan Mingo, Jr.); Erzulie; and Asaka, Mother of the Earth (Aurelia Williams) tower over the slumbering Ti Moune with Sengbloh's Erzulie, Goddess of Love, providing balance, as they wager whether the Power of Love is greater than the Power of Death. De Haas is as cool as the God he represents, smooth and fluid in delivery. Mingo's Papa Ge is a swirling maelstrom of malevolence, balanced by Williams' Asaka, as she and Erzulie band together to protect the sleeping maiden. As the tale spins out, it will be touch and go, and Ti Moune sets out on her s/hero's quest to find her true love. However, there are spoilers afoot, such Armand (Jerold E. Solomon), Daniel's father, whose requirement is that his son marry "appropriately" to his station, meaning a woman of his class. And that woman is Andrea (Courtney Reed), who has been promised as his bride since the two were children. Will Ti Moune find Daniel? Will her love be strong enough to break the bonds of Society that bind Daniel? For that you'll have to see the show yourself.
There is delight in every scene as the characters shift among peasants, Gods and Grands Hommes and back again. The scenery shifts also–the bases upon which the Gods stand to tower over Ti Moune reverse to be the tires of Daniel's car as he flies around the Island. Trees become cities, cloth is water, wind and more and the beautifully staged scenes–is it movement? choreography…? all of the above, as the natural grace of each cast member comes to the fore. Mercado's gamine coltish beauty and the inside/outside narrative that has Harris portraying the present day girl, who is so much like the pre-teen Ti Moune, who is watching herself/not herself, as she suffers for the man she loves. Williams' Asaka is truly Mother Earth as she gives Ti Moune brilliant advice while plumbing the rich depths and soaring to beautiful heights in her voice. Mingo's dastardly Papa Ge becomes even more fierce, as his expression transforms the face of a kindly village man to the incarnation of the Devil himself. Miller and Free, as Mama and Tonton, show the mixture of fierce love and acknowledged regret that, once the fledgling is grown, she must find her own way. She must feel her own pain, no matter that her parents would spare her at their own expense.
This musical is brilliant. It reaches in, not to touch your heart, but to close fingers around the pulsing muscle to show the connection of it to every other heart around you. Feel the pulse, feel the music and take the Island with you wherever you go.
"Once on This Island" closes Paper Mill's season with a flourish and whets the appetite for what's to come, and it's only playing through June 24. Purchase tickets, get more information, and buy your subscription for next season at www.papermillplayhouse.org.




Advertisements
New York Q News
Fire Island Realtors
The Best Of Fire Island
Gay E-zine with everything hip and happening in New York City. News and events all around the city.
www.newyorkqnews.com
..........................................................
The best summer rentals properties and homes for sale in all of Fire Island, The Pines and the Grove.
www.fireislandrealtors.com
..........................................................
Fire Island Pines, Cherry Grove, Ocean Beach, Water Island & all of Fire Island Residentials Sales and Summer Rentals.
www.thebestoffireisland.com
..........................................................
Shopping Online?
Real Estate Blog
CJ Mingolelli
Gives Us a Try. Online Mega Mall. Your community online shopping mall/Apparel, Books, Movies, Cars, Homes and much, much more ...
www.qnewsmegamall.com
..........................................................
www.26west17.com
Real Estate News, tips and comments about New York City and Fire Island Real Estate.
Visit Our BLOG >>
..........................................................
Fire Island Pines & Cherry Grove Homes For Sale & Summer Rentals: Season, Month & Weekly.
www.cjmingolelli.com
..........................................................
FEATURED HOME FOR SALE
MORE FIRE ISLAND HOMES FOR SALE & RENT AT:
The Best of Fire Island.com >>
- - - - - - - - - - - - - - - - - - - - - - - - - - - - - - - - - - - - - - - - - - - - - - - - - - - - - - - - - - - -