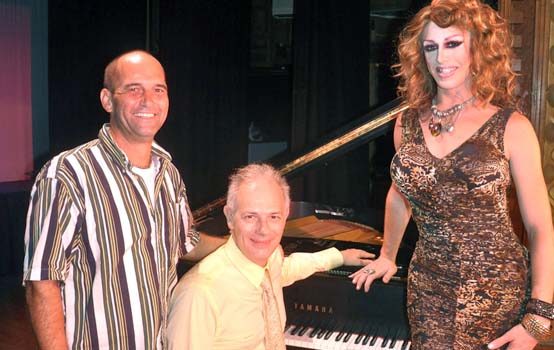 photo by Bruce-Michael Gelbert

(left to right) Ken Woodhouse, Jean-Pierre Lemarié & Sabel Scities

.......................................................................................................................................................................................
In keeping with the Arts Project of Cherry Grove's (APCG) theme of the summer, Around the World, the APCG presented French pianist and Grove resident Jean-Pierre Lemarié in a recital entitled "A Classical Journey in Europe," on August 11, at the Community House, and a most elegant musical tour it was. It's good to know that the Cherry Grove can muster an audience for more than one classical music evening in a season. Sabel Scities served as narrator, replacing the previously announced Epiphany, and Matt Baney was responsible for lights and sound.

Jean-Pierre began with a virtuoso performance of Wolfgang Amadeus Mozart's variations on "Ah, vous dirais-je, maman," best known in America as "Twinkle, Twinkle, Little Star" or the alphabet song, and started with a graceful statement of the theme, before turning to variations which were: rapid and ornate, favored, in a vocal version, by high coloratura sopranos; elegiac; restlessly bustling; emphatic and florid, almost anticipating Beethoven; minor key and melancholy; bravura; airy, resembling, by turns a lullaby, a ballad, or an aria; and finally, evoking all the whispered intrigue of "Le Nozze di Figaro."
Jean-Pierre next played contrasting pieces by Henry Purcell, a crisply cheerful Prelude in C and a mournful chaconne, sharing, in part, the melody of Dido's lament, "When I am laid in earth," from Purcell's opera "Dido and Aeneas." Our pianist offered three works by Frédéric Chopin, a sad Nocturne in F minor, Opus 55, with an almost stately and solemn, but understated grandeur; the familiar Polonaise in A Major, Opus 41, conjuring for this listener, in Lemarié's majestic rendition, the nobility dancing and promenading at a formal ball, more than the "Military," despite the name that it bears; and, a gentler piece than either of the preceding ones, a posthumously published Nocturne in C-sharp minor of simple elegance. Lemarié fully conveyed the various moods, from furious to tragic, then finally fiery, of Isaac Albéniz's "Asturias" (Leyenda), Opus 232, Number One, also well-known in its guitar transcription.
Appropriately for Fire Island, Lemarié invested Claude Debussy's "L'isle joyeuse" with a celebratory radiance and iridescence akin to the light on our own often sun-drenched island of joy. He presented the American premieres of two Agrexandrins—that is, aggressive alexandrines—from Book Two, by his teacher, Alain Louvier, Number Nine, " … La cloche frappa l'air de ses funestes coups" (the bell struck the air with its fateful blows), after Victor Hugo's "La grand-mère," brief, somber, and incorporating the traditional "Dies irae" melody, and Number 10, " … L'orage est dans ma voix, l'éclair est sur ma bouche …" (the storm is in my voice, the lightning is on my mouth—which put Sabel in mind of a Bianca Del Rio show), after Alfred de Vigny's "Moïse," jagged and turbulent, limning Moses' anger on descending from Mount Sinai and finding his people worshiping the golden calf. These were the only pieces on the program proper that Jean-Pierre did not play from memory.

This eminent musician's closing work was Ludwig van Beethoven's Sonata in F minor, Number 23, Opus 57 "Appassionata," which he started almost delicately, before, very shortly, unleashing the commandingly dramatic. His Andante con Moto second movement could almost have been an elegy for a loved one, until the tone brightened for the Allegro ma non troppo and Presto concluding movements. Lemarié granted us two encores, Franz Schubert's "Ungarische Melodie" (Hungarian melody), replete with gypsy strains, with Sabel as page turner, and joining baritone Ken Woodhouse in delivering an aptly defiantly optimistic account of Charles Dumont and Michel Vaucaire's "Non, je ne regrette rien," the song popularized by Edith Piaf.