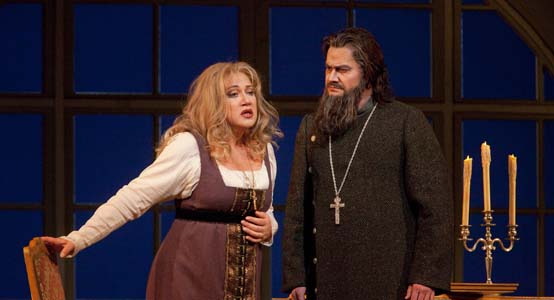 photo by Ken Howard/Metropolitan Opera
Olga Borodina as Marfa & Ildar Abdrazakov as Dosifei
.......................................................................................................................................................................................
The Metropolitan Opera's revival, this winter, of the 1985 August Everding/Ming Cho Lee/John Conklin/Gil Wechsler production of Modest Mussorgsky's "Khovanshchina" (1886), currently staged by Peter McClintock, provides one of the Met season's most satisfying evenings of opera. With an all new cast, guided by conductor Kirill Petrenko, breathing fresh life into this sprawling work, with a knotty plot of political intrigue and rivalry and religious zeal and martyrdom, "Khovanshchina," last given in 1999, had a season premiere on February 27 and the second of its six performances, on March 1, is discussed here.
The potentially confusing goings-on in "Khovanshchina" were sorted out and explained to me by my Russophile late lover, Joachim Ragoczy, as follows: three factions plot to take advantage of the chaos and violence prevalent in Russia in 1682 and remove from the throne young Peter the Great and his older sister, Tsarevna Sophia, the regent. The insurgents are: the Old Believers, led by Dosifei—himself a prince, until he became a monk—and joined by Marfa, who resist religious reform, are depicted as an extremist sect, and choose martyrdom when their cause is lost; Prince Vasily Golitsyn, who favors alliance with Western nations; and the Khovansky princes, Ivan and his son, Andrei, bellicose Old Believers themselves, who command the brutal Streltsy, a police force of 20,000 mercenaries. There was, at one time, a romance, now cooled, between Marfa and Andrei. The other principal figure is the Boyar Shaklovity, a defender of the throne.
Mussorgsky himself never completely finished "Khovanshchina" and opera companies have had to choose whose orchestration to employ. At the Met premiere, in 1950, Mussorgsky's music was clothed in the lavish colors and sounds of Nikolai Rimsky-Korsakov, which are now considered excessive and have fallen from favor. The more subtle and somber scoring, decreed by Dmitri Shostakovich for "Khovanshchina," was used by Eve Queler and the Opera Orchestra of New York, in 1981, was introduced to Met audiences with the current production's premiere, on October 14, 1985, and are mostly still retained this season. New to the Met now, however, is Igor Stravinsky's version of the final scene, which sits well, without jarring, beside the Shostakovich.
The chorus plays a major role here, singing prayers, anthems, and folk music, as well as rabble-rousing and brawling, and the Met Chorus' realization of this diverse assignment, under Chorus Master Donald Palumbo, is sterling, its contribution as dazzling as that of the orchestra, under Petrenko's baton.
The diva of the work is Marfa, a complex character, who is at once pious religious figure, sorceress, and passionate lover, and the low-lying role suits Olga Borodina perfectly now. The mezzo-soprano's conjuring scene is aptly mystical and dramatic, her lament of the dejected lover moving and lyrical, and her march to join her fellows in martyrdom as impassioned as her romantic music.
The roles of Dosifei, religious leader and, sometimes, statesman, and Shaklovity, whether weeping for his troubled country or actively coming to its defense, show bass Ildar Abdrazakov and baritone George Gagnidze at their most commanding and to far more impressive advantage than do the Italian roles they've assumed. Bass newcomer Anatoli Kotscherga makes an appropriately gruff Ivan Khovansky, whether swaggering as he addresses his followers triumphantly, showing empathy with them at a time of strife, or brusquely calling for entertainment by Persian dancing slave women and rejecting delicacies at what will prove his final banquet.
The two sopranos make the most of their supporting roles, Wendy Bryn Harmer, a bright and forthright Emma, the German Lutheran that Andrei lusts after, and Maria Gavrilova, a forceful Susanna, the fanatical Old Believer, who condemns Marfa when she hears her singing of her loss of Andrei's love and from whom Dosifei must rescue Marfa.
Efforts of the two leading tenors, Met newcomer Misha Didyk as Andrei Khovansky and Vladimir Galouzine as Golitsyn, are less successful, the former lacking focus and distinction as the, admittedly, whiny Prince and the latter belting and baritonal enough to make one forget that there's a tenor on stage in Scene Two. John Easterlin, on the other hand, contributes a notable cameo as the scribe.
Mark Schowalter, Paul Corona, Jeffrey Wells, Michael Todd Simpson, and Jeffrey Mosher complete the cast.
As before, the final image, in Everding and Lee's mostly stark production, is exceptionally striking, with the Old Believers' multi-tiered wooden hermitage in the pine forest, filling with smoke, through which the chanting soloists' and choristers' candles shine, though they seem to be less entirely enveloped in a haze than they were in earlier seasons.
Remaining performances of "Khovanshchina," at this writing, are on March 6 at 7 p.m., 10 at 7:30 p.m., 13 at 7 p.m., and 17 at noon, with the matinee broadcast live over the Toll Brothers-Metropolitan Opera International Radio Network. On March 10, Vitaly Bilyy makes his Met debut as Shaklovity, replacing Gagnidze. For tickets, priced from $25 to $345, visit www.metopera.org, telephone 212/362-6000, or visit the Met box office in Lincoln Center on Monday through Saturday, from 10 a.m. to 8 p.m., or Sunday, from noon to 6 p.m. Discounted rush tickets are available, on the day of performance, as well.