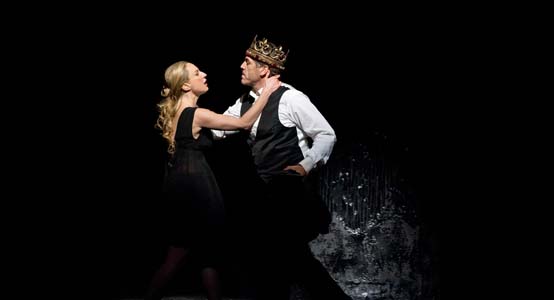 photo by Marty Sohl/Metropolitan Opera

Nadja Michael & Thomas Hampson as Lady Macbeth & Macbeth.

.......................................................................................................................................................................................
The Metropolitan Opera is enjoying a rather satisfying revival, this spring, of its Adrian Noble and Mark Thompson production of Giuseppe Verdi's "Macbeth" (1847, revised 1865), new in 2007-2008 and updated, without excessively jarring, to an era when machine guns and jeeps, more than swords and daggers, are the trappings of war. With most principals and the conductor new to their assignments here, "Macbeth" opened for the season on March 15 and the second of its seven performances, on March 20, is the one reviewed here.
Thomas Hampson, new as Macbeth, brought an art song singer's attention to textual diction and detail to his thoughtful portrayal, without neglecting the requisite Verdi baritone breadth and polish. He followed memorable scenes, which found his Macbeth haunted by visions of dagger, ghost, and an uncertain future, by crowning his achievement with a powerful, though pensive, and bel canto "Pietà, rispetto, amore," his fourth act aria.
Nadja Michael, a German singer, who made her Met debut at the season premiere, impressed with her compelling Lady Macbeth, disclosing a full, unforced, and flexible dramatic soprano in entrance cavatina "Vieni! t'affretta," and the two verses of its cabaletta, "Or tutti sorgete." She proved unfazed by either the lowest reaches of "La luce langue" or the high ones and coloratura of the brindisi, "Si colmi il calice," in Act Two. She capped her performance with a riveting Sleepwalking Scene, a confession under a swinging police-station-style light, its effectiveness not negated by a final high D-flat, aimed upstage, that emerged under pitch and was cut short.
In their intense first act duet, "Fatal mia donna," Hampson and Michael clearly conveyed that they were conversing in an undertone by beginning phrases softly, but were nonetheless always heard and never swamped by the orchestra, thanks to the sensitivity of Maestro Gianandrea Noseda, guiding his first run of "Macbeth" at the Met.
The new Banquo, Günther Groissböck, lent his climactic aria, "Come dal ciel precipita," and his earlier music an imposing ebony bass column of sound, and appeared to a guilt-ridden Macbeth, as a bloodied spectre, in the banquet scene and the witches' conjuring scene.
Returning to the role of Macduff, tenor Dimitri Pittas, veteran of the production's premiere, contributed a ringing, heartfelt "Ah, la paterna mano" and was joined, for a rousing stretta, "La patria tradita," and for the finale by tenor Richard Cox, the new Macduff. Soprano Claudia Waite, as the Lady-in-Waiting, ably seconded Michaels' high notes in the ensembles. And, these, the finales of Acts One and Two, not to mention the patriotic chorus in Act Four, Scene One, were as gripping as one would want, as led by Noseda.
In Verdi and librettists Francesco Maria Piave and Andrea Maffei's "Macbeth," William Shakespeare's three witches are expanded to three choruses of witches and, in this production, they are "weyard sisters" indeed, trundling onto the stage, clutching their purses; looking like the subjects of Diane Arbus' photos; and jiggling in time to the rapid clip at which Noseda paces "La sorelle vagabonde," in Scene One, and "Su via! sollecite giriam la pentola," in Act Three, as they prepare their noxious brew, which, here, apparently has, as an ingredient, a child's vomit.
Remaining repetitions of "Macbeth" are, at this writing, on March 24 at 1 p.m., broadcast live over the Toll Brothers-Metropolitan Opera International Radio Network; March 29 and April 2 at 7:30 p.m.; April 5 at 8 p.m. and 9 at 8:30 p.m. George Gagnidze replaces Hampson on March 29. For tickets, priced from $25 to $345, visit www.metopera.org, telephone 212/362-6000, or visit the Met box office in Lincoln Center on Monday through Saturday, from 10 a.m. to 8 p.m., or Sunday, from noon to 6 p.m. Discounted rush tickets are available, on the day of performance, as well.