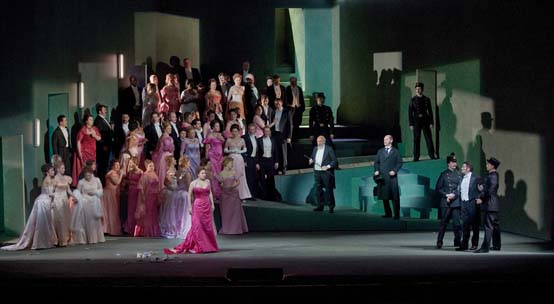 photo by Ken Howard/Metropolitan Opera

the Hôtel de Transylvanie scene

.......................................................................................................................................................................................
The Metropolitan Opera just opened a new look for Jules Massenet's "Manon" on March 26 and this brilliant Laurent Pelly production, shared with Covent Garden, La Scala, and Théâtre du Capitole, Toulouse, comes to New York to great acclaim. This review is of the March 31 performance, the second of nine this for this season.
Pelly has updated the setting of the opera from the Baroque era to the time in which it was written, the "Belle Epoque," and when young Manon emerges from the morass of other people's luggage to see the first big town–in her experience–she is dazzled by Amiens. She's on her way to the convent, her family's solution for curbing her pleasure-loving ways, and her soldier cousin, Lescaut, is there to meet her. His primary profession however is "bad influence," as he leaves her to her own devices while he toddles off to gamble and carouse. Fate steps in to stir the pot with the introduction of Chevalier des Grieux and away we go.
Anna Netrebko, taking the title role for the first time at the Met, has a tremendous instrument. Manon's Act I work is nearly in chest voice, and Ms. Netrebko's voice is rich and vibrant. It was thrilling to hear her power, and her sprightly step betrays the character's youth, as she is trembling literally on the edge of 16. Like most 16-year-old women, Manon feels she's fully ready for love and her head is turned by many a pretty compliment. Her cousin Lescaut claims to be looking out for her, but Paulo Szot's Lescaut is more a man of pleasure than of family. He acts with his voice as well as with his body and you can tell he's concerned with how he is viewed by the public–and this is what drives what care he is giving Manon, as little as we know it to be. While Guillot de Morfontaine charts his own elder-Rake's Progress, Manon is charmed by his words, though less by his person. Guillot is well sung and brilliantly characterized by Met newcomer Christophe Mortagne, whose portrayal lands somewhere between Dr. Seuss, in gait, and Rich Uncle Pennybags—the Monopoly Guy—in mien, with an abundant beard that remains at attention. Guillot's fancy is captured, and held hostage, by Manon, despite the trio of young actresses, who shower him with their attention. Poussette (Anne-Carolyn Byrd), Javotte (Jennifer Black) and Rosette (Ginger Costa-Jackson) are counterpoints in more knowing womanly wiles, and their mordant commentary and views are a French Chorus that adds a piquant flavor to the proceedings. The ever-scheming De Brétigny is sung with gusto and aplomb by Bradley Garvin, who seems to have presaged Cosmo Kramer's stylish hairstyle. De Brétigny is a man of many parts–most of them nefarious, and when we recognize him in uniform, accompanying Lescaut to "rescue" Manon, you know no good will come of it. When she's left alone in the public square, you can hear the knell of Destiny when young Chevalier des Grieux strides in–having clearly just missed the stagecoach. But Piotr Beczala does not miss the boat–des Grieux and Manon have met–their love just begun even as their lives wind—clank-clank, tick-tock—toward what we know will be their doomed conclusion.
The depth of the cast's talent is well-plumbed by this production. Met Principal Conductor Fabio Luisi is in the pit and, with deft and bright handling, guides this five-act work through the entire gamut of emotion, sometimes all within one act. Listening to the orchestra's work with the stage performers, they are in tandem, the orchestra being a caring partner in its underscoring, showing the singing partner to best advantage. The delicious friction in Act One, among the trio of actresses, the Act Two quartet of Manon, des Grieux, Lescaut and De Brétigny, as each articulates his or her own, divergent design is thrilling. When "Je marche sur tous les chemins," Manon's first Act Three aria, reached its climax, with the high ornaments a masterpiece—she spiked her high D in the first and it was so gorgeous that I uttered "oh!" out loud, and there was more, and another high D to come in "Obéissons quand leur voix appelle … Profitons bien de la jeunesse," the gavotte—and whenever des Grieux and Manon sing, whether with happiness or rue, the blend between Ms. Netrebko and Mr. Beczala is divine.
The entire new cast is expert in manipulating dynamics, but, most especially, Mr. Beczala excels in his supported, thrumming soft utterances, especially in his delicate "Rêve" aria, "En fermant les yeux," that betray the depth of his poetic soul's emotions. Massanet has written a very moral love story–while Manon is at times a siren, she begins the journey at sixteen. Her paramour, des Grieux, isn't using her, he is young as well and foresees a life of bucolic bliss, while she sees life as nobleman's wife, consisting of existing for the pleasures it brings. How frequently do young couples–older than these people–marry with different expectations. The primary voice of reason in the entire opera is Count des Grieux, sung with booming gravitas and all a father's love by David Pittsinger. He understands why his son is smitten—after all, who would not be?—yet his attempts at guidance fall on deaf ears. Young des Grieux is not yet old enough to see the wisdom of his father.
Having premiered in 2010 in London, this all new staging is phenomenal. The Met has many resources and much depth–literally and figuratively – on its stage, as demonstrated by it "Aida" production, for one, but this "Manon's" sets, by Chantal Thomas, make brilliant use of perspective. Whether it's the opening scene, with the feeling of a burgeoning town, to the tilted gaming room of the louche Hôtel Transylvanie to the final Road to Perdition–oops–Le Havre, the perspective is perfection. There's a sense of life sometimes being larger and Destiny sometimes ascendant even within the same act. Further, the illuminating lighting design of Joël Adam paints the characters with light, bathes them in pools and throws soft and sharp silhouettes that add their own grace notes to the score and the song, making this production a thoroughly enjoyable experience.
The costumes are so well done, also by Mr. Pelly. Initially ranging from Hello, Dowdy, in Act One, to Hello, Dolly, in Act Three, Mr. Pelly makes his boldest statement with Act Four's gown. While his other women are in pastel colors, like a lovely spring bouquet of the abundant blooms in town, Manon's fuchsia gown is Grace Kelly's Taittinger frock meeting Marilyn Monroe's "Gentlemen Prefer Blondes" satin creation. We feel Manon's entrance here before it happens … sending ripples through the gamblers and stage audience that roll through the audience in the house as we are met with Presence. Manon has come into full flower of her own womanhood, only to fall more rapidly than she ascended … we know that fall is coming, but we celebrate her beauty just the same.
Jules Massenet's "Manon" and continues its run on April 3 at 7:30 p.m.; 7 at noon, which will be transmitted to 1,700 movie theaters and other venues throughout the world, as part of The Met: Live in HD series and broadcast live over the Toll Brothers-Metropolitan Opera International Radio Network; 11 and 14 at 8 p.m.; and 17, 20, and 23 at 7:30 p.m. Check www.metoperafamily.org for performance further information and visit www.metopera.org, telephone 212/362-6000, or come to the Met box office in Lincoln Center to purchase tickets.