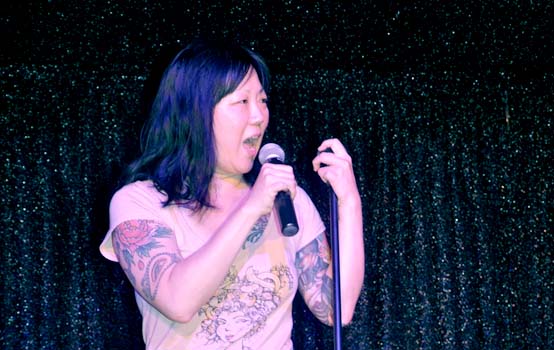 photo by Bruce-Michael Gelbert

Margaret Cho at the Ice Palace

.......................................................................................................................................................................................
On August 19, outrageous comic Margaret Cho appeared on Daniel Nardicio's Icon Series at the Ice Palace, following an opening act by performance artist Narcissister. In a no-holds-barred act, Cho talked unabashedly about all the intimate things you're not supposed to talk about, and made us laugh about the flawed human condition, made us laugh, in short, at ourselves. Here are a few of her observations.

Margaret Cho on the Meat Rack: "Guys were pulling out their phones and turning them on to look at each other's cocks." On Grinder: "It's a GSP for cock … There is no lesbian equivalent to Grinder. The closest thing we have is Animal Rescue." On bears: "I'm a bear hag. I like to hang out with bears because you know you're gonna eat." Cho was nominated for an Emmy for doing drag, complete with bald cap and fat suit, on "30 Rock." She went out to the street wearing her fat suit, and was cruised by a bear! "He thought I was a hot little Asian bear—a panda bear—Ling Ling." On heteros in a gay community: "They take up a lot of room, swinging their arms, because they have a lot of rights." They don't look around much "because nobody's trying to kill them." Good point.

Cho on her type of lesbian: "I like 'em real butch—you know, the kind of lady who rolls her own tampons." On being bi: "I fall in love with women, but I can control men." On hearing the sound of silence on Fire Island being rent periodically by repeated cries of "Girl!": "It's an all purpose greeting—like shalom."

"I had an abortion," Cho confessed. "I shouldn't have a baby—I'm Casey Anthony material." She thought about adopting a baby from China, but "who would know?" She was given painkillers after the abortion and rationed them out carefully, saying, "I was using these painkillers the way they should be used—not for pain, for pleasure."

Margaret Cho on foreskin: "I go around the perimeter—like licking salt off a margarita glass." On vibrators: "I've gone from the egg to the jackhammer … I'm addicted to my vibrator … I've got to plug it in the wall with three prongs. If I want to get off, I have to unplug the dryer." On England: "I feel sorry for them, because they don't know I'm famous." They boo her and she wonders, "Are you still mad because I broke up the Beatles?" Oh, no!

On Paris: Cho's mother was very ill five years ago and Cho buys her expensive gifts from Hermès, because her mother guilt trips her by saying, "Mommy don't feel so good." After a few detours, Cho segued into talking about being seized by the need to shit when shopping in Hermès—the saleswoman's sole response to her plea was, "No anglais." From there it was just a short jump to talking about trying not to fart when she was in bed with Chris Isaak.

On being Asian: "I look so foreign. I look like the people who eat every part of the animal. The things in my lunch box had eyes." That made me think about the time we ordered a soup in Chinatown called mixed pig and couldn't tell what some of the organs and things in it were. "I always looked like I was running away from a burning village," she added.

"The one artist who has done more for the gay community than any other artist is Madonna—but Madonna's not talented!" Cho declared. Talk about going where the brave dare not go. On sex and age: "I wanna keep on getting fucked all the way into assisted living." For her final act, she talked about getting tattooed as an alternative to plastic surgery, to hide any wrinkles, and showed off tattoos in some of the most intimate places. I think it goes without saying that the audience, which sold out the house, loved her.