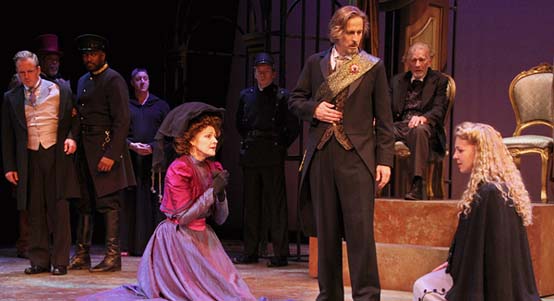 photo by © Gerry Goodstein

Cast of "Measure for Measure."

.......................................................................................................................................................................................
Shakespeare was a GENIUS! His works could be ripped from today's headlines as easily as from his own time, more than 400 years ago, when "Measure for Measure" was first written, and it is astonishingly on-the-mark in this Shakespeare Theatre of New Jersey production. Bonnie Monte has directed this brilliant play, difficult to watch at times, as the "reality TV" of four centuries ago assaults our psyches with perfidy, lust, and so much irony it would trip a metal detector. This is must-attend, must-see theatre in this summer of our discontent, as we prepare for political panderers and broken promises. Even though there are nominal leads, there are so many brilliant character turns in this play that, if it were a musical, it would be a revue with showstoppers one after another.
We hardly have time to absorb the flotsam and jetsam in the tides around us before some fresh bit demands our attention anew. Populated with STNJ newer members Bruce Turk as the Duke, played with a mixture of credulousness and later crestfallen bitter truth, and Lindsay Smiling, last season's Othello and this season's Provost, where his gravitas and even handed treatment of his wards makes a difficult situation that much less difficult, to decade-plus members like Erin Partin, as the stalwart and stewing Isabella, and Greg Jackson, as the louche Lucio, there is a palette of talent to be much reckoned. But first, let me tell you a bit about the story itself.
The Duke must travel on a diplomatic mission and appoints Angelo (Sean Mahan), a man renowned for his great virtue. The Duke gives him the same power he himself would have, and leaves confident that his works will continue. Angelo, however, proves to be a very stern taskmaster, who proves that power really does corrupt. He will send Claudio (James Knight) to his death for a crime that he himself will commit–but then, who would ever believe someone of Angelo's repute to have feet of clay? Whom, indeed …
Standouts in this performance include Angelo's seething propriety, and the Duke's weather-vane moments of vacillation–he gets a very different look at life at court when he masquerades as a lowly Friar, versus his true exalted status. Erin Partin's Isabella is the true star. Partin shows us the depth of Isabella's love for her brother, matched only by her inner conflict about how to keep the family name pristine, even while saving her brother's life. And her strength during the most trying of times is both an inspiration and a marvel. Late in the second act, during the dénouement, there is a moment when Isabella's face is a study for aspiring actors in its alchemy of incredulous irony at the perfidy of man.
Though this is billed a comedy, and has the robes of a tragedy, there are some very funny and ironic parts. Remember, Shakespeare invented Falstaff, and this play's Falstaff is the double-talking smooth operator Pompey, played with oily perfection by Raphael Nash Thompson. His Pompey is knowing, flexible, and truly a man for all reasons and seasons. He will survive. Jackson's Lucio is brass and crass and is as artful in low-brow entertainments as Michelangelo was with marble. He, too, is everywhere and has something to say about and to everyone. Both Pompey and Lucio provide the variety and levity so important to impact in such important plays.
"Measure for Measure" is playing through August 26, 2012 at the F.M. Kirby Theatre in Madison, New Jersey. Get your tickets now by calling the box office at 973/408-5600 or visit their website at ShakespeareNJ.org. Join STNJ in celebration of its 50th season as, after all, the play's the thing!