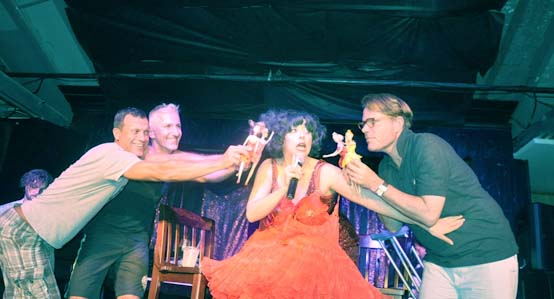 photo by Bruce-Michael Gelbert

Meow Meow & friends

.......................................................................................................................................................................................
On July 14, as part of Daniel Nardicio's Icon Series at the Ice Palace, Australian cabaret singer Meow Meow, assisted by pianist Lance Horne and drummer David Berger, held us in her thrall, sending her songs through a kaleidoscope of variations in language and style, and making light of having a leg in a cast, claiming, "Someone mistook me for someone else in the Meat Rack!" Meow Meow, whose given name, we're told, is Melissa Madden Gray, began with a throbbing Spanish number about "un año di amor," but warned us, singing livelily in English and French, that "There is no cure for l'amour." "I'll be your singing bird," she sang sensitively, in a new addition to her American repertory.
"It wears her/him/me out," Meow Meow sang sadly, but with glimmers of hope, in a Radiohead song. With versatility, she rendered "Itsy Bitsy Teeny Weeny Yellow Polka Dot Bikini" in French, as a cancan; as an earthy Polish folkdance; in Chinese, Peking Opera-style; and as a jagged, Schoenberg-esque German lied. She saluted Bastille Day, dulcetly and bilingually, with "the most beautiful French love song in the world," "Ne me quitte pas"/"If you go away," gave it a flashy "Las Vegas treatment," offered a dramatic recitation of the words, and interpolated an extravagant cadenza in conclusion.
Meow Meow used the next selection, essentially a virtuoso solo for Horne, to demonstrate what it's like when there's a long instrumental intro and a lengthy postlude, with some Edvard Grieg thrown in, but virtually no part for her in between, before going on to music by Fiona Apple, protesting, "Doesn't seem fair"—definitely not a love song—incorporating a breathless breast-beating section. Meow Meow portrayed a porcelain doll, with "Ten perfect fingers, ten perfect toes," rotating on a tiny disk—no revolving stage here—and enlisted audience members, holding plastic dolls, to serve as her backup dancers.
"I cannot be your angel of history," Meow Meow sang moodily, and continued with something of a lullaby, or counting song, written for her, and beginning, "One for sorrow, two for joy." "Come dance with me at the edge of the world," she invited, in her final dramatic song, but, not prepared, under the circumstances, to dance into the audience, she sent a blow-up doll version of herself out into the crowd. For an encore, lighting herself with just a flashlight, our artist exhorted, "Be careful with me," as she was carried from the stage.
Look for "Dirty Laundry," an evening of nude male comics, telling dirty secrets, on July 21, and Jill Sobule, on July 28, on Daniel's Icon Series. Liza Minnelli and Alan Cumming come to the Palace on August 4.