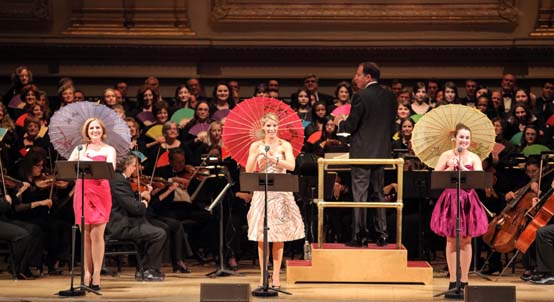 photo by Erin Baiano

Three little maids from school (left to right) Amy Justman, Kelli O'Hara & Lauren Worsham, with conductor Ted Sperling & the Collegiate Chorale

.......................................................................................................................................................................................
The Collegiate Chorale held its Spring Benefit on April 10 at Carnegie Hall and it was truly a night for the stars to come out. The Spring Benefit honored longtime supporters Norman Peck and The Peter Jay Sharp Foundation with a gleeful and arch performance of Gilbert and Sullivan's "The Mikado." It is the brilliance of the team's operettas that they have stood the test of time, continually teaching generations that it is not their own that has invented groaning puns and broad farce. And after all, the canard about Carnegie Hall bore out how you get there in the first place–PRACTICE! Practice made perfection, as Kelli O'Hara and Jason Daniely spearheaded the perfect cast to make this vibrant work even livelier.
When William S. Gilbert and Arthur S. Sullivan conceived "The Mikado," the work capitalized on the British fascination with everything Japanese. During the time when the sun never set on the British Empire, art and collectibles were streaming in to England, fueling the hunger of all subjects from the most loyal to the most Royal. Gilbert himself was inspired by a Japanese katana in his study, though the story that the sword falling from the wall and caught his attention is largely apocryphal. It does make a heckuva good story though.
The Collegiate Chorale, originally founded by Robert Shaw in 1941, has always been noted as much for its racially integrated singers, as for its rich repertoire from a variety of traditions. Its choral performance of Beethoven's Ninth Symphony at that time inspired a very rich collaboration with Arturo Toscanini. From then till now, the Collegiate Chorale has woven their tradition of excellence, as its singers continue to bring delighted listeners operas and choral music from around the globe.
Ted Sperling conducted the American Symphony Orchestra, and the generous stage at Carnegie Hall's Stern Auditorium/Perlman Stage was packed to the rafters with choristers male and female. Stretching from audience left to audience right and occupying easily two thirds of the stage, the Chorale was in brilliant voice and the choristers clearly having the time of their lives! Part of the joy of a G&S production is their comic statement of the obvious, as when the Men's Chorus sings "If you want to know who we are" and, after all, why wouldn't a crowd of townspeople be hanging out somewhere together waiting for something to happen? Why not, indeed. The story begins in earnest when Jason Danieley makes his entrance as Nanki-Poo, the itinerant "second trombonist"—gasp! clutch pearls! He embellished his lush voice with the antics of a scarlet pocket hankie that makes its silken appearance as his "shreds and patches." He told his tale of "A wand'ring minstrel" and established his joie de vivre—sorry, don't know how to say that in Japanese—quickly and well. Pish-Tush (Steve Rosen) came out swinging, singing with rapture, in character voice, of "Our great Mikado" and, when Jonathan Freeman's Pooh-Bah rounded out our initial trio, his touch of the pompetus of pomp provided the texture, giving us three dimensions of this comic art.
Ko-Ko, Christopher Fitzgerald, was heard before he was seen. He entered from the back of the house with great fanfare and a follow spot, only to be thwarted by the height of the stage he's attempting to scale. Consider this foreshadowing … this was a resourceful man. He soon showed that he knew how to get where he needed to be, whether that's on the first time or with multiple attempts. His top hat, that has seen many better days, added to his stature, but Fitzgerald lent the proceedings a lepre-comical touch in a completely un-Japanese manner. We all know that the most Japanese feature of "The Mikado" is its name and Fitzgerald made this role his own. The "I've got a little list" song, "As someday it may happen," was given a post-Post Modern twist and a brilliant performance, with many people getting Fitzgerald's jokes belatedly, though he was quite broad in putting them across. The concert performance was blessed with a multi-generational audience, further demonstrating the magnetism of G&S with the brilliance of the cast.
Now, our women entered–the beautiful and charming Kelli O'Hara as Yum-Yum, in a beautiful dress, pale-hued, with tucks in the bodice that become swirls of a flower in the skirt, ruffled edges. When O'Hara was joined by Amy Justman as Peep-Bo and Lauren Worsham as Pitti-Sing, all three flourished their parasols, while the Women's Chorus produced colored fans, seemingly out of thin air! When their charms were very apparent to Ko-Ko, but much less so to Pooh-Bah, Ko-Ko set the women to charming Poo-Bah as well. And when Nanki-Poo and Yum-Yum duetted on "Were you not to Ko-Ko plighted," their voices were sweet and arch and lost with love, as you might expect. The rapture of the moment soon gave way to the need to fulfill the Mikado's decree that a sacrifice—Nanki-Poo—must be made and when Pooh-Bah, Pish-Tush and Ko-Ko joined voices in "I am so proud," it was the type of trio music that showed the mettle of Sullivan's skill as a composer. Three rich lines, woven with assonant and dissonant textures, led to the rafter-ringing Finale of Act I, featuring the bringing together of different lines of action and introducing Katisha, here played by Victoria Clark as a somewhat soignée Miss Havisham, wearing a silken kimono over her dress and at least two pairs of brightly colored chopsticks in her nearly gnarly blonde hair, long and wild and apparently possessed of an appetite in itself for seizing and hiding said chopsticks. Katisha is her own vortex, a Hosukai Wave of bitterness who kicks the proceedings up a notch further. Starting with a brilliant script and adding performers of this caliber made for a dazzling celebration. And this was just Act One!
Act Two began with the wedding that has clouds looming in the offing. Yum-Yum's sisters attended her in her gorgeous wedding gown, that was a longer, completely white version of the dress in Act One. Pitti-Sing and Peep-Bo were in perfect New York little-black-cocktail dresses and that color may be a harbinger as well … O'Hara's voice was as luminous as her gown, as she sang "The sun whose rays are all ablaze" and the audience rapturously let her final note ring, paused, then applauded loud and long. Followed by "Madrigal," "Brightly dawns our wedding day," featuring Yum-Yum, Nanki-Poo, Pish-Tush and Pitti-Sing, O'Hara and Worsham were visibly and audibly dissolving by the end. Happiness was superseded by sorrow and, while the men were more stoic, the women's faces collapsed as they realize the fleeting nature of happiness. Like "I am so proud" before it, the "Madrigal" is another isle of blended joy–each voice separate, the blend sublime.
The "Miya-sama" lead-in to the Mikado's entrance had me marveling at how much of what I considered "modern culture" has been derived from the pervasive influence of G&S. I had thought the Flintstones invented the Grand Poobah, and in "Miya-sama," I heard echoes of "We are Siam-ese if you please," from Walt Disney's "Lady and the Tramp," its resemblance surpassing the merely pentatonic.
Chuck Cooper entered and we finally met the Mikado himself. His rich voice and antic sense of fun were neatly contrasted with Clark's Katisha's one-track mind–she cared not about the Mikado's great deeds: rather. all should hail and bow to HER, as the daughter-in-law elect of the Mikado. Then the Mikado got his chance to shine in "A more humane Mikado", the aria that was to be cut from the original production, only to be restored hours before the opening at the behest of the entire cast. This provides a humorous contrast with the bloody tale of the execution of Nanki-Poo that Ko-Ko, Pitti-Sing and Pooh-Bah paint, with the chorus, and then the tale turned yet again.
During the quintet "The flowers that bloom in the spring," behind and around me, I heard a chorus of ghost-voices. Lovers of G&S, who delight in the clever music and dazzling wit that produced such brilliance, were being very mindful that other audience members came to hear the stellar cast perform. Yet there is something like those blooming springtime flowers that erupts from the soul and bubbles to the surface in song.
Katisha, kitten with a whip–uh–chopstick, was wooed, then won by Ko-Ko, and the tale nearly complete, with these two actors, who drew your eyes whenever each was on stage. They joined forces for the arc of "Alone, and yet alive," "On a tree by a river" ("Willow, tit willow"), and "There is a beauty in the bellow of the blast," and it was clear there were leading singers in every role.
The Finale of Act Two, where everyone comes together, is joyous, but bittersweet, as now we have come to the end of our travels to Japan. Ever present, however, was the clear reminder that, though more than 100 years separate the premiere performance from this "Mikado," the word genius still begins with "G" and ends in "S."
Hungry for more from The Collegiate Chorale? Travel with the singers on their 11-concert tour of Israel, where they'll be under the batons of Zubin Mehta and Ricardo Muti for classics like Schoenberg's "Kol Nidre," Bruckner's "Te Deum," Verdi's "Requiem" and more. Or spend July in Salzberg and hear them at the Salzburg Festival, conducted by Maestro Mehta July 24, 25 and 26–it will be the experience of a lifetime. Get more information on their derring-do at their website, www.CollegiateChorale.org.