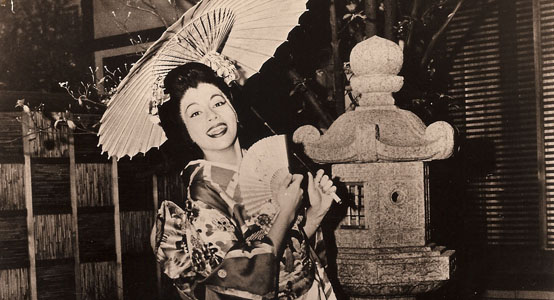 photo by courtesy of NBC TV

Elaine Malbin as Madame Butterfly

.......................................................................................................................................................................................
While growing up, some of us had our first exposure to operas like "Don Giovanni," "L'Amore dei Tre Re," "Cavalleria Rusticana," and "Boris Godunov," as well as the less-well-known "Deseret" and "Labyrinth," thanks to television's NBC Opera, some of which featured such singers as Leontyne Price, Cesare Siepi, Judith Raskin, John Reardon, Phyllis Curtin, Giorgio Tozzi, and Elaine Bonazzi in the 1960s. The undisputed star of many of the live, English-language telecasts, during the previous decade, was lyric soprano Elaine Malbin, who sang Nedda in "I Pagliacci;" the title roles in "Madame (Madama) Butterfly," "Sister (Suor) Angelica" and "Salome;" Violetta in "La Traviata," Blanche de la Force in "Dialogues of the Carmelites;" and a role in Norman Dello Gioio's "The Trial at Rouen," also known as "The Triumph of St. Joan."
On May 19, from 2 to 5 p.m., the Paley Center for Media, at 25 West 52nd Street, in conjunction with co-sponsor Opera Index, will screen the NBC Opera production of Puccini's "Madame Butterfly," not aired since its live telecast on December 4, 1955. Malbin's co-stars were Davis Cunningham as Lt. Pinkerton, Conchita Gaston as Suzuki, and Warren Galjour as Sharpless, with James Jordan as Cio Cio San's son, Trouble. Herbert Grossman conducted and Kirk Browning directed. The opera was sung in Ruth and Thomas Martin's English translation.
A conversation between Malbin and Eric Myers, author of books "Uncle Mame: the Life of Patrick Dennis," "Screen Deco," and "Forties Screen Style," as well as articles for Opera News, the New York Times, and Time Out, will follow the two-hour-and-ten-minute screening. Admission to the Paley Center is by suggested donation of $10 or $8 for seniors and students. Visit www.paleycenter.org or telephone 212/621-6800 for further information.
Brooklyn, New York-born Malbin, who is still very much a presence on the local opera scene, at vocal competitions, benefits, and other events, made her operatic debut as Musetta in "La Bohème," with the San Carlo Opera, at the Center Theatre in New York, on May 15, 1949. From October 4 to 22 of that year, she sang Peep-Bo in "The Mikado," Edith in "The Pirates of Penzance," and the Plaintiff in "Trial by Jury" with S.M. Chartock's Gilbert and Sullivan Company at the Mark Hellinger Theater, on Broadway, and sang in "The Chocolate Soldier" in St. Louis and Dallas. In 1950, she was Jenny in Kurt Weill's "Down in the Valley" with the New York Philharmonic on July 12, and Gilda in "Rigoletto" with the Philadelphia La Scala Company on December 14.
Malbin joined the New York City Opera, at City Center, on September 28, 1950, singing eight roles in six operas, until November 12: her debut role of Princess Ninetta in Prokofiev's "Love for Three Oranges," Frasquita and, later, Micaëla in "Carmen," Zerlina in "Don Giovanni," the First Orphan and the Milliner in "Der Rosenkavalier," Barbarina in "The Marriage of Figaro," and Liù in "Turandot." In the spring of 1951, between March 28 and April 19, she added the roles of Javotte in "Manon" and Musetta in "La Bohème," and repeated Zerlina, Ninetta, Micaëla, Frasquita, and Barbarina. She sang further performances of Ninetta and Zerlina in October 1951.
The soprano sang in operettas "Naughty Marietta," "The Firefly," "The Student Prince," "Robin Hood," and "Song of Norway" in St. Louis; Detroit; Dallas; Kansas City; Lambertville, New Jersey; and Sacramento.
On October 27, 1952, Malbin played the role of Aida, a slave on the Civil War-era plantation of General Farrow, near Memphis, Tennessee, in "My Darlin' Aida," Charles Friedman's "Carmen Jones"-inspired adaptation of Verdi's "Aida," at the Winter Garden Theater on Broadway. She sang the evening performances, alternating with Eileen Schauler in the matinees, through January 1953, when the musical closed after 87 performances.
After "My Darlin' Aida," Malbin returned to New York City Opera to sing Adele in the company premiere run of Johann Strauss' "Die Fledermaus," in the Martins' translation, in April and May 1953—some of the sets and costumes from "Aida"-in-the-Confederacy came with her! She returned to Broadway to succeed Doretta Morrow, as Marsinah, in the original run of "Kismet," with Wright and Forrest's adaptation of Alexander Borodin's music.
Some other highlights of Malbin's career were Colombina in Busoni's "Arlecchino" at Glyndebourne and Echo in Richard Strauss' "Ariadne auf Naxos" in Edinburgh in 1954; Mimi in the Philadelphia Lyric Opera's "Boheme," opposite John Alexander, in February 1958; and the soprano solo in Orff's "Carmina Burana," on a double bill with "Die Kluge," with Leontyne Price, and Mimi, with the San Francisco Opera, in October 1958. Other Malbin roles included the title part in "Manon," Leila in "Les Pêcheurs de Perles," Cleopatra in "Giulio Cesare" and, with Dicapo Opera in 2000, the Baroness in Samuel Barber's "Vanessa."
Come to the Paley Center on May 19 to hear this fascinating soprano sing "Madame Butterfly" on screen and address her public after the opera.