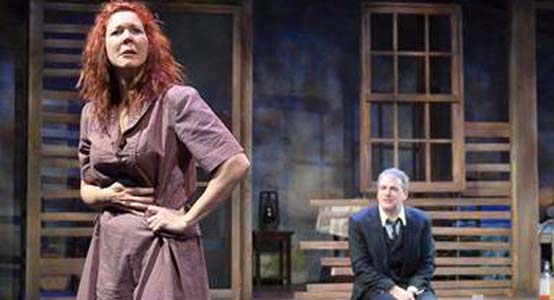 Photo by Jacob J. Goldberg

Kim Martin-Cotten (Josie Hogan) and Andrew May (James Tyrone)


.......................................................................................................................................................................................
The Pearl Theatre completes its 2011-2012 season with an intense production and some fabulous news. First, Eugene O'Neill's "A Moon for the Misbegotten" is an intense piece of theatre, the "sequel," if you will, to "A Long Day's Journey into Night." There are many comic moments in the first and second acts, especially as the characters are revealing themselves. Josie Hogan, Kim Marten-Cotten in her Pearl debut, is a brilliant, hard and shiny combination of bravado and brass, an Irish Boadicea, whose brashness belies the shy and sensitive woman, who would rather brazen it out, when the local boys claim she's a "home run." Josie knows that, when they've tried to claim her virtue, she's knocked the stuffing out of 'em. Her brother Mike (Sean McNall) cannot take the onslaught of their father's personality, so Josie bears the brunt of her father's Irish immigrant ire-to-come, as she has in getting her other brothers out from under his thumb, and thus our tale begins.
O'Neill writes from life–both his own and ours. As a result, this monumental work is a slice of life as we know it. The cast battles with addictions and patterns of life, while laughing and crying their way through it, and we cannot help but join them. A broad streak of philosophy runs through the wild Irish heart and O'Neill writes very particular voices for each one. This story is large enough for opera—calling Rufus Wainwright, perhaps—and Phil Hogan's own passionate blarney is a perfect set up for St. Paddy's celebrations. Dan Daily is a man of many parts and when his Phil Hogan gives a turned around dressing down to millionaire neighbor T. Stedman Harder, the Standard Oil Magnate played to a tee by Kern McFadden, the painting O'Neill and director Jim Sullivan give us to take with us is memorable indeed. Harder comes striding in, ready to give a piece of his mind to Phil, and has the whole issued turned back around, blowing up in his face. McFadden's mixture of ire and confusion, when Phil takes his righteous indignation and reverses the energy, jiu-jitsu style, literally knocks Harder off his feet. Daily's Phil is such a conniving and clever son of a gun that one can only marvel, "what a piece of work is man."
The true conflict, however, is a battle of will and heart between Josie and James Tyrone, Jr., played by Andrew May, who is also making his Pearl debut. By the time the show is done, Josie and Jim know the flavor of the scenery and you will too. Bring a handkerchief with you, especially if your upbringing included strong personalities who frequently clashed, a parent you loved beyond life itself who has passed, or with a thread of any kind of addiction running through it adding color and pain. Most of us can go two for three, but the strong façades Josie and Jamie have built crumble like a sandcastle and re-form like an Egyptian pyramid. This show is the must-see coronet crowning a superb season of theater from Pearl.
The best surprise of the evening, however, came with the announcement that Pearl has found a permanent home. In its 29 year history, so far, it has had a number of homes. I first knew the company at its home in St. Mark's Place, and it has been at City Center II for three years now. The new home is the theatre formerly occupied by Signature Theatre at 555 West 42nd Street. Pearl will begin its new 2012-2013 season there and that season will culminate with a brand new play … I know what it is, but visit the site at www.pearltheatre.org for your own information.
Get your tickets now for this production, running through April 15. It is so intense, you'll wonder how the actors can generate that much light, heat and passion night after night in this run–if ConEd could tap this energy, the entire town would light up like Times Square. You'll laugh, you'll cry, you'll go on the journey of two intertwined lifetimes in a single evening. Visit www.pearltheatre.org to buy tickets or visit the City Center II Box Office. There is nothing more beautiful than "Moon" on Pearl.