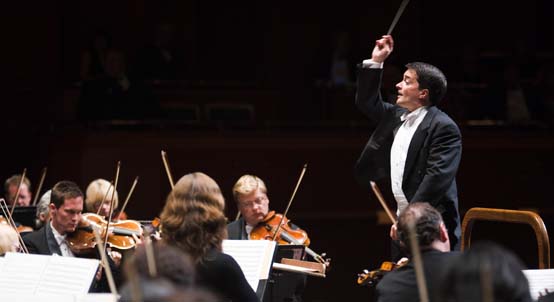 photo by Fred Stucker

Jacques Lacombe & the New Jersey Symphony Orchestra

.......................................................................................................................................................................................
April 1 brought the final outing for New Jersey Symphony Orchestra(NJSO)'s "A Perfect Beethoven Recipe" and perfection it was. Maestro Jacques Lacombe's bravura conducting of an enriched NJSO was brilliant and included the World Premiere of New Jersey composer George Walker's "Sinfonia No. 4 (Strands)." Here are the delicious details!
Whenever you purchase tickets for a concert with NJSO, make sure to check whether there's a pre-concert discussion. These usually begin an hour before the concert and only run about a half hour, but the early arrival is richly rewarded. Details well beyond the broadly inclusive program notes are shared that make the concert even more memorable. There are also great restaurants on-site, but you'll need to reserve early, the best times and tables are booked well in advance by those in the know!
Composer and Montclair resident George Walker enjoyed a brilliant performance of his contemporary classical "Sinfonia No. 4." Commissioned by NJSO and three other orchestras, "Strands" is so sub-titled as it weaves themes from two spirituals among its strong statements. In fact, there are several strands that occur prior to the straightforward statement of the theme that then reappears, playing peek-a-boo among the warp and the weft of the weaving. Walker was a pianist who studied at Philadelphia's Curtis Institute and appeared with Eugene Ormandy earlier in his career. The piano is still his main instrument and his career as a performing virtuoso continues. An active and decorated veteran composer, Walker won the Pulitzer Prize in 1996 for his song cycle "Lilacs," for voice and orchestra, which was commissioned by the Boston Symphony. "Strands" is the latest brilliance from this energetic nonagenarian, whose smile is even more brilliant than his work.
Beethoven's Symphony Number 3, "Eroica," was originally written to celebrate the early work of Napoleon Bonaparte, whom Beethoven saw as a Consul on the model of those in Greek and Rome, whose nobility was carrying the work of the French Revolution forward, toward bettering the human condition. When Bonaparte showed his feet of clay, Beethoven tore up the title page of the Symphony that included the dedication. The martial quality of the music is glorious and inspiring, and it's easy to see Beethoven's consideration of Bonaparte's early work in it. Though it was written in 1804, it was not until Napoleon's death some 17 years later that the second movement, the Heroes Funeral, came to fruition. By then Beethoven had relented somewhat, but once our faith is shaken, it is difficult if not impossible to restore. The NJSO had augmented bass and cello sections, as well as adding extra musicians in the horn section, violins and violas. There was a palette of dynamic range that Maestro Lacombe exploited to the utmost as he conducted this piece both by heart and with the heart.
Maestro Lacombe studied Beethoven in Vienna, and this music is clearly among his most passionate pieces. Both the "Eroica" and Symphony Number Five were conducted with great bravura, and the audience responded. In fact, the Sunday concert was beyond well-attended as Beethoven, the supreme architect of music, is a passion for many of us.
After an intermission featuring the popular "Ask a Musician," where NJSO luminaries answer audience queries, the concert resumed with Beethoven's Symphony Number Five. During World War II, the British played this piece, also with martial flavor, frequently for inspiration. After all, the famous opening theme, short-short-short-long, is the Morse Code expression of "V," and "V" meant Victory.
Symphony Number Five, in addition to being one of the most dramatic and recognizable of Beethoven's symphonies, has been popular for dozens of reasons since it was first introduced. The main theme of the first movement captures the imagination and from orchestral performance to disco—Walter Murphy's "A Fifth of Beethoven"—or as part of a medley—"Hooked on Classics"—you walk around humming. None of this would prepare you for the core of NJSO being conducted with such verve.
Beethoven's Fifth Symphony is the flowering of the passion of a composer standing astride the work of Haydn and Mozart, even as he presages Schubert and Brahms and the Romantic period. You can hear all of this in one of his most familiar works, given a fresh interpretation by Maestro Lacombe and the orchestra. In the finale, you have 29 crashing measures of C minor, a key that had great majesty for Beethoven, a key that he considered to be both historic and the "key of fate" and, considering the use the Brits put it to during WWII, one would have to agree.
If you doubt that playing in a symphony is work, watching the violins, led by concertmaster Eric Wyrick, and Maestro Lacombe propelling the Symphony to its crashing conclusion in that finale, would belie that belief. We were hypnotized by the monumental meditation that put the capstone on an amazing afternoon. And there's more to come!
NJSO will be all over the map and even across the Hudson—look for the orchestra at Carnegie Hall in May, when Maestro Lacombe makes his Carnegie debut! Contact NJSO for more details as subscribing is now more affordable than ever! For tickets, subscriptions or more information on NJSO programs, call 1-800/ALLEGRO (255-3476) or visit www.njsymphony.org.