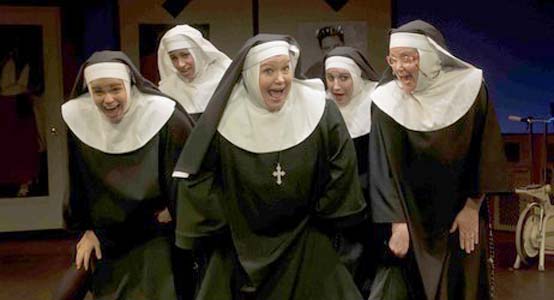 photo by Warren Westura

cast of "Nunsense"

.......................................................................................................................................................................................
Usually summer is holiday time for many regional theatres. There are lots of one-nighters, concerts and touring companies at the usual venues. Now, for something really different, Morris Museum's Bickford Theatre steps up with a rare summer production of "Nunsense"–a musical that began life as an arch, louche look at the Little Sisters of Hoboken and their story of survival and triumph!
"Nunsense" is a musical that practicing Catholics, "recovering" Catholics, and all observers can appreciate. The Little Sisters of Hoboken are part of an order that originally was dedicated to serving a leper colony on an island south of France. While a handful of the order is off playing Bingo, Sister Julia, Child of God whips up a literally to-die-for vichyssoise that levels the playing field, as well as most of the players. Only 19 sisters remain, and four of them, along with the Reverend Mother, are raising money to bury the remaining sisters who have not yet been sent to their Final Rest. Immediately after the tragedy, the Sisters created a line of ragingly popular greeting cards and made lots of money. They were able to assure that 48 were laid to rest. Reverend Mother, however, bought a plasma TV to ease the suffering of the other sisters, so four are in the freezer waiting for the success of the present fund raiser to help them meet their Maker. Sounds macabre, yet funny? BINGO!
The songs are breezy and fun, betraying their roots in cabaret. The show itself was born from a line of greeting cards that had witty observances with a nod to religion that were so popular, composer Dan Goggin wrote a revue. It was to run for a few days at Manhattan's Duplex, and ended up running 38 weeks. Then it was expanded to a full length musical that had the next to longest run of any off-Broadway show–second only to "The Fantasticks!" It's great fun for music-lovers all the way from the first cast number, "Nunsense is Habit-Forming," that starts like a plainsong Hildegard von Bingen piece, to "Tackle That Temptation with a Time Step"—yes tap-dancing nuns! This collection of songs requires considerable talent from any cast that takes on this production. A stellar cast is featured at the Bickford!
Gwendolyn Jones is the Mother Superior who rules with an iron hand, until she finds something that she must investigate that may be her undoing. Jones' Reverend Mother is crunchy on the outside, tender on the inside. She shines most, for my money, when reminiscing about how she came to be in the convent and she's full of surprises! Geraldine Leer is Sister Hubert, Mother Superior's rival and Number Two in command. She gets things done by working behind the scenes, as well as at Reverend Mother's side, even while she waits to ascend. Leer has a beatific sparkle that shows there's always something going on 'neath Hubert's wimple. Sister Mary Amnesia doesn't quite know who she is, thanks to a noggin bop from a crucifix. Her demeanor is sweet and kind and Kristen Michelle's portrayal is full of flash! One of her numbers is shared with "Sister Annette," a Nuppet (Nun-puppet) of acerbic wit that is a ventriloquist's challenge! It's a brilliant standout performance, especially since Good Nun and Bad Nun are the same wun, uh, one! There's also a wee bit of Queen of Heaven meets Queen of the Night–listen closely! Sister Mary Leo wants to be the first Ballet Nun, and that's no lion! She's a postulant who works out her love of Jesus through the dance, and this emerges in many interesting ways throughout the entire show. Dancing en pointe, "en habite," Leo is happy as can be. When she gets a Diva turn in Act II, you'll feel very smart for recognizing her choice of classic dance. Sister Robert is the one who balances the ways of the street with the way of the cloister. She is intelligent, irreverent and full of life and that joie de vivre shines through everything she does. Robert always has an angle and when she gets called up to the Big Show, she's more than ready!
Solos are not the only attraction! "Father Dan's" piano stylings support many other highlights, including the "Just a Couple of Nuns" vaudeville nod, "The Drive-In" à la "St. Andrews Sisters," and the revival-esque "Holier Than Thou." It's irreverent, relevant, and as much fun today as when it debuted in 1985, and lovers of the arts will find quotes throughout from classic dance, pop culture and other high brow pleasures. You only have till August 12 to see "Nunsense" at the Bickford, so visit www.bickfordtheatre.org and get your tickets today! Otherwise, there will be three "Our Fathers" and a zillion "Hail Mary's" in your future!