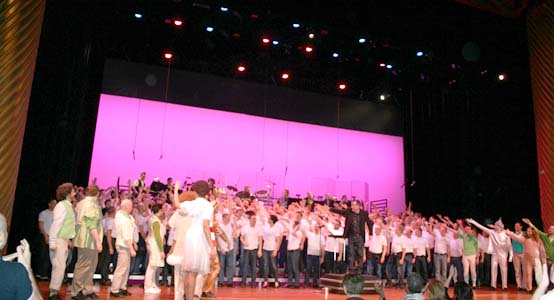 photo by Bruce-Michael Gelbert

NYCGMC at Skirball Center in March

.......................................................................................................................................................................................
The New York City Gay Men's Chorus (NYCGMC) closed its 32nd season with the Gay-la event of the season–its Pride concert, "What Now?(!)" New York University's Skirball Center hosted this combination concert, rally, lecture, and inspiration on June 27 and what a night it was!
Peter Criswell, the executive director of Big Apple Performing Arts, Inc., which administers the biz of the NYCGMC, shared that the Pride concert is a special opportunity for some consciousness-raising. "Each year we focus on some aspect of particular interest to the community. Last year, our Pride concert was 'Accentuate the Positive'. We believe in being involved in our community." And involved they are! Joan Garry, first tenor and MC for the evening, called on her activism experience and the powerhouse of influential people, who sing in the chorus, to provide further color and texture for the multimedia experience.
The very entrance of the Chorus heralded something special. It's fairly common to have members file in from either side, but when two more double rows of singers entered the aisles as well, it gave a real sense of how strong a group this is. Queued up for the fourth movement of Randall Thompson's quintessentially American "Testament of Freedom," "I Shall Not Die Without Hope," the choristers brought a note of gravitas to the proceedings right from the beginning. Then, soloists Carlos Rios, Jordan Ruefle and A. LaMar Torrence got us all "Feeling Good," each man enjoying his own flavor of blues riff, which was then suffused with choral energy, in an arrangement by Artistic Director and conductor, Dr. Charles Beale. If there is a culture and a celebration to being LGBT, and I would argue there most certainly is, I was basking in it on that Wednesday evening. Skirball is a beautiful venue for this kind of performance in which there was a large screen that was showing media from both sides of the LGBT civil rights aisle, astounding us with the brilliance of our accomplishments, as well as the ignorance of those who stand against progress.
Next, the entire chorus regaled us with Rufus Wainwright's "Oh What A World," oh those clever lyrics that ruminate on change. The waggish musicians quote Ravel's "Bolero" at one point … hmmm! The soloists, Ransome Bruce and Tim Howard, reminded us there is no going "Back to Before," from Flaherty and Ahrens' "Ragtime," and then the chorus provided punctuation with "We Shall Not Be Moved," while Joan Garry kept the thread of the gains that we've made in civil rights over the past few months in mind. Interviewing fellow NYCGMC member Scott Davenport, who is the CEO of Freedom to Marry, we learned about the ground we've covered and where we still need to go. Interspersed with the music there was a dramatic thread of "Concert Scenes," written by Michael Scheman, showing us three different couples and the effect the burgeoning of LGBT civil rights has on them, us, and our dreams. Alex and Steven (Howard and Bruce) were the first couple to register to marry in New York and the notoriety may be tearing them apart. Max and Josh (Michael Osso and Austin Bartsch) have had an old-fashioned wedding and some of their growing pains–together? apart?–affect us as well as them. Finally, Justin and Paul (Thomas Dieter and Mark Schall) find that wanting to create a family could very well upset the family that they've already made.
An especially memorable portion of the evening was an excerpt from Dustin Lance Black's "8," a dramatization of the actual court transcripts from the Proposition 8 trial, in California, that overturned the halcyon few months when all Golden State residents had marriage equality. Joshua Nelson, Michael Coleman, Jeffrey Norman, Jim Williams, Ms. Garry, and guest soloist Julia Murney gave us a glimpse inside the courtroom where Justice is impartial, not blind. The most amazing portion, to me, was Jeffrey Norman's portrayal of key witness David Blankenhorn, who seemed to have an epiphany during his testimony, which may have led to a reversal of his position–Blankenhorn now supports marriage equality. Fascinating! Who knew that he was part of what Scott Davenport calls the "Movable Middle?" Immediately following was Julia Murney, Elphaba in the "Wicked" touring company and on Broadway, treating us to Sam Cooke's "A Change is Gonna Come," another arrangement by Dr. Beale, interspersed with passages of "(Somewhere) Over the Rainbow" that flow organically back and forth. "Nothing More" became the province of our Concert Scene cast members, as they tell us what they want, what they need, and what they bequeath to the world. Then the chorus sang "Keep Holding On" during monochromatic videos of young men and women, challenged for who they are, gradually seguing into "it gets better" videos, reinforcing that, while there are families of birth, there are equally strong families of choice, and we can all lend strength to someone who needs it.
Edgar Colón-Hernández's arrangement of the "Star-Spangled Banner" rang out to a standing crowd to open the second act. I admit it–putting my activism together with my flag and my country brings tears to attention in my eyes. We are patriots and we are tired of being second class citizens. John Hager's passionate, fiery and eloquent performance of Adam Goddard's "Yes We Can, But No We Haven't," Goddard's queer-y—pun intended—regarding Obama's lack of support for marriage equality. President Obama must have "heard" him, to come forth and support us in our quest for marriage equality.
Concert Scenes continued, as we see that Justin is a single father now, as Justin's dream and Paul's dream did not align as they'd thought they did. Their meeting is bittersweet and Mark Schall's wonderment at Paul's situation was tangible in his performance of "Both Sides Now." Then Julia Murney returned in a delicious reprise of "Back to Before" that set up Stephen Sondheim's "Sunday," from "Sunday in the Park with George". Ms. Garry stated the importance we all have as citizens and how important we are in society. The audience may have been considering the Sunday just past–both the anniversary of enactment of full Marriage Equality in New York State, as well as the Heritage of Pride March. We are the sparkly threads in the tapestry of society! But who would end a concert on a such a mellow note? Certainly not NYCGMC, not yet! Soloist Christopher Anderson set the boys en fuego with "Sexual Revolution." Not content to woo with his voice alone, he called out NYCGMC's Dance Team, including Anderson, Jonathan Antonelli, Alex Bernhardt, Tyler Haygood, Nathan Norrington, Carlos Rios, Jordan Ruefle, Arri Simon, Mark Tagwalan and Joseph Vicente, with Dance Captains Michael Osso, Ryan Scoble, Seth Watsky and Jacob Levine. The dancing was hot and, leading up to the finale, it became a battle of shirts and skins that you just had to see–so make sure to make NYCGMC's Pride concert next year!
Dr. Beale invited the NYCGMC Alums in the audience to the stage to join in the singing of one of their signature songs, "In This Very Room." Fully half the audience joined the Chorus onstage and ended the night in beauty. I drove home through the balmy air considering the insert in the program, showing where LGBT people stand as citizens in each of the 50 states. I blew Lady Liberty a kiss from the Newark Bay Extension, and the lights of Elizabeth were a carpet of diamonds at my feet–the time for change is now.
Get more information about NYCGMC, which is now encouraging women to become singing members—go Joan Garry!,—at www.nycgmc.org. Be changed! Be Change!