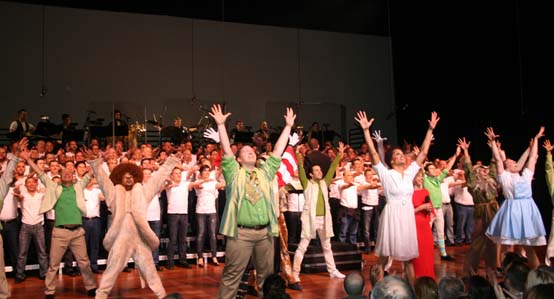 photo by Joseph R. Saporito

NYCGMC "Big Gay Sing 4" curtain call
.......................................................................................................................................................................................
For the fourth consecutive season, the New York City Gay Men's Chorus (NYCGMC) members, led by Artistic Director Dr. Charles Beale and accompanied by pianist Aaron Dai, invited us to sing some favorite melodies with them, at New York University's Skirball Center, on March 16 and 17, in the "Big Gay Sing 4," and, as before, the experience was exhilarating. It didn't hurt that the guest host was everybody's favorite Broadway potty-mouth, Jackie Hoffman, who shared that, thanks to listening to and memorizing Broadway musicals as a child, "by the time I was a nine-year-old girl, I was a gay man." Above and beyond the call of duty, Hoffman acknowledged, by name, every chorus soloist, every player in the nine-piece band—trumpeter Brian Pareschi, woodwind player Matt Hong, trombonist Bruce Bonvissuto, guitarist Courtney Sappington, bassist Jason DiMatteo, and percussionists Sue Hajopoulos and Dan Gross—and signer Tom McGillis. The St. Patrick's Night performance is the one discussed here.
The zesty opening found the 200 singers and 55 dancers, all dressed for partying, in an "I Got the Music in Me/Party Rock Anthem" production number, with Bias Boshell, Skylar and Stephan Gordy, Jamahl Listenbee and Peter Schroeder's songs sung by soloists Tim Howard, Antonio Torrence, Eric Saggese, Ryan Scoble, Christopher M. Lucas, Edwin Yangga, Russell Johns, and Jim Vivyan and their fellow choristers. Steve Milloy wrote the arrangement and Jamie Harris and Tyler Haygood were responsible for choreography. We were soon happily singing along with Greg Toft, Patrick Walsh, and the chorus to Catherine E. Pierson, Frederick W. Schneider, Keith J. Strickland, and Cynthia L. Wilson's "Love Shack," as arranged by Oran Eldor, with choreography by Tym Byerz.
Hoffman offered impressions of a bagpipe, in honor of St. Patrick's Day, and of Bernadette Peters and Mary Tyler Moore; sang a half-minute medley of her Broadway hits, which began with "You can't stop the Xanadu" and ended with some finger snaps and the "Addams Family" theme; and followed these with a bitter ballad, or rant, which she composed, ordering, "Stop Making Out (in front of me)" and "Get a room!" Recently entering into a mixed marriage—"I'm Jewish, he's happy"—she posed the question, to her mate, "Can I say fuck (in front of your parents)?" in an irreverent song she wrote with David Branetti.
The Chorus brought us back decades with a sing-along of themes from television shows "Friends," "The Jeffersons" ("Movin' on Up"), "The Golden Girls" ("Thank you for being a friend") enhanced by a drag quartet portraying Dorothy, Sophia, Rose, and Blanche, "Gilligan's Island" complete with impersonators of the castaways, "The Brady Bunch," "The Nanny," "The Mary Tyler Moore Show," and "The Carol Burnett Show" ("I'm so glad we had this time together"). Leo Campos, Jeffrey Meyer, Dan Egan, Aaron Holtz, and Skie Ocasio were the soloists, Byerz and Harris, the choreographers, and Eldor, the arranger.
Dulcet-voiced Arri L. Simon and John Hager seduced us and each other, eventually, with "Dat's Love," the Habanera, from Georges Bizet and Oscar Hammerstein II's "Carmen Jones," and the full NYCGMC sang "Dat's Our Man," Carmen, Husky Miller, and company's entrance into the prize-fighting arena—the equivalent of the opening of Act Four of "Carmen"—including the reprise of "Stan' Up and Fight," i.e. the Toreador Song, in Beale's own edition. The sequence ended with a kiss for Simon and Hager. We then enjoyed a compellingly lyrical account of Adele's "Someone Like You," sung by NYCGMC's 'Big Gay Idol' winner Talia Price, with the choristers.
NYCGMC rang down the curtain on the concert's first half with a ringing sing-along of Jeff Lynne's title song from "Xanadu," in Chip Prince's version, with dancers in roller skates and in togas executing steps devised by Harris and Philip Deyesso and hoisting Hoffman aloft at the climax. The second half began, as the 65th annual Tony Awards show did, with Adam Schlesinger's "(It's) Not Just for Gays Anymore"—Broadway, that is—with Tom Guthrie, Alex Bernhardt, and the ensemble singing the song that Neil Patrick Harris offered last June. The version was by Eldor, and the choreography, by Jamie Harris. Soon we were treated to another sweet duet from a musical, Jonathan Antonelli and David Tear's gently rocking "I Know Him So Well," from Tim Rice and ABBA's Benny Andersson and Bjorn Ulvaeus' "Chess."
Nic D'Sposito and Seth Watsky were soloists for a rollicking "Mad About the Boyfriend Medley" sing-along, consisting of "Leader of the Pack," "My Boyfriend's Back," "These Boots Are Made for Walking" assisted by a corps of queens in high boots, and "The Locomotion," in Eldor's edition, with Harris and Haygood's choreography.
We were treated to a preview of NYCGMC's June LGBT Pride show, "What Now?," considering the community's recent achievements and future possibilities, with a rousing rendition of Avril Lavigne's "Keep Holding On," in Milloy's arrangement.
Characters from "The Wizard of Oz" communed with their counterparts from "The Wiz," and we sang lustily along with "Over the Rainbow," "Step Out of the Woods," "Follow the Yellow Brick Road," "We're Off to See the Wizard," "Ease on Down the Road," and "(Can't you feel) A Brand New Day?," in a "Friends of Dorothy Medley," devised by Milloy, with dances by Harris and Haygood. To end the evening on the gayest of high notes, we happily joined Christopher J. Anderson, as Tina Turner, and the chorus, "rolling on the river" with abandon, and singing John Fogerty's "Proud Mary," as edited by Milloy and choreographed by Haygood.
Visit www.nycgmc.org for information about future concerts.