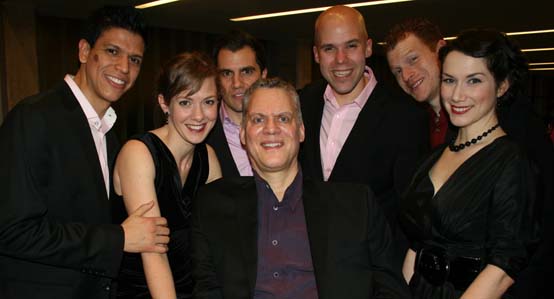 photo by Bruce-Michael Gelbert

cast of NYFOS' "Modern Person's Guide to Hooking Up & Breaking Up" (left to right) Adrian Rosas, Anne-Carolyn Bird, Gennard Lombardozzi, Steven Blier, Alex Mansoori, Andrew Garland & Liza Forrester
.......................................................................................................................................................................................
To celebrate Valentine's Day, the New York Festival of Song (NYFOS) revived and revised "A Modern Person's Guide to Hooking Up and Breaking Up," its enlightening and entertaining program concerning, as Artistic Director Steven Blier put it, love and lust's "kinks" and "variations." NYFOS gave its "Guide" at Calderwood Hall at the Isabella Stewart Gardener Museum, in Boston, on February 12, and at Merkin Concert Hall, in Manhattan, on the 14th, the performance discussed here, and the 16th, with Blier at the Steinway.
The evening began with Anne-Carolyn Bird, Liza Forrester, Alex Mansoori, and Andrew Garland's humorous recitation, in the dark, of e.e. cummings' suggestive poem "may i feel said he." Then tenors Mansoori and Gennard Lombardozzi, baritone Garland, and bass-baritone Adrian Rosas blithely harmonized about passing the time "Standing on the Corner (watching all the girls go by)," from Frank Loesser's "The Most Happy Fella." Metropolitan Opera soprano Bird oozed as she sang of the beau whose hidden, um, talents become evident only in private, in Irving Berlin's "You'd Be Surprised," enhanced by Blier's jazzy postlude, and a smitten Garland charmingly limned a precociously knowing "dear little maid of sixteen," in George Gershwin, mentor William Daly, and poet Brian Hooker's "Innocent Ingénue Baby."
"We Can Talk to Each Other," insisted Mansoori, in a song from David Shire and Richard Maltby, Jr.'s "Starting Here, Starting Now," though he barely let Bird get in a word edgewise. In Stephen Sondheim's "The Girls of Summer," from his incidental music for N. Richard Nash's play of the same name, the composer aimed at writing a "Lena Horne song" and mezzo-soprano Forrester's sizzling, insinuating rendition demonstrated that Sondheim indeed achieved his goal. "You're a Bad Influence on Me," sang Bird, about a questionable, if alluring love, in a song cut from Cole Porter's "Red, Hot and Blue." Bird shooed away the boys, but welcomed the attentions of Forrester, who joined her on the last lines. A lover had some surprise in store for Garland, who wondered, in Debra Barsha and Mark Campbell's "He Never Did That Before," from "Songs From an Unmade Bed," "did he get [this twist] from some film he rented,/One set, say, in a prison cell?/Or Monday's overly familiar waiter/Or Papi inches 9 at AOL?" Garland capped his effort with a falsetto high note.
The Bobs, Gunnar Madsen and Richard Greene's "Through the Wall," Blier explained, concerns "a young man who has an obsession about his neighbor," and with the ensemble providing the rhythm section, in this a cappella performance, Mansoori let us in on the intimacy and possessiveness he felt regarding the woman, played by Forrester, whom he "never met face to face," but whose "boyfriend is really a jerk," he knew, complaining, "Will he ever learn/To play the saxophone?" and "Watches daytime shows,/The sound is loud." Forrester, in turn, regaled us with an unbridled, impassioned S and M—well, just M—number, Tom Lehrer's "Masochism Tango." Bird, Forrester, and Garland made a merry threesome in Harold Arlen, Ira Gershwin, and E.Y. Harburg's "C'est la vie," from "Life Begins at 8:40," which includes cute Joyce Kilmer paraphrase "only God can make a trio." Garland followed up with a cathartic account of Jason Robert Brown's autobiographical "cheating on your wife" and breaking up song, addressed to the 'other woman,' "Nobody Needs to Know," from "The Last Five Years," which the singer also ended with a falsetto top note. Bird continued with the wistful confession of one who has more use for pets than for people, in "(at) Times Like This (I sure could use a dog)," from Stephen Flaherty and Lynn Ahrens "Lucky Stiff." The ensemble backed Mansoori up in "Do It Yourself," a joyous paean to masturbation, from Ed Kleban's unfinished musical, "Warhol."
Forrester and Mansoori, who suddenly aged considerably, shuffled on to attest to their long-time loving and loathing as a creaky, cranky "Bronxville Darby and Joan," who channel some of their acid feelings into "The words we spell/When we're playing Scrabble," in a song Noel Coward wrote for the London production of his "Sail Away." Forrester contributed her own a cappella cathartic moment in the Bobs' "Trash"—"My baby leaves his trash/All over the house./I think it's time to trash my baby"—with the ensemble's backups, including Rosas' repeated line, "Bag it up!" Forrester concluded her number with a triumphant descending (!) cadenza.
Blier spoke of his forthcoming, April 28 marriage to his partner, James Russell, as he introduced the last two songs. Garland sang Victor Young and Edward Heyman's "When I Fall in Love"—a sincere confession? or a dare?—to which Blier added a suave instrumental interlude. And the full ensemble, divided into couples Forrester and Rosas, Mansoori and Bird, and Lombardozzi and Garland, anxiously explored commitment and ambivalence about it in Sondheim's "Marry Me a Little," cut from and then restored to "Company." In their jolly encore, Lehrer's "I Got It from Agnes," they tried to figure out just who got that bug, with the same initials as Valentine's Day, from whom.
On March 12 at Caramoor's Rosen House, in Katonah, New York, and 13, at Merkin, NYFOS' Blier and Michael Barrett and Caramoor's 2012 Vocal Rising Stars will take us on a journey from "New York to Paris, Paris to Paradise: New Yorkers and Parisians at Home and Traveling the World" via music by Ned Rorem, Charles Trenet, Darius Milhaud, Albert Roussel, Gershwin, and others. NYFOS' Spring Gala, "Over the Rainbow: Songs of Harold Arlen," will take place on April 2 at Weill Recital Hall and the '21' Club. Performers will be Jason Danieley, Darius de Haas, Laquita Mitchell, Bucky Pizzarelli, Mary Testa, and Blier. NYFOS' new music mini-series "NYFOS Next" continues on April 24 with Russell Platt and Friends, at Mary Flagler Cary Hall at the DiMenna Center for Classical Music. Visit www.nyfos.org for further information.