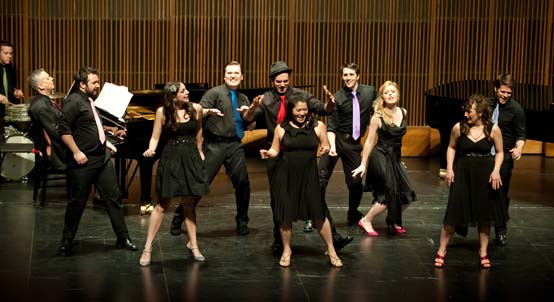 photo by Nan Melville for the Juilliard School

Steven Blier, at piano (left), with NYFOS & Juilliard "Invitation to the Dance" company in Anne Hampton Callaway's "Two and Four" from "Swing!"

.......................................................................................................................................................................................
On January 18, the New York Festival of Song (NYFOS) and The Juilliard School presented their collaborative show "Invitation to the Dance: Songs About Dancing and Songs with Dancing." What a title! Presented in the gracious Peter Jay Sharp Theatre at Juilliard, it was an evening of surprises. Song standards, classical repertoire, and some music that bridged Renaissance poetry with jazz infused harmonies were all on the bill of fare. There really was something for everyone.
The first Act kicked off with the ensemble, including soprano Simone Easthope, mezzo-sopranos Rachael Wilson and Elizabeth Sutphen, Juilliard's own Il Divo tenors Kyle Bielfield, Miles Mykkanen and Nathan Haller, baritone Tobias Greenhalgh and bass-baritone Leo Radosavljevic bopping to Anne Hampton Callaway's "Two and Four," from "Swing," with solo by soprano Karen Vuong as the wallflower cum femme fatale … who walked off stage with Tobias' Trilby by the time she was done. NYFOS Artistic Director Steven Blier on piano, accompanied by percussionist Andrew Stenvall, was joined at points by Co-Artistic Director Michael Barrett on piano and even showing off his own percussion chops!
Highlights of the first act included Bielfield's crooning of Irving Berlin's "Change Partners" with beautiful phrasing and dynamics–his longing was tangible. Selections from James Sellars' "Kissing Songs," originally commissioned by NYFOS, included Tango, Slow Fox Trot, and Two-Step, with the appropriate interludes. Imagine, if you will, poetry from the 1500-1600s set with the modern harmonies, or as Steven Blier puts it "Gesualdo meets Manhattan Transfer." I felt all that time spent in Music History and Theory was well spent after all, who knew?! I was overcome with the acquisitiveness of a vocalist who wants to add a toothsome piece to her repertoire … high praise indeed! Special as well were the star turns done by the women's ensemble then the men's. The women wooed us with "Can that Boy Foxtrot," which, while cut from the original Broadway "Follies" production, was in the 1998 regional revival, and these women all knew about the dance. I only wish they each would have lingered a bit longer on "F-f-f-f-f-f-f-f-f-oxtrot." Conveying pure delight in the tapestry of the voices' texture, it was clear they all knew whereof they sang. The men's ensemble's piece "Mein Onkel Bumba aus Kolumba tanzt nur Rumba," written by Herman Hupfeld—of "As Time Goes By" fame—and arranged for a popular vocal group in the late 1920s/early 30s called the Comedian Harmonists. This close harmony also had close-order "choral-ography," complete with snappy head movements. This was just what we needed to cleanse the palate for the courses to come.
Act II begin with a quartet of Seraphim, made up of Easthope, Sutphen, Haller and Radosavljevic, singing music tailor made for their voices with selections from Brahms' "Neue-Liebeslieder Waltzes." The melting, melding, and pushing and pulling of the voices against one another was sexy and sublime. German music is not considered to be romantic, and Brahms is not usually considered lush, despite being among the Romantic composers, but the voices combine as a foursome, then pair in different ways to make for a truly lovely setting for the act.
The second act favorites, for me, included a surprising–for me–lightness of manner from bass-baritone Radosavljevic in his "The Best Things Happen While You're Dancing," by Berlin. Men with deep voices are charming when they show this side of themselves–soft and sure, rather than powerfully masterful, and the dancing was charming as well.
Mezzo Wilson's solo, "The Dance of Life," was thrilling in its bittersweet conjuring. Minor keys pervade talk of love and taking a chance on the moment and, when you see the song was written by Andre Previn and Johnny Mercer, you realize that Wilson has made a brilliant selection. Chronologically, this might be early for Wilson to sing this, but the warm tones and worldly wisdom conveyed makes this a great choice to keep in her repertoire for some time to come.
Soprano Vuong, from her chameleon-like transformation in the first number to the wise-cracking habitué of her second act "I'm The First Girl (in the Second Row in the Third Scene of the Fourth Number)," by Hugh Martin, really takes the stage. While at times the song itself is like a headlong rush downstairs, Vuong's voice is matched by her presence–whenever she is on stage, it is hers. She will be someone to watch.
Greenhalgh had his chance to shine on the surprising "El dia que me quiera," by Carlos Gardel, which featured Gabrielle Salvato, a graduate of Juilliard's Dance Division, whose ethereal presence complimented the passionate desire in the baritone's song. While Greenhalgh's voice detailed the many charms of the beloved, you felt more than saw Salvato appear–as if he'd conjured her. As their tango flowed, you felt that this man had a dream in his arms, rather than a woman, and then she departed leaving her memory. The tango is like a heartbeat, whose rhythm finally slows.
While the finale was delicious, the encore "Chili Con Carne," was clearly something the cast enjoyed performing and their joy was abundantly evident. The entire audience was stirring, toe-tapping with syncopated humming and thrumming, while the exuberant cast and musicians combined to make something greater than each individual. Considering that it's Juilliard and NYFOS, that's saying something. When it was done, though the winter night had wind with teeth, the audience flowed out of the Peter Jay Sharp Theatre buzzing ready to face the world and wonder how to sleep with all the energy inside.
Great as this evening was, there is brilliance yet to come with Valentine's Day, with "A Modern Person's Guide to Hooking Up and Breaking Up," at Merkin Concert Hall, and NYFOS Next. Visit NYFOS.org today for tickets and more information.