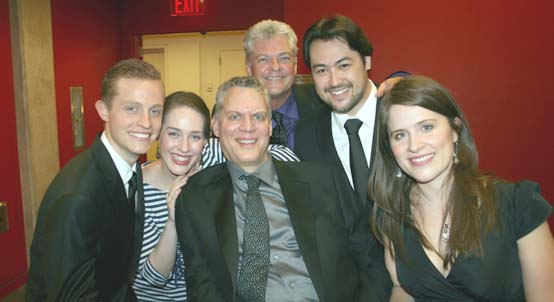 photo by Bruce-Michael Gelbert

(left to right) Brenton Ryan, Meredith Lustig, Steven Blier, Michael Barrett, Eugene Chan & Kristin Hoff

.......................................................................................................................................................................................
What a wonderful musical journey the New York Festival of Song (NYFOS) took us on in "New York to Paris, Paris to Paradise," songs of Parisians at home and abroad and New Yorkers in Paris and at home, for the climax of NYFOS' season at Merkin Concert Hall, on March 13. Guided by NYFOS Co-founder and Artistic Director Steven Blier and NYFOS Co-founder and Associate Artistic Director and Caramoor Center for Music and the Arts General Director Michael Barrett, at the pianos, four promising singers, Caramoor's 2012 Vocal Rising Stars, who are soprano Meredith Lustig, mezzo-soprano Kristin Hoff, tenor Brenton Ryan, and baritone Eugene Chan, illuminated nearly two dozen diverse French and American songs, before they sent us, still beaming, off into the balmy night. The company gave the concert at Caramoor, in Katonah, New York, two days before bringing it to the Upper West Side. The performance at Merkin is discussed here.
With Blier at the Steinway, the quartet began with Charles Trenet's amorous waltz, "La romance de Paris," with Hoff and Chan kicking off this love song to the City of Light, Lustig and Ryan continuing it, and then half the forces offering a vocalise obbligato to the others' singing of Trenet's words. Songs of Francis Poulenc, with Barrett assisting, rounded out this opening group. Hoff sang a short, sweeping "Voyage à Paris," and Chan gave us, in "La grenouillère" (the frog pond), a sweet-sounding reverie, both with words by Guillaume Apollinaire. In songs from "Parisiana," to Max Jacob texts, Lustig limned, in "Jouer du bugle" (cornet player), a somewhat sordid story of three women "qui jouaient du bugle … dans leur salles de bains" (in their bathroom), and their brutal "maître," who also mistreats the son he had with one of them, the child with "[t]rois mères" (three mothers), to music that would not be out of place in "Dialogues des Carmélites," and Ryan floated rapid-fire tongue-twisters trippingly o'er the tongue in "Vous n'écrivez plus?" (You no longer write?)
In "For Poulenc," given a wistful performance by Ryan, with Blier, Ned Rorem and Frank O'Hara mourned the composer, who had just passed away, and Lustig offered, in Aaron Copland's "Pastorale," a dulcet and dreamy romance, in an English language translation, 'from the Kafiristan,' by E. Powys Mathers. Barrett took over pianistic duties for Chan's lilting account of Paul Bowles' "Letter to Freddy," a setting of a missive from Gertrude Stein, and in contrast, the baritone's mostly restrained "Parisian Evening," with Philip Lasser's music and, writing as 'Paul Langley,' words as well. Hoff and Blier turned in an earthy "Harlem on My Mind"—complete with Blier's jazzy "Marseillaise" interlude—positing Josephine Baker's homesickness for Harlem NYC, and introduced by Ethel Waters in Berlin's "As Thousands Cheer," and Ryan and Blier, backed by the other singers, a breezy "Hi-Ho!" by George and Ira Gershwin, cut from the film "Shall We Dance," where Fred Astaire would have sung it.
Parisians drawn to exotic, often Eastern climes was the theme of the next selections, with some of the composers making use of musical styles that they learned in foreign lands. With Blier, Chan gently caressed lines of "Les roses d'Ispahan," by Gabriel Fauré and Leconte de Lisle; Lustig capped Maurice Delage's raga-influenced "Un sapin isolé," to Heinrich Heine's poetry, with a beautiful, partly hummed cadenza; and Hoff lustily sang, to the rhythm of the samba, of being enslaved in Africa and freed in the Caribbean, in Darius Milhaud and Jules Supervielle's "Mon histoire," from "Trois chansons de négresse." Barrett then took us from China, in Albert Roussel and Henri Pierre Roché's "Amoreux séparés," after an 11th century text by Fu Mi, which found Ryan pining for love, and "Réponse d'une épouse sage," after an Eighth Century poem by Chang Chi, in which Hoff portrayed a married woman who sadly returns two pearls, a gift from a would-be lover, because she knows that she must, to Italy, in Fauré and Marc Monnier's "Tarentelle," a vigorous tarantella, which Lustig and Hoff concluded in coloratura harmony.
With Blier, Chan and Ryan cheerfully thumbed their noses at the rich in Berlin's "Slumming on Park Avenue," sung by Alice Faye in the film "On the Avenue." With Barrett, the quartet played lovers, walking "In Twos" in Central Park, from Marc Blitzstein's "This Is the Garden," and Chan, in his best New Yawkese, marveled at a friend's girlfriend, in Blitzstein and e.e. cummings' "Jimmie's got a goil." Lustig, with Blier, shared the euphoria of lovers' rendezvous in the Central Park Ramble, in "A Tree in the Park," from Richard Rodgers and Lorenz Hart's "Peggy Ann." And Blier and the quartet, real cool in their shades, brought us back to the swinging '60s, with the Ad Libs' John Taylor and George Davis' "The Boy from New York City" ("Ooh wah, ooh wah cool, cool Kitty/Tell us about the boy from New York City").
Blier and quartet's punningly bilingual encore was Charles Aznavour's "For me, formidable."
For its annual gala benefit, on April 2, NYFOS goes "Over the Rainbow," with Stephanie Blythe, Laquita Mitchell, Mary Testa, Jason Danieley, Darius de Haas, jazz guitarist Bucky Pizzarelli, and Blier and Barrett performing music by Harold Arlen, at 7 p.m. at Weill Recital Hall at Carnegie Hall, followed by dinner at 8:30 p.m. at the '21' Club. Individual tickets are available for $750, $600 of which is tax-deductible, and $1,000, $850 of which is tax deductible, with seating for ten in the theater and a table at the dinner going for $7,500, $6000 of which is tax deductible, and $10,000, $8,500 of which is tax deductible, by visiting www.nyfos.org, calling 646/230-8380, or sending a check made out to the New York Festival of Song, or credit card information, to 307 Seventh Avenue, Suite 1206, New York NY 10001.
NYFOS' 25th anniversary season will begin with Gershwin, at Merkin, on October 20. The season will continue on December 6; on February 19, 2013, with music by Trenet and Jacques Brel; and on March 19, with Caramoor's 2013 Vocal Rising Stars. Save the dates!