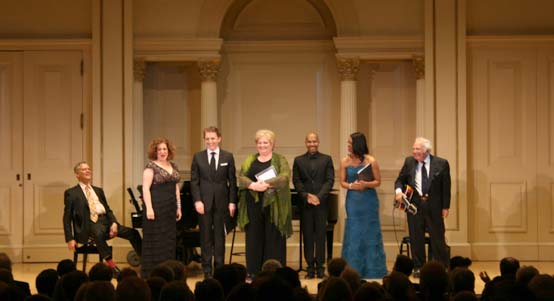 photo by Bruce-Michael Gelbert

cast of NYFOS' "Over the Rainbow" (left-to-right) steven Blier, Mary Testa, Jason Danieley, Stephanie Blythe, Darius de Haas, Laquita Mitchell & Bucky Pizzarelli

.......................................................................................................................................................................................
The New York Festival of Song (NYFOS) closed its 2011-2012 season with a starry Gala salute to songwriter Harold Arlen, "Over the Rainbow," at Weill Hall at Carnegie Hall on April 2, featuring guest performers from Broadway, opera, and jazz. NYFOS Artistic Director Steven Blier was at the Steinway.
Theatre's Mary Testa and Jason Danieley started us off by singing "June Comes around Every Year," a love song with some wry commentary. Testa put us under her spell with "That Old Black Magic," from "Star Spangled Rhythm," then soulfully sang us what Blier called Arlen's "Jewish Blues," "When the Sun Comes Out." Danieley delivered a rueful account of just-before-last-call song "One for My Baby, (one more for the road)" and a sassy "Satan's Little Lamb," from "Americana," which elicited sizzling pianism from Blier, who called its lyrics the collaboration of "left-wing leprechaun" E.Y. Harburg and "poet of the good old boys" Johnny Mercer.
New York City Opera's Laquita Mitchell lent her lovely lyric soprano to a rapturous rendition of "I Never Have Seen Snow," from Arlen and Truman Capote's "House of Flowers," and she and Darius de Haas expressed devotion in an impassioned "Come Rain or Come Shine," from "St. Louis Woman," with tasteful ornamentation from both. The tenor and Blier gave us a gently swinging "Paper Moon," from "The Great Magoo," and Mitchell bade an anything-but-tearful farewell to the cheating man her character just shot in "Sleep Peaceful, Mr. Used to Be," from "St. Louis Woman."
Metropolitan Opera mezzo-soprano Stephanie Blythe, fresh from rehearsal for "Das Rheingold," dazzled us with her searing "Any Place I Hang My Hat Is Home" and, from "Here Come the Waves," exultant "Ac-cent-tchuate the Positive."
Venerable jazz guitarist Bucky Pizzarelli took the stage for a contrasting pairing of the laid back and the lively, "Last Night When We Were Young" and, from "House of Flowers," "A Sleeping Bee." Pizzarelli and Danieley joined forces for a breezy "I've Got the World on a String," from "Cotton Club Paradise," and the guitarist and de Haas offered a fervent "Blues in the Night." Pizzarelli concluded his set with the program's title song, an ethereal "Over the Rainbow," from "The Wizard of Oz," and the company's irreverent encore was "Lydia the Tattooed Lady," written by Arlen and Harburg for Groucho Marx.
Dinner at the '21' Club followed the performance. NYFOS' next season begins in October, at Merkin Concert Hall, with "Mr. Gershwin Goes to Washington." Visit www.nyfos.org for further information.