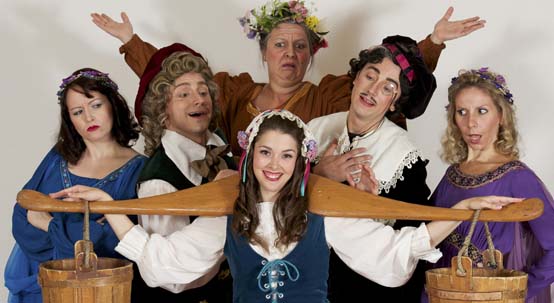 photo by William Reynolds

Erika Person as Lady Angela, David Macaluso as Grosvenor, Sarah Caldwell Smith as Patience, Caitlin Burke (behind) as Lady Jane, James Mills as Bunthorne, Melissa Attebury as Lady Saphir in "Patience"
.......................................................................................................................................................................................
The New York Gilbert & Sullivan Players' (NYGASP) "Patience" (1881), sending up the Aesthetic Movement that came to be typified by Oscar Wilde and James Whistler, and given at the Peter Norton Symphony Space on March 11, aptly demonstrated the company's continuing commitment to the Gilbert and Sullivan repertory and style. Albert Bergeret conducted, with his orchestra situated on stage left, and directed as well.
James Mills, David Macaluso, and Cáitlín Burke tendered extravagant portrayals of rival poets Reginald Bunthorne and Archibald Grosvenor, both smitten with themselves, and indefatigable Lady Jane, smitten with Bunthorne. Collaborations by these over-the-top performers were among the delights of the afternoon, and these were Burke and Mills' show-stopping "So go to him, and say to him" duet, dance, and encores, including one in which they lip-synched to each other's lines, and Mills and Macaluso's pattery vaudeville turn with "When I go out of door." Burke's richly-voiced "Silvered is the raven hair," which found her wielding her cello like a guitar, strumming it, and a violin, at her chin, was also a moment to cherish.
The finale of Act One yielded a number of pleasures, beginning with "Let the merry cymbals sound," which some of the women illustrated with delicate finger cymbals, while larger-than-life Lady Jane preferred huge, crashing ones. Tenor Daniel Greenwood sang the Duke of Dunstable's cavatina, "Your maiden hearts, ah, do not steel," most gracefully. The 'sestette' "I hear the soft note of the echoing voice," sung by Erika Person (Lady Angela), Melissa Attebury (Lady Saphir), Meredith Borden (Lady Ella), Greenwood, David Wannen (Colonel Calverley), and Matthew Wages (Major Murgatroyd), stood as a lovely model of precision, as did Person, Attebury, and the men's later quintet "If Saphir I choose to marry" ("In that case unprecedented"). Patience's song "True love must single-hearted be," sung by soprano Sarah Caldwell Smith, and the act's concluding stretta, with Smith taking the high line with distinction, appropriately brought to mind the bel canto operas that inspired William Schwenck Gilbert and Arthur Seymour Sullivan, as did Smith's later "Love is a plaintiff song" and her earlier soprano-mezzo duet with Person, "Long years ago, fourteen maybe."
Mention must be made of the outstanding contribution of the chorus, as "love-sick maidens" and officers of dragoon guards, and of the topical verse, penned by Bergeret and co-director and choreographer David Auxier, that Wannen appended to "If you want a receipt for that popular mystery," the "Heavy Dragoon" song, in which names dropped included those of Barack Obama, Nancy Pelosi, Hillary Clinton "defending her man," Jay Leno, David Letterman, Pablo Picasso, Frank Sinatra, the Beatles, and Janet Jackson "with wardrobe malfunctional."
Next on NYGASP's agenda Fairyland meets Parliament in "Iolanthe," at Symphony Space on May 19 at 3 p.m. and 8 p.m. and 20 at 3 p.m. For tickets, visit www.nygasp.org, call 212/864-5400, or come to the box office at 2537 Broadway, at 95th Street, from Tuesday through Sunday, from 1 to 6 p.m.