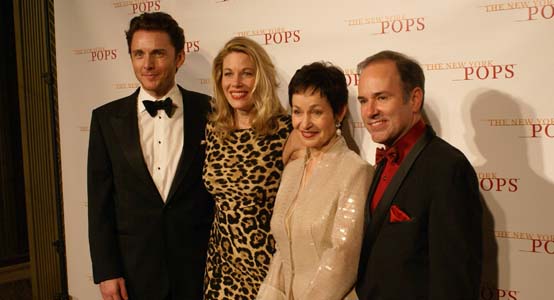 photo by Joseph R. Saporito

Jason Danieley, Marin Mazzie, Lynn Ahrens & Stephen Flaherty

.......................................................................................................................................................................................
The New York Pops celebrated its 29th birthday by closing its season at Carnegie Hall, on April 30, with "Journey On," a fantastic gala salute to the songwriting team of composer Stephen Flaherty and lyricist Lynn Ahrens, collaborating for 29 years as well, with Pops Music Director Steven Reineke conducting; playwright Terrence McNally, who wrote the books for Flaherty and Ahrens musicals "Ragtime" and "A Man of No Importance," hosting; and creative direction by William Schermerhorn.
Reineke was at the Steinway, at first, for the opening rag and title song from "Ragtime," before mounting the podium and continuing with the "Getting' Ready Rag." Marin Mazzie, who created the role of Mother in "Ragtime," and Jason Danieley, playing Tateh, joined forces for an ardent duet, "Our Children," and Mazzie, voice throbbing, and backed by Judith Clurman's Essential Voices USA, moved us once more with her deeply affecting "(You can never go) Back to Before." Essential Voices took center stage to help us hear the "haunting," "taunting" sound of the "New Music," and eight-year-old George Estes Hall, Jr. took up the baton to guest conduct the Pops in "Henry Ford."
In selections from "A Man of No Importance," Danieley enthusiastically declared himself inspired by the poetry of "The Streets of Dublin," and Andrew Rannells, from the cast of "The Book of Mormon," made his Carnegie Hall debut relaying the simple message of great importance, "Love Who You Love." Liz Callaway, who provided the voice of the protagonist of the feature film "Anastasia," was on hand to sing a hopeful "Journey to the Past," which was nominated for an Academy Award.
In songs from "Lucky Stiff," Flaherty and Ahrens' first musical, Nikki M. James, who won a Tony Award for her performance in "The Book of Mormon," vibrantly professed greater faith in pets than in people in "Times Like This," and Rachel York, assisted by Essential Voices, breezily gave us basic lessons in "Speaking French."
Turning to "Seussical," the Pops' Camp Broadway Kids, some of them lined up in the Parquet aisles, radiated optimism in "It's Possible," and Reineke donned the Cat in the Hat's signature red-and-white-striped chapeau and, introducing the Salute to Music Students program's young musicians, playing beside the Pops' own, paced them in "Green Eggs and Ham." Kevin Chamberlin, the musical's original Horton the Elephant, made a Carnegie debut, wistfully clutching a thistle and actually hearing a Who, in the person of young Lewis Grosso, from the cast of "Newsies."
In a departure from theme, Rock & Roll Hall of Famer Darlene Love joined the rock band and chorus of the Ronald McDonald House, for survivors of pediatric cancer and their siblings, in uplifting original song "I Will Always Be There," by Cain and Dylan Hartung and Maria Gentile.
Resuming roles they once took in "Once on This Island," Flaherty and Ahrens' first Broadway musical, Kecia Lewis-Evans, joined by the Camp Broadway Kids, delivered a rousing rendition of Earth Mother Asaka's "Mama Will Provide" and LaChanze, with Essential Voices USA, a penetrating account of Love Goddess Erzulie's "The Human Heart."
Looking at Flaherty and Ahrens' newest musical, "Little Dancer," Boyd Gaines portrayed artist Edgar Degas and the New York City Ballet's Tiler Peck, one of the dancers that fascinated him, in the song "In Between," as choreographed by Susan Strohman. The evening's honorees greeted their public; Ahrens confided that Chamberlin had told her that, at Drag Queen Bingo in Los Angeles, whenever the number B-4 is called, the assembled choruses, "You can never go back to before;" and Flaherty took his place at the keyboard to accompany Rebecca Luker, lending her lovely legit soprano to "Something Beautiful," suggested by a photo of a willow tree, taken by Ahrens' father, from the song cycle "Legacy." Brian D'Arcy James proudly proffered actor's anthem, "I Was Here," from "The Glorious Ones." And the gala's finale was a fervent "Wheels of a Dream," from "Ragtime," sung by James, as Sarah, and Norm Lewis, Broadway's current Porgy, as Coalhouse Walker, Jr.
The New York Pops opens its 2012-2013 season on October 12, at Carnegie, with "Some Enchanted Evening: The Music of Rodgers and Hammerstein," with Lincoln Center Theater's "South Pacific" stars Kelli O'Hara and Paulo Szot, and Aaron Lazar, Essential Voices USA, and members of New York Theater Ballet. November 9 brings "By Special Request: An Evening with the Orchestra," and December 14 and 15, holiday concert "Joy to the World," with Pink Martini. Hear Megan Hilty and Seth MacFarlane with the Pops on March 8, 2013, in "Come Fly with Me: The Songs of Sammy Cahn," and Norm Lewis, Julia Murney, Jennifer Laura Thompson, and Essential Voices on April 12 in "The Wizard and I: The Musical Journey of Stephen Schwartz." For subscriptions, priced from $165 to $540, visit www.carnegiehall.org or telephone CarnegieCharge at 212/247-7800. Find the Pops on line at www.newyorkpops.org.