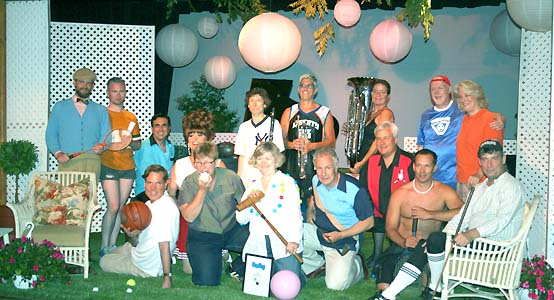 photo by Bruce-Michael Gelbert

cast of "Ocean Aires"

.......................................................................................................................................................................................
The Arts Project of Cherry Grove presented its 14th annual "Ocean Aires," inaugurated and coordinated by pianist Isaac Steven Vaughan and billed as "a classical concert with a LOT of balls," on June 23 at the Community House, and the effort proved, once again, a most refreshing way to greet the summer. The athletic theme meant that sports uniforms for the musicians were de rigueur, as narrator Philomena showed, right off, by delivering her pithy commentary wearing, at first, a Mets shirt and, later, garbed as a cheerleader. William George McGarvey designed the impressively detailed country club setting, complete with Astroturf, for the performance.
Pianist W. John Bainbridge began the program with variations on the "Star Spangled Banner," whereupon trumpeter Laura Ann Giusto joined him for "God Save the Queen," in tribute to Homecoming Queen 2011 YaNeeda Dunes, deputizing for reigning Queen Robin Kradles. Philomena presented YaNeeda with strawberries and cream, identified as the traditional repast of the Queen of England at Wimbledon. Assisted by Isaac, at the keyboard, stage designer and baritone George sang a graceful "O del mio dolce ardor," Paris' aria, from Christoph Willibald Gluck's opera "Paride ed Elena," and clarinetist Chris McDonald contributed a bubbly "Solo de concours," by André Messager, with an ebullient cadenza that received mid-rendition applause. Gene Rohrer was at the piano for Molly Watson's lilting coloratura "Il bacio," by Luigi Arditi, a waltz, we were told, which concerned the sport of kissing.
A shirtless Clarence "Kye" Perry showed off not only his physique, but also his pianistic virtuosity in both the highly dramatic and buoyantly lyrical pages of Frédéric Chopin's Scherzo Number Two in B-flat minor. A mellifluous foursome, Molly, alto Sherri Rase, tenor Curtis J. Strohl, and bass Eric Coyne, assisted by Isaac and Gene, sang of love, in English translation, in an airy quartet of selections from Johannes Brahms' "Liebeslieder-Walzer"—"No, there is no way to deal with jealous people!" sung by all four singers; "See, the bird flies through the air," by the two women; "Oh, my boyfriends!," by the two men, of course; "Oh how fine to see a deer through the forest cruising"—talk about echt-Fire Island imagery!—by the quartet, who rounded off the group of art songs by returning to the first one.
Sand Castle's Anthony Chiocchi, Kye, and Isaac brought us back after intermission, here styled "the seventh inning stretch," with a piano six hands arrangement of John Philip Sousa's "Stars and Stripes Forever," which inspired part of the audience, much to the musicians' amusement—amazement?—to chorus "Be kind to our webbed-footed friends" and to clap along. Isaac remained to accompany tenor Brent Weldon Reno, lounging on the green and wielding a tennis racquet, in a delicate legato account of Ralph Vaughan Williams' pastoral "Silent Noon," from song cycle "The House of Life." Lee Sharmat, assisted by Gene, was on hand for some imposing tuba playing in the Blues theme from George Gershwin tone poem "An American in Paris."
A world premiere, Seth Bedford's breezy serenade to usher in the season, "Music for a Summer Night," was played by Seth on viola, and Chris on clarinet, with Isaac at the Yamaha, where he remained to assist soprano Shirley Ritenour, golf club in hand, in greeting our own dear hall of song with "Dich teure Halle," Elisabeth's entrance aria from the second act of Richard Wagner's "Tannhäuser," in heroic, sculpted tone. I tried to picture Leonie Rysanek, Eva Marton, or Deborah Voigt using Shirley's staging.
For the grand finale, John, Seth, Anthony, Eric, Laura Ann, Sherri, Brent, Gene, Lee, Curtis, and Molly, paced by Isaac, rhythmically chanted, a cappella, Ernst Toch's almost absurdist "Fuge aus der Geographie," consisting of place names, seemingly chosen mostly for their diverting sound, linked by a few words in English.
Next season, "Ocean Aires" celebrates its crystal anniversary.