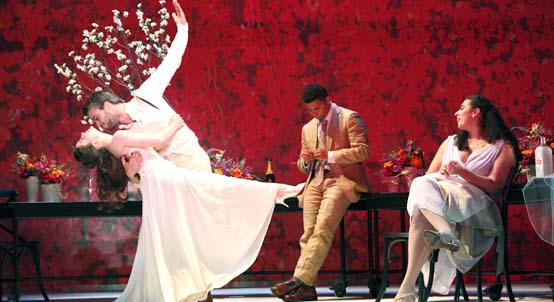 photo by Carol Rosegg

Eurydice (Joélle Harvey), Orpheus (Daniel Teadt), Eurimedes (Victor Ryan Robertson) and Ascalax (Daryl Freedman)

.......................................................................................................................................................................................
The New York City Opera (NYCO), which gave opera at Brooklyn Academy of Music and John Jay College earlier this season, concluded 2012-2013, in May, by introducing us to polyglot rarity "Orpheus" (1726)—with the "eu" pronounced as "oi"—by Georg Philipp Telemann, at El Museo del Barrio. It is fairly unusual to encounter music of Telemann in the opera house here at all, but, in the uptown museum's gem of a theater, and with young singers, mostly new to the company, adept at their demanding florid roles, under the baton of Gary Thor Wedow and direction of Rebecca Taichman (debut), it was a felicitous encounter indeed.
The major twist in Telemann and librettist Michel Du Boullay's German, Italian, and French "Orpheus" that, beside the assortment of languages, distinguishes it from more familiar operatic treatments of the tale of Orpheus and Eurydice is its focus on vindictive Queen Orasia who, though absent from half the scenes, dominates the beginning and end of the evening with her bravura arias and, indeed, the whole work as, it is through her machinations that Eurydice dies on very day she weds Orpheus. Making her NYCO debut, Jennifer Rowley, as Orasia, began the opera with a three-aria tour de force, singing in a flexible chiaroscuro soprano of her woes about Orpheus' wedding and her unrequited love, to her confidante, Ismene (Michelle Areyzaga), in slow German arias, before vowing "vendetta" in a furious Italian one. Another lament, about Orpheus, in German, and fiery vengeance aria, "Vieni, o sdegno, e fuggi amor," as her love for Orpheus turned to hatred, remained for Rowley to cap her triumphant evening, before she killed Orpheus, with the aid of bacchantes Daryl Freedman (debut), who supplied the wine, and Meredith Lustig, who supplied the knife; realized she was effectively sending him back into Eurydice's arms in doing so; and expired, swearing to pursue Orpheus in the afterlife, and was mourned by a replacement Ismene, Joanna Ruszala, after Areyzaga fell ill.
The emphasis on Orasia did not detract, however, from the fine Orpheus of debuting lyric baritone Daniel Teadt, who, in his arias, rejected the Queen; mocked the court life he scorned, with flights of fioritura aplenty; and grieved for his lost Eurydice, more gently than graphically, in "Ach, Todt, du süsser Todt." Teadt's Orpheus angrily confronted Rowley's Orasia, when he learned that her manipulations, with Thanatos (dancer Catherine Miller—debut), caused his beloved Eurydice's death. With soprano Joélle Hervey, as Eurydice, and with tenor Victor Ryan Robertson (debut), soprano Lustig, and mezzo-soprano Freedman, as their friends, Teadt joyously celebrated love and marriage, as Hervey did in her solos, until Miller enticed her in a dance of death, which included an erotic kiss.
Also charged was the encounter and embrace between Teadt's Orpheus and the 'Chairman' Pluto of baritone Nicholas Pallesen, God of the Underworld, whose savage breast, after a lustily florid entrance aria, condemning whoever might be daring to disturb him, was soothed by the lyre playing of the titular master musician. Attended by a phalanx of grimly efficient damned spirits, who reminded of Chairman Mao's humorless secretaries in "Nixon in China," and were played by Lustig, Freedman, Areyzaga, Robertson, and bass David Salsbery Fry, Pallesen's Pluto softened, in his second aria, and release all of the damned from their yokes. Their response was a joyous "Celebrons," the first part finale, in French.
At the wedding, Robertson, as Eurimedes, lyrically attempted to woo, in German, first Freedman, and then Lustig, with the latter breezily responding that the love of freedom is the only love that she knows. He later sang, idyllically, in Italian, and expressed his hurt that Orpheus, losing Eurydice a second time, refused the comforting affection of his friend. Also portraying an emissary from the underworld, Freedman lugubriously brought word, to her peers, that, with Orpheus' departure from Hades, the damned would be damned once more, and, to Orpheus, that Orasia sent the snake (Miller) that bit and killed Eurydice in the first place.
Mark Dendy (debut) devised the choreography; David Zinn, the contemporary costuming and versatile set, which readily became the banquet hall, the office in Hades, and so on; and Donald Holder, the lighting. Kudos to Wedow, who also played the virginal in the continuo, and to Taichman for making this unfamiliar version of a familiar story both coherent and absorbing.