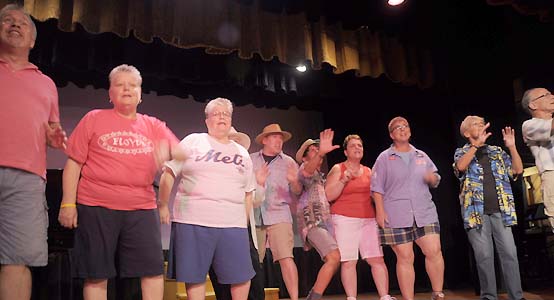 photo by Bruce-Michael Gelbert

"Boardwalk Baby" (left to right) Eric Coyne, Ruth & Susan Freedner, Denise Dell Harbin (partially hidden), James Lyons, Dale Lally, SallyAnn Piacentino, Sherri Rase, Pat Wagnis & Tim Webster

.......................................................................................................................................................................................
Arts Project of Cherry Grove (APCG) Labor Day Weekend show "If This Piano Could Talk," the conception of Denise Dell Harbin, with the invaluable research assistance of, principally, Ruth and Susan Freedner, was given at the Community House on September 1 and paid tribute to the 64 years of community theater there so far and to some of its memorable stars. Darius Frowner was the music director, playing the eponymous piano, and Dale Lally, the choreographer. Matt Baney and Alison Brackman served as tech crew and Martha Pitkin and Ellen Biggers, as backstage crew.
"Piano" began with the company singing "Boardwalk Baby," "Broadway Baby," from "Follies," that is, with some pertinent Fire Island references interpolated. Then there was an audition scene, with Dale presiding. Thom "Panzi" Hansen auditioned, giving his all, but Dale turned him down, recommending that he go instead for the Invasion—which Panzi founded. The company's "I Hope I Get It," from "A Chorus Line," followed, with Dale demonstrating dance steps that most couldn't possibly recreate, so he turned down the majority of the hopefuls and told just a lucky handful, "You're in the show!"
Archival film clips were to start here, but a recalcitrant new projector prevented that until after intermission, with the missing ones then slated to be shown after the finale.
Teri Warren was refused service, 36 years ago, in John Whyte's restaurant in the Pines, until she came back with a dozen friends, an event that touched off what came to be known as the annual Fourth of July Grove Invasion of the Pines. Teri was also a figure in the theater here and Dan "Gusty Winds" Alita movingly remembered Teri with a proud and angry "I Am What I Am," from "La Cage aux Folles."
Peggy Hewett performed on both the Broadway and Cherry Grove stages and soprano Sherri Rase honored her by sweetly urging "Look for a Sky of Blue," from "Little Mary Sunshine," a happy number punctuated by some angry chords from Frowner at the Yamaha, and addressing a fierce and bel canto "So in Love," from "Kiss Me Kate," to the piano.
SallyAnn Piacentino portrayed Medea, in an over-the-top number that was once the province of legendary director and performer Dickie Addison, doing in her child to the turbulent "Giusto ciel!" monologue, and the music underlining and following it, from "Adriana Lecouvreur."
Grove legend Richard "Bella" Iorio vamped and shared beauty secrets ("You're gonna see lips … You see … sexy me"). Robin Kradles, draped in white fur and perfectly cast as Billie Ann Miller as Marlene Dietrich, was wheeled out on a dolly by backups Denise and SallyAnn, to sing "Falling in Love Again," from "The Blue Angel." Barbara Hirsch, as a nun, and Linda Dickerman, as "the Padre," riotously recreated "Serenade of the Bells," which had been Dennis "Mrs. Wolf" Curley's number. They also played the Strudel Sisters—not the Shapiro Sisters?—doing the Barry Sisters' Yiddish version of "Never on Sunday" and led the audience in singing the refrain. Linda honored Dixie Thomas by suggestively performing "If I can't sell it/Gonna sit down on it/'Cause I ain't givin' nothin' away"—was this about a chair or about herself?—which was once Dixie's own.
Tim Webster and Martha played the Freedner Sisters portraying two of the Andrews Sisters "drinking rum and Coca Cola" and "Working for the Yankee Dollar." Susan herself offered "Mad about the Girl," after Noel Coward's "Mad about the Boy," with Ruth cutting in, as permitted, with the likes of "I've got those cry about her, die about her blues" and "I've got those mad about her, sad about her, glad without her blues." Armed with umbrella and slicker, Tony Bondi, backed by SallyAnn, Denise, Barbara, and Linda, repeated touching and popular lament "(It's) Raining in My Heart," from "Dames at Sea."
In the song from "Mame," Lyn Belensky and Pat Wagnis confided in us that "The Man in the Moon Is a Lady." Demi-Tasse made a mad and imposing Norma Desmond, from "Sunset Boulevard," beguiling us "With One Look." Singing torch songs from the heart, with Darius, in a piano bar scene, James Lyons channeled Barbra Streisand as Fanny Brice longing for "My Man;" Dale channeled Judy Garland pining for "The Man that Got Away;" and Eric Coyne declared "Can't Help Lovin' That Man of Mine," with James and Dale harmonizing with him at the end.
Sal Piro, who directed 10 APCG shows, considered late Post Master Jeanne Skinner his good luck charm and cast her whenever he could. Jeanne's daughter, Gerri MacWhinnie, assumed her mother's "Class/Reunion" role of Lydia the Lunchroom Lady, doling out "Food, Glorious Food" to the cast, in the song from "Oliver."
The new projector sprang to life in time for a clip of Philomena, as a ravenous Elizabeth Taylor, singing "Send in the Clams," her version of "Send in the Clowns" from "A Little Night Music," after which Phil "Philomena" Stoehr took the stage to remark, "I've come to the point in Cherry Grove that I am actually nostalgic!" A clip of "Sergeant Pepper's Lonely Hearts Club Band," from Laura Spadafino's show "Glay," last year, came next and the company followed up with another Beatles song, "When I'm Sixty-Four"—like the Community House—again with pertinent Fire Island references, during its curtain calls.