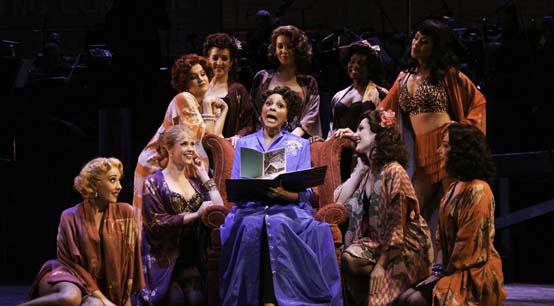 photo by Ari Mintz

Leslie Uggams & the Bear Flag Cafe women

.......................................................................................................................................................................................
The City Center Encores! series' early spring offering, from March 28 to April 1, has been "Pipe Dream" (1955), the Richard Rodgers and Oscar Hammerstein II rarity, after "Sweet Thursday," John Steinbeck's sequel to his "Cannery Row," that, unusually in Rodgers and Hammerstein's wholesome oeuvre, has as its principals a madam with a heart of gold; an unsuccessful hooker; and a scientist more adept at knowing the ins and outs of starfish and octopi than understanding the workings of his own heart. And backing them, with brio, are the denizens of the brothel, the Bear Flag Café, and of the Palace Flophouse, their raffish colleagues and cronies. Music Director Rob Berman, director Marc Bruni, and choreographer Kelli Barclay presided.
Leslie Uggams as Fauna, the madam, a role written for Wagnerian soprano Helen Traubel, cheerfully saluted the day in "Sweet Thursday;" looked, with her working women, at the Christmas card to come from "The Happiest House on the Block," in a song rich in euphemism; and to build self-confidence in her newest, if less than happiest charge, advised Laura Osnes, as Suzy, that "Suzy Is a Good Thing," which found both women singing sweetly in their most legit of voices.
Osnes and Will Chase, as the well-liked scientist, Doc, joined forces endearingly for a romantic duet, "All at Once You Love Her," and a resolutely resistant, or not, "The Next Time It Happens," before they let Nature and musical comedy take their course. Each also had an intriguing introspective moment: Osnes' wistful, then determined "Everybody's Got a Home But Me" and Chase's contemplative "The Man I Used to Be," in which he faced his past with a 'Dream Doc' alter ego, danced by Charlie Sutton. Uggams' gentle solo reprise of "All at Once You Love Her" made for another highlight.
Chase was joined, in the Western Biological Laboratory, by Tom Wopat and Stephen Wallem—Thor on "Nurse Jackie"—as his bumbling, but good-natured pals, Mac and the boy named Hazel, for breezy probes of diversity, in "All Kinds of People"—and starfish, buzzards, and armadillos—and marine biology, in "The Tidal Pool," left at low tide by Monterey Bay—assisted by Wopat and Wallem's shadow puppetry as a crab and an octopus. Wopat's moment to shine came when he enthusiastically planned "The Party That We're Gonna Have Tomorrow Night," assisted by the company, and Wallem's with his examination of Hazel's dopiness in "Thinkin'." Of note, at the Snow White-themed party, were Uggams and her girls' portrayal of witches-turned-fairy godmothers, opposite the flophouse boys' dwarves, and Osnes-as-Snow White serenading Chase's Doc with "Will You Marry Me?," a proposal, assisted by Uggams, that struck temporary terror in both lovers' hearts.
The company collaborated on an upbeat celebration of indolence, in "A Lopsided Bus," and "How Long?," encouraging Doc to drop his reticence about making his feelings clear to Suzy. James Clow, Philip Hernández, James Moye, and Steve Routman took other key parts.
Next on tap for Encores! is Jule Styne and Leo Robin's "Gentlemen Prefer Blondes," after Anita Loos' novel, starring Megan Hilty as Lorelei Lee, from May 9 to 13. Visit www.nycitycenter.org, telephone CityTix® at 212/581-1212, or come to the box office at 131 West 55th Street, between Sixth and Seventh Avenues, for tickets.
Hear Laura Osnes in more familiar Rodgers and Hammerstein at Carnegie Hall on April 24, when she portrays Maria, in a gala concert performance of "The Sound of Music," to the Mother Abbess of Stephanie Blythe, Captain von Trapp of Tony Goldwyn, and Elsa Shrader of Brooke Shields, paced by Rob Fisher, leading the Orchestra of St. Luke's. Visit www.carnegiehall.org for further information.