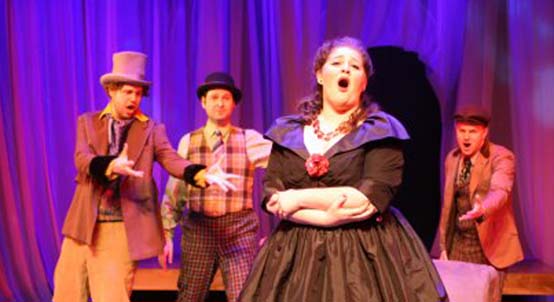 photo by Andrew Liebowitz/WrightGroupNY

scene from "Poisoned Kiss"

.......................................................................................................................................................................................
The Bronx Opera began its 2012 season, on January 14 at the Lovinger Theatre at Lehman College, with Ralph Vaughan Williams rarity "The Poisoned Kiss" (1936), with libretto by Evelyn Sharp and connecting dialogue by Ursula Vaughan Williams, revised by Benjamin Spierman, so that spoken, rhyming verse replaced its recitatives. The performance considered here, the third of four, took place at the Kaye Playhouse at Hunter College on January 21.
A comic folk opera, or operetta here, with serious and supernatural underpinnings, somewhat on the order of Gilbert and Sullivan's "Ruddigore" and "The Sorcerer," with hints of Weber's "Der Freischütz," "Poisoned Kiss" pits Dispacus (bass Richard Bozic), a "wizard who is not state-controlled," against Empress Persicaria (mezzo-soprano Leslie Swanson). They were once in love, but became competitors and enemies, and raised their respective children, his daughter Tormentilla (soprano Hannah Rosenbaum) and her son Prince Amaryllus (tenor Kirk Dougherty), in the one case, on poisons strong enough to kill—with her "sulfuric kiss"—her first love, and in the other, with, says the haughty Empress, "common sense, good manners, and antibiotics"—rhymes with "neurotics"—enough to survive the eponymous toxic buss. When we first meet Tormentilla, she's singing a lullaby to her wounded pet cobra.
United, at the happy ending, are Tormentilla and Amaryllus; their Papagena and Papageno-like servants and confidants, Angelica (mezzo Cabiria Jacobsen) and Gallanthus (baritone Jeremy J. Moore), who also serves a Leporello-like function, maintaining the list of Amaryllus' many past lady loves; Dipsacus and Persicaria; and the former's hobgoblins (tenor Gilad Paz, baritone Nicholas Provenzale, and bass Robert C. Joubert) with the latter's gypsy mediums (soprano Elizabeth Perryman and mezzos Juli Borst and Jodi Karem). The cast—one of two for these performances—and chorus and orchestra, guided by Artistic Director and conductor Michael Spierman and stage director Benjamin Spierman, was uniformly high-level. The production, with sets by Meganne George, costumes by Meg Zeder, and lighting by Jim Elliott, made creative use of projections and video by Eamonn Farrell.
The opera is lyrical, to be sure, sometimes charming, and sometimes rousing, when spells and mischief are in order, but, too often, it's quaint, at length, laced through with the sentimental strains of the English countryside, when one wanted something rather less placid.
Continuing with the themes of fairy tales and magic, the company's next operatic offering, in the spring, will be Engelbert Humperdinck's "Hansel and Gretel." Visit www.bronxopera.org for details.