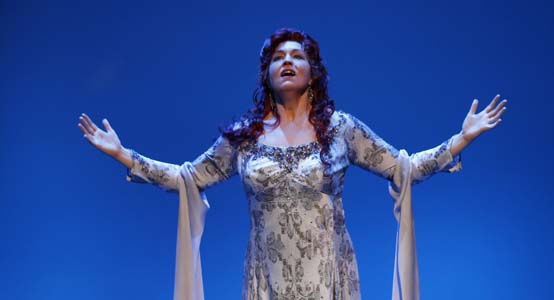 photo by Carol Rosegg

scene from "Prima Donna," starring Melody Moore

.......................................................................................................................................................................................
The last, sadly enigmatic chapters of Maria Callas' life have been dramatized and fictionalized for the stage by the likes of Charles Ludlam, positing a Madama Butterfly-like suicide scene for her in "Galas," and Terrence McNally, whose "Master Class" finds her revving up for a comeback by bullying her students, in between reminiscences. Now add to these "Prima Donna," a new opera composed by Rufus Wainwright, who co-wrote the French-language libretto with Bernadette Colomine, and given its United States premiere performances by the New York City Opera (NYCO), at Brooklyn Academy of Music (BAM), this month.
"Prima Donna" concerns a soprano, Régine Saint Laurent, who left the stage for six years, in the 1960s, and is planning a comeback in 1970 in "Aliénor d'Aquitaine" (Eleanor of Aquitaine), the very opera, written for her, in which her voice failed her half a dozen years earlier. In the intervening years, she has lived in seclusion in a building in Paris that looks very much like the one in which Callas lived out her final days. Melody Moore, so admired in the seconda donna role of Rita Clayton in Stephen Schwartz's "Séance on a Wet Afternoon," gives a tour-de-force performance as the haunted, haunting Régine, melancholy or grand, as befits the situation, and terrified of the imminent return to opera that perhaps lies ahead. Rich-voiced soprano Moore, who sounded nothing at all like Callas in "Séance," often sounds as much like the late Greek-American diva, in her heyday, here, as she dares.
The men in Régine's life are not kind to her. Baritone Randal Turner plays a stern and self-centered Philippe, her butler, who bullies her into the comeback and a press interview prior to it, and when she equivocates about performing again, whines about all the sacrifices he made for her, verbally abuses her, and walks out on her—the protective butler/director/husband Norma Desmond had, in "Sunset Boulevard," comes to mind and then doesn't. High tenor Taylor Stayton, who made a Metropolitan Opera debut this past fall, finishing a performance as Percy, in "Anna Bolena," when Stephen Costello was taken ill, makes the most of his meaty role as Andre le Tourneur, a reporter/singer, who comes to Madame in search of: a juicy interview? preparation for a stage career? an affair? an autograph? a chance to hurt the diva when she's down? Andre just happens to have brought the score of "Aliénor" with him and leads Régine to the very page where she lost her voice before. He accepts her kiss and her invitation to return—but he can't stay: he has his fiancée, Sophie (Miranda Calderon), in tow, forcing Régine to play the Marschallin, from "Der Rosenkavalier," and give him up.
Kindest to her is Marie, her maid, sung by Kathryn Guthrie Demos, who joins her in duet, after the young woman learns very quickly that Madame wants to hear nothing of her servant's woes; strikingly sings a high soprano aria at the start of Act Two, "Dans mon pays de Picardie," with a near-quote from Musetta's Waltz, comparing her native Picardie with Paris, where love rules; and has a couple of run-ins with Turner's acerbic Philippe.
Perhaps most fascinating is a dream sequence in Act Two, where, in one of several visual allusions to "Tosca," another opera about an opera singer, Régine wends her way through candelabrae and roses—brought and arranged by Michelangelo Milano, Jr., a comely François; the set for "Aliénor" blends with that for Régine's living room; and Stayton's Andre, now garbed as Henri (King Henry II of England), joins her for the lush love duet, "Dans ce jardin"—and her voice does not give out!
Régine ultimately resolves not to return to the stage; shreds photo souvenirs of her days in opera, consigning them to the fireplace; sheds her diva gown; and, in her slip, looks out her window at the Bastille Day fireworks. Does she jump? The ending is aptly ambiguous.
With all of its hints of works of the past, "Prima Donna" comes off, inevitably, as derivative, but the perfumed, wistful, overwrought, and sentimental pieces hang together and the work holds the attention, as conducted by Jayce Ogren and directed by Tim Albery. Co-commissioners are the Manchester International Festival, Sadler's Wells, Luminato: Toronto Festival of Arts and Creativity, and Melbourne International Arts Festival, so exposure for "Prima Donna" is assured for the nonce. Beyond that?—well, it's up to the audiences.
The setting, of Maria, um, Régine's gloomily elegant apartment, and diva gowns and so on are by Antony McDonald and lit by Thomas C. Hase, with projections by William Reynolds.
"Prima Donna" had its first local performance on February 19; the second performance, on February 21, is considered here; and remaining hearings, at this writing, take place on February 23 and 25. For tickets, visit www.nycopera.com or telephone 212/870-5600.