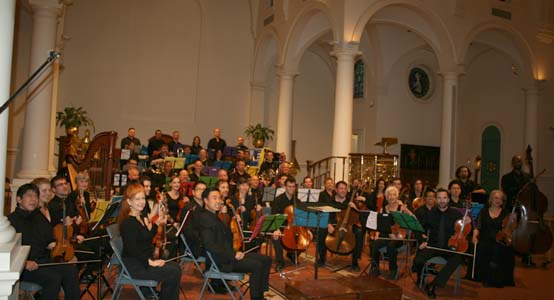 photo by Bruce-Michael Gelbert

Queer Urban Orchestra


.......................................................................................................................................................................................
The Queer Urban Orchestra (QUO) concert, at the Church of the Holy Apostles, in Chelsea, on April 21, was entitled "The Tangled Web (…it's complicated)"—"O what a tangled web we weave,/When first we practise to deceive!" wrote Sir Walter Scott, in "Marmion"—which made for much musical intrigue, involving deceit, deception, disguise, and delusion. Conductor Matthew Oberstein certainly cut quite an animated, energetic figure on the podium, eliciting a vivid performance from QUO's players. The music on the program came from Italy, Russia, the United States, France, and Hungary.
A lively overture to Gioachino Rossini's opera buffa "Il Barbiere di Siviglia" aptly evoked all the intricate plotting—the trickery, secrecy, calumny, lying, and masquerading—that "The Barber" concerns. Never mind that it's also the overture to the composer's "Elisabetta, Regina d'Inghilterra" and "Aureliano in Palmira."
QUO and Oberstein gave Sergei Prokofiev's "Lieutenant Kijé" Suite, from music for a movie about a soldier who is no more than the fabricated result of a bureaucratic error, the seriously quirky, sonorous spin it needs. Kijé was born with much fanfare; fell in love to a sad, folk-like tune; got married with pomp, ceremony, and grandeur; expansively traversed the territory in a sleigh; and expired and was laid to rest with due, albeit tongue-in-cheek solemnity.
A suite from composer Mitch Leigh, lyricist Joe Darion, and writer Dale Wasserman's musical "Man of LaMancha," after Miguel de Cerantes' "Don Quixote," began with a swashbuckling title song; continued with a romantic "Dulcinea," teasing "Little Bird, sweeping "To Each His Dulcinea," and playful "A Little Gossip," Sancho Panza's song; and came to a triumphant conclusion with "The Impossible Dream."
Conductor and orchestra brought an exuberant and fiery "Rákóczi March," from Hector Berlioz's dramatic legend "La Damnation de Faust," after Johann Wolfgang von Goethe's "Faust," to a thrilling, ringing conclusion.
Zoltán Kodály's suite from "Háry Janós," an opera about a teller of tall tales, comprised a colorful "Viennese Musical Clock" movement; broad and braying "The Battle and Defeat of Napoleon" and "Entrance of the Emperor and His Court," full of bravado; and "Song," starting with Michael Vannoni's mournful viola solo, and "Intermezzo," both featuring the exotic gypsy sound of the cimbalom, an Eastern European dulcimer, played by David Shively. An encore of the "Intermezzo" ended the ebullient evening.
In "New Worlds, New Sounds," under Oberstein's baton, QUO's Pride Week concert, at Holy Apostles, on June 21, the orchestra plays the world premiere of Bjorn Berkhout's "Overture for a Summer Evening," Ferde Grofé's "Mississippi Suite," and Antonin Dvorák's Symphony Number Nine "From the New World." Visit www.queerurbanorchestra.org for further information.