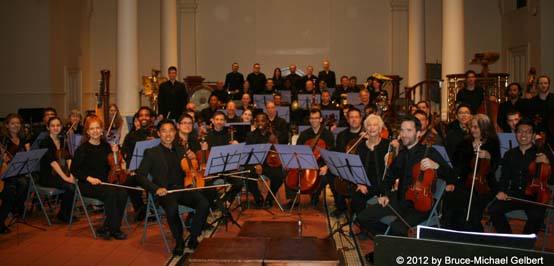 photo by Bruce-Michael Gelbert
Queer Urban Orchestra


.......................................................................................................................................................................................
The Queer Urban Orchestra (QUO) took us on a lyric journey to diverse European and Asiatic locales during its February 25 concert "Musical Postcards," under at least temporarily departing conductor and Music Director Candidate Nolan Dresden's baton, at the Church of the Holy Apostles, in Chelsea.
The full orchestra opened the evening with Nikolai Rimsky-Korsakov's highly colorful "Capriccio Espagnol," replete with emphatically rhythmic Spanish dances. Prominent violin solos, played by Concertmaster Phong Ta, in three of the five movements, helped set the tone for this rendition, including in the lively first and third movement "Alborada," separated by "Variazioni" (variations) that lyrically conveyed foreboding and melancholy. The fiery and earthy "Scena e Canto Gitano" (scene and gypsy song), punctuated by Ta's solo and Alix Raspé's harp glissando, seemed fully to embody Spanish spirit, much as Georges Bizet's "Carmen" and Maurice Ravel's "Bolero," also by non-Spaniards, do. Dresden and QUO rounded out the work with a furious "Fandango Asturiano" finale.
Another resoundingly evocative endeavor was Richard Rodgers' "South Pacific" Symphonic Scenario, drawn from Rodgers' musical, written with Oscar Hammerstein II, orchestrated by Richard Russell Bennett, and incorporating a simple "Dites-moi," the children's song; upbeat "Cockeyed Optimist" and "I'm Gonna Wash That Man Right Outta My Hair;" rapturous "Some Enchanted Evening;" boisterous "Bloody Mary," "There Is Nothin' Like a Dame," and "Honey Bun;" lilting "(I'm in love with) A Wonderful Guy" and "Younger than Springtime;" seductive "Bali Ha'i;" bouncy "Happy Talk;" and grandly operatic "This Nearly Was Mine." One could scarcely resist singing along with such lush accompaniment.
With QUO scaled down to a chamber complement, its players gamely explored the extremes of their instruments' ranges in Bright Sheng's exotic-sounding "Postcards," which helped give the program its title, and which Dresden styled the most technically difficult piece that QUO had ever tackled. Based on Tibetan and Chinese folksongs, "Postcards" began with "From the Mountains," its sweeping slides and flourishes suggesting the awe-inspiring mountains of Tibet. "From the River Valley," in contrast, evoked a bustling, industrious region, while the ominous, clangorous "From the Savage Land" made one wonder just what was lurking in and would emerge from its darkest shadows. A yearning "Wish You Were Here" concluded Sheng's opus.
These smaller forces brought "Musical Postcards" to a close with Felix Mendelssohn's Symphony Number Four in A Major, the "Italian," with QUO romping merrily through the familiar Allegro Vivace opening; then on to a haunting Andante con Moto and peaceful, then ardent Con Molto Moderato romanza; and finally, a tempestuous Saltarello, a rapidly-paced, joyous dance.
The entire orchestra reassembled for the emotional encore, "Ashokan Farewell," by Jay Ungar, arranged by Bob Cerulli.
Join QUO, conducted by Matthew Oberstein, on April 21 at 8 p.m., for "The Tangled Web (…it's complicated)," with deception and intrigue marking Gioachino Rossini's "Il Barbiere di Siviglia" overture, Sergey Prokofiev's "Lieutenant Kijé" Symphonic Suite, selections from Cole Porter's musical "Kiss Me Kate," the suite from Zoltán Kodály's opera "Háry János," and the "Rákóczi March," from the scene set on the plains of Hungary, from Hector Berlioz's Dramatic Legend "La Damnation de Faust." Visit www.queerurbanorchestra.org for further information.