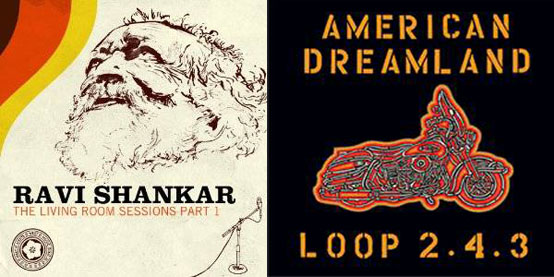 photos provided by Sherri Rase

CD covers

.......................................................................................................................................................................................
Ravi Shankar–Living Room Sessions Part 1: Ravi Shankar sat in his living room in California about a year ago composing—noodling? jamming?—on his sitar with an old friend, Tanmoy Bose, on his tabla. Over a period of four days, they recorded seven ragas, with Kenji Ota on treble tanpura and Barry Phillips on bass tanpura. This volume contains four of those works. This sampling would make a great introduction to the work of a master for someone you're turning on to music that doesn't move in half and whole steps or standard scales. Shankar is always, always creating and this CD is a survey of Indian classical forms. Beginning with the philosophical Raga Malgunji, which considers how near or far the Divine may be to we earthbound creatures to the wee Raga Kedara, composed in Thumri, there is so much to enjoy in this album. If you are not yet collecting the East Meets West Music series, this recording is truly a gateway to another world.
What does the music sound like? There are movements, as Western music has movements, but the timing, as well as the notes themselves, do not correspond to the familiar. There is improvisation and a very close connection among the musicians. In many ways it is like exploring a house in a dream–parts of it seem like places you may have lived before and other parts of it are completely exotic. This is not Tin Pan Alley fare, ground out to a formula—this is classic form, function and art. Quite honestly, the continued virtuosity is as impressive as the creativity in the work itself. The experience is much, much larger than the sum of the parts. Most especially Raga Satyajit, a memorial of the emotions felt when Ravi had first heard of the death of Satyajit Ray, a very close friend. Look for the Living Room Sessions Part 1 on April 10, wherever your favorite music is sold.

American Dreamland–the latest from Loop 2.4.3: If you're the type to judge a book by its cover, and who among us isn't from time to time, you'd pick up American Dreamland just for its retro vibe jacket. Looking like something I might have doodled on a Duo Tang folder in the mid-'70s, it's attractive–the colors speak of energy and the motorcycle is just plain cool. You open it, just to see what's inside and the first track, "Total Collapse," is a brief spoken-word manifesto that piques your curiosity and drives you further in and, from about halfway through "Sakura (we must love)," you'll be hooked.
Thomas Kozumplik and Lorne Watson are Loop 2.4.3 and their work is melodic and accessible. There are meanings and emotions you'll catch easily on the first time through. Really great, really fun and thought provoking music rewards repeated listening. While they primarily use percussion instruments, you'll realize the percussive possibilities in voice, choice of words, scale and even how the music strikes your ear, your heart, and your intellect. While some of these pieces have a coming-home quality, several of the tracks would be great playlist fare for those vacations—or stay-cations—yet to come. Are you tooling around Chelsea Market? Checking out the scene in Central Park or the Slope? You'll want to have this with you. Unbidden, as you listen, your fingers will begin to tap in rhythm. Treat yourself to a listen in headphones … the music comes from everywhere and travels like a friend standing on one side and tapping your opposite shoulder. Familiar but-not, fun and oh-so-cool, punctuated by spoken-word tracks and you'll be able to get your own copy on April 24. I'd loan you mine, but I won't get it back! Get more information at musicstartsfromsilence.com and start your summer this spring.