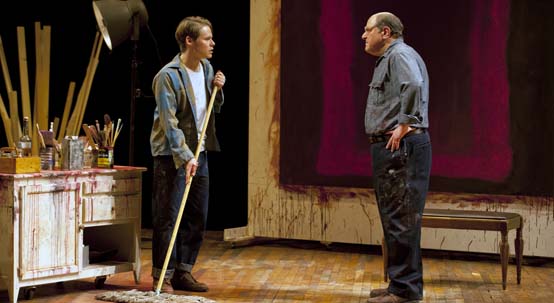 photo by T. Charles Erickson

scene from "Red"

.......................................................................................................................................................................................
We think we know Mark Rothko: blocks of color that have their own kinetic spirit even in their stationary display; the throbbing of color and the combinations inspire imagination, free of the shackles of representation of corporeal objects. John Logan's "Red," now at the George Street Playhouse (GSP), in New Brunswick, New Jersey, provides a look from inside the creative process … the barbed wire that cuts both ways even when the end result is abstract expressionist genius.
The lights come up on Mark Rothko (Bob Ari) in his Bowery studio as he's preparing to work on his commission for the landmark Seagrams building. He has accepted the opportunity to make a visual landscape for the Four Seasons restaurant that is as forward-thinking and modern as the building itself. Rothko is a brilliant painter and an angry man and we soon hear a door open offstage. A young, earnest man in a suit arrives for his first day of work. Ken (Randy Harrison) is Rothko's new assistant and, while recognizing the artist's skill, he is not initially prepared for the brusque attack on his psyche that begins before the first "hello" has been uttered. This stage is quickly well-set for what is to come.
Director Anders Cato, whose work for the GSP includes "Doubt" and, most recently "Circle Mirror Transformation," has set this intensely fired jewel as a piece of music would be. There are several movements that articulate aspects of Rothko, his relationship to art and to the people around him including the inspired and benighted Ken. Scott Killian, the sound designer, has composed original music to augment the scenes as well as including classical pieces for Rothko and a Chet Baker piece for Ken that are specific to this production. So if you've seen "Red" before, you haven't seen this shade.
The music seemingly issues forth from a small phonograph player in the lower left corner of the studio. It's a bit ironic that such a ground-breaking painter as Rothko would enjoy the music of the classical and romantic eras when painting was more representational. It's true that his paintings began in a representational style, but his work traveled through an almost modern-esque El Greco phase, with his subway pictures of the late '30s and '40s, before passing through something Miro-esque, in the mid '40s, to evolve to his own brand of abstract expressionism. Proud as he was of changing people's view of art, it becomes apparent that he is less fond of the idea of being vanquished himself, even as he once had conquered the Fauvists and earlier 20th century artists.
Ari's Rothko is a gruff Russian bear, who is prickly and rugged on the outside to hide his soft chewy center. Spouting philosophy, while railing at the world, Rothko is clearly an educated man with something gnawing him inside. The slamming door of the studio sounds like the report of a gunshot at times and, even though Rothko ultimately ended his life with a razor, 10 years after the period in the play, this has the feeling of foreboding. Creativity, intensity, and a laser-focused temper make for interesting interactions, as we see Rothko's layers as clearly as in an anatomy textbook.
Upon their first meeting, Ken is buffeted with questions that seem like lashes from a whip. Harrison suffers those questions as physical blows. There is no preamble: Rothko jumps right in to molding this young person into the assistant he requires. Harrison's Ken works to puzzle out the master, as he's doing the support work that permits Rothko's creativity to purr. Ken realizes he's getting life lessons and he's learning about more than painting. He starts his career in Rothko's studio as a pupil, but over the course of time becomes a student–daring to strike back at his mentor. Rather than firing him, Rothko tells Ken he has finally begun to exist.
As in one of Bach's Partitas, there are different rhythms to each section, different dances that share the same theme. The musical selections that accompany these sections become another character at times. This character provides additional illumination to these men and brings out the grain in each. This is a production as rich, passionate and evocative as its title and you must see this show.
"Red" has some great seats available for performances through February 26 at George Street Playhouse. This show is a co-production with the Cleveland Playhouse, where it is going next so act now or buy plane tickets to Ohio! Tickets are available online at www.georgestreetplayhouse.org or call the box office at 732/246.7717.