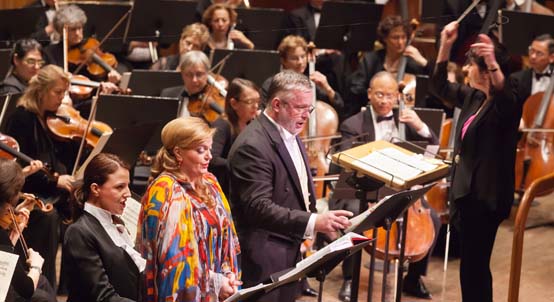 photo by Chris Lee

(Left to right) Geraldine Chauvet (Adriano), Elisabete Matos (Irene), Ian Storey (Rienzi), Eve Queler (conductor)

.......................................................................................................................................................................................
The Metropolitan Opera gave "Rienzi" (1842), Richard Wagner's big and boisterous, Paris-style grand opera, after Edward George Earle Bulwer-Lytton's historic novel (1835), 21 times between February 5, 1886 and February 26, 1890, and never since then. Assuring a local presence for the composer's sprawling third opera, weaving a web of intrigue and conspiracy, and shifting loyalties in the arenas of state and church, romance and the battlefield, have been Founder and Conductor Laureate Maestra Eve Queler and her Opera Orchestra of New York (OONY), with a concert performance at Avery Fisher Hall on January 29, preceded by their ones there on March 3, 1982, with William Johns and Julia Hamari, and at Carnegie Hall, on April 10, 1980, with Edwin Sooter and Hamari, and on March 15, 1992, with Reiner Goldberg, Sharon Graham and, in a cameo role, Dorothea Röschmann.
Rienzi (Cola di Rienzo), a man of the people, is offered the crown of Rome in 1347, much to the patricians' consternation. He declines to be king, reviving for himself instead the ancient Roman title of Tribune, his historic plebian predecessors answerable to no-one and almost as powerful as the Emperors themselves. Rienzi is soon sporting, Wagner's libretto says, "outrageous and pompous garments" ("phantastische und pomphafte Gewänder") and making enemies. Once guaranteed the support of the Church, he winds up excommunicated. His sister, Irene, is torn between loyalty to her beloved brother and to her love, Adriano, son of Rienzi's foe, Stefano Colonna, just as Adriano, a fervent supporter of Rienzi, out of love for his sister, turns against him when the Tribune has Colonna and his co-conspirator, Paolo Orsini, killed.
Queler and OONY kicked off the afternoon in style, with a rousing rendition of the potpourri overture, long a concert favorite. The chorus plays an all-important role here, and the New York Choral Society distinguished itself in its varied assignment, starting with a soaring greeting, hailing, first, a day of peace and, later, Rienzi, under Queler and, following David Ralph's resounding organ solo, an a cappella salute to Rome, led by the chorus' Music Director, John Daly Goodwin.
The pure-toned Vox Nova of the Special Music School, under Emily John, portrayed Peace Envoys (Friedensboten), youthful, all in white, and processing, shoeless, down the house right orchestra aisle. The third act Battle Hymn proved a stirring exercise in surround sound, with brass players stationed in a second tier box and behind the orchestra seats, and a resonant guest men's chorus marching down the aisles to the stage. The Choral Society capped its performance with a powerful final confrontation with Rienzi, before the Capitol tower collapses, killing Rienzi, Irene and Adriano.
The three leads, Ian Storey as Rienzi, Elisabete Matos as Irene, and Géraldine Chauvet as Adriano, harmonized mellifluously on a patriotic anthem early in Act One. Storey, a Tannhäuser, Tristan and Siegfried from the United Kingdom, making his OONY and Lincoln Center debut, displayed a durable instrument, with neither the leathery tone of the sort of functional tenor often paired with Birgit Nilsson in a pinch, nor the fresh lyric sound Jay Hunter Morris has been spoiling us with as the Met's new Siegfried, but lent, rather, fair lyricism to his fifth act showpiece, the prayer "Allmächt'ge Vater, blick herab!" (Almighty Father, look down upon me.) Matos' top notes rang out over all, in the opening abduction scene, and her robust dramatic soprano made a fine foil for Chauvet's smooth mezzo-soprano is their duets of love and, later, renunciation. Chauvet stopped the show with her triumphant third act bravura scena, "Gerechter Gott, so ist's entschieden schon! … In seiner Blüte bleicht mein Leben" (Just God, it is decided then … My life, in full bloom, is fading), with its long, florid, Bellini-influenced lines. After Colonna's death, Chauvet forcefully denounced Rienzi, at the end of the act and, in Act Four, was commanding in her stately vow of vengeance. Storey and Matos also joined voices for a final duet, about how his true love, Rome, had turned on him, while his sister stood by him.
The company made the second act concerted number, a septet and chorus, with the three principals; Philip Horst and Ricardo Rivera as conspirators Colonna and Orsini, and Jonathan Winell and Shannon DeVine, as Rienzi's allies, Baroncelli and Cecco del Vecchio—who later turn against him—all making strong showings, into a truly grand finale for the first half of the opera. Emily Duncan-Brown sang sweetly as a solo Peace Envoy and Brandon Cedel, as Raimondo, the Papal Legate, completed the cast.
There were, of necessity, cuts made within the scenes, and the ballet omitted entirely, to keep "Rienzi," its five acts played with one intermission, to a reasonable three-and-one-half-hour running time.
Next on Opera Orchestra's agenda, on March 7, at Avery Fisher, is a concert performance of Giuseppe Verdi's "Simon Boccanegra," with Plácido Domingo as the Doge, and Ana Maria Martinez, Massimo Giordano, Giacomo Prestia, and Marco Caria, paced by OONY Music Director Alberto Veronesi. For tickets from $35 to $165, visit www.operaorchestrany.org or telephone OONY at 212/906-9137.