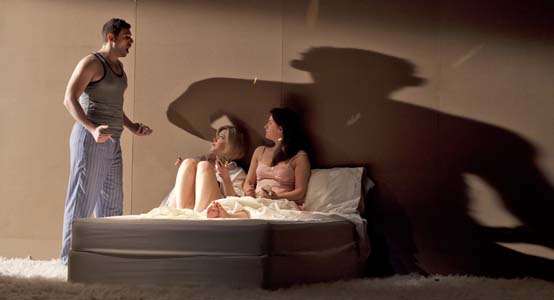 photo by Richard Termine

Michele Angelini as Scipione, Susannah Biller as Fortuna & Marie-Ève Munger as Constanza

.......................................................................................................................................................................................
Gotham Chamber Opera celebrated its 10th anniversary by reviving the work with which it opened, the teenage Wolfgang Amadeus Mozart's serenata (serenade) "Il Sogno di Scipione," to a Pietro Metastasio libretto, at the Gerald W. Lynch Theater at John Jay College, for six performances in April, staged and designed by the team responsible for the company premiere, Christopher Alden (director), Andrew Cavanaugh Holland (sets), Fabio Toblini (costumes), and Allen Hahn (lighting). Neal Goren paced the sextet of young singers—three tenors and three sopranos—who proved amazingly adept at negotiating their fiendishly demanding, bravura roles. The opening night performance, on April 11, is discussed here.
Scipione (tenor Michele Angelini), soon to become Emperor of Rome, dreams that the goddesses Fortuna (Fortune—soprano Susannah Biller) and Constanza (Constancy—soprano Marie-Ève Munger) are vying for his allegiance. His heroic ancestors, Publio (tenor Arthur Espiritu) and Emilio (tenor Chad A. Johnson), appear to him, appealing to him not to forget them, but the more essential message of deities and forebears is that Scipione still has work to do, i.e. conquering Africa.
In Alden's production, seemingly set in the 1950s, not too many years after the end of World War Two, images from popular culture—movies and black and white television—help tell the tale and the action takes place in a then trendily stark suburban home. Scipione wakes up to find the goddesses, blonde Fortuna and brunette Constanza, sharing his bed with him. He needs a cigarette, but there is that first high, florid aria ahead. Fortuna shows her diversity by portraying, in quick succession, a bathing beauty, Bettie Page flagellating herself, a sexy cowgirl, and a fantasy Catholic school girl. Later, the height of '50s chic, she wheels in a serving cart and dispenses cocktails to the ensemble. After discussion of the eerily beautiful music of the spheres, here the globes that light Scipione's room, Constanza makes her case, firing off stratospheric fioritura, while lying flat on her back beneath those globes, and asserts ascendancy and steadfastness in a later aria as well. Scipione is taken aback when the chorus appears at his window to summon and hail him, as he is when his worse-for-wear, wounded war hero ancestors enter through his mirrored armoire, Publio, hobbling in on crutches, and Emilio, in a wheelchair, wheeled in by a nurse (Maeve Höglund, in a non-singing role), who gives a rather stimulating massage. When Emilio refers to the Earth and its people as a "misero teatro" (miserable theater), the lights come up on us, the audience. Agile Angelini observes a good part of the proceedings from atop the armoire. When he makes his choice in favor of Constanza, Fortuna has a 'mad scene,' and the two women tussle in a hair-pulling, slapping, and screaming brawl, before making a sisterly peace. Scipione, now Rob Petrie, wearing a suit, clutching a briefcase, and bound for the train to take him to work, leaves through a wall, from which Licenza (License—soprano Rachel Willis Sørensen) enters—she's been shopping—to reassure us that, though the tale appears to be about Scipione, it's really all about us. The ensemble joins her before the curtain to echo her sentiments.
Remaining performances of "Il Sogno di Scipione" are, at this writing, on April 13 at 8 p.m., 15 at 3 p.m., and 17, 19, and 21 at 8 p.m. Purchase tickets, priced from $30 to $125, on line at www.ticketcentral.com or by telephoning 212/279-4200. John Jay College is located at 524 West 59th Street, at 10th Avenue.