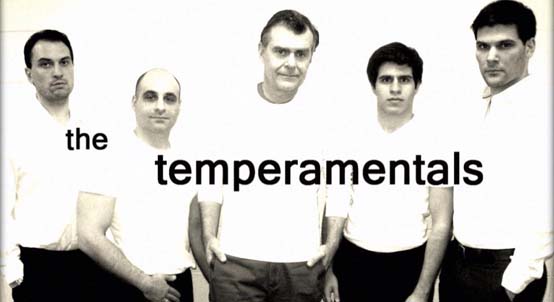 photo courtesy of Alliance Repertory Theatre and Edison Valley Playhouse

cast of "The Temperamentals"

.......................................................................................................................................................................................
Edison Valley Playhouse's latest offering is Alliance Repertory's production of Jon Marans' "The Temperamentals." Taking its title from one of the many euphemisms for male homosexuals in the early part of the last century, the play is a neat survey of United States' gay history, pre-Stonewall. Yes, I said it–there were gay people coast to coast long before Sylvia Rivera threw the stiletto heard 'round the world. The person who brought out an entire community was Harry Hay. This play is only in performance until April 7 and it is a must-see for Temperamentals and those who love us.
Many Temperamentals think of June as high Pride Season and certainly all over the country preparations have begun for celebrations of "our" culture all over this country and around the world. But are LGBTI people proud only one day or one month a year? What is life like for people who are more alike than different to the population at large? One need only read the headlines of regarding Tyler Clementi and Trayvon Martin to see that hatred and bullying of any "other" are still rampant. How much more so was this the case where sexual minorities, as Hay referred to the gay community, did not have the visibility and support available today? And how did Hay get the inspiration and the strength to begin what is now a world-wide movement?
Hay was born in April 1912 to Harry, Sr., a mining engineer and a man determined to make a man of his son, and Margaret, a woman who loved the arts and was determined her children would be mannerly and civilized. Hay was born in England, and then his parents moved to Chile, and ultimately California, where as Hay grew up, he was exposed to both the Marxist principles of the Communist Party as well as the cruisy atmosphere of Pershing Square.
Rudi Gernreich was about ten years younger than Hay and was very much his own man by the time they met. Gernreich's family had been in Auschwitz and there were some injustices that were worth the danger of activism. When Hay showed Gernreich his manifesto, what Hay referred to as "The Call," Gernreich said it was the most dangerous document he had ever read. Gernreich's vision was always on the future whether with his designs for film and television—like the Moonbase Alpha costumes for "Space 1999"—or for the runway—his Monokini is in the Met's Costume Collection. The wheels were set in motion for the formation of what came to be known as the Mattachine Society, a group that took its name from court jesters and fools who could criticize ruling parties with impunity and the first test of this nascent group was the trial of Dale Jennings. Whether or not this information is new to you, you need to see this play.
Storytelling is about the warm connection between those telling the story and those receiving it. Director David Christopher brings Marans' vision alive with a very talented team of actors. James Morgan is Harry Hay and illuminates the role with the fire of someone born to lead. Morgan plays Harry as just on the tipping point of being overzealous, yet just radical enough to inspire his colleagues who have the same thirst for change and the same sense of timing. Dustin Ballard is Rudi Gernreich, with the perfect intonation and lilt for his charming Teutonic accent and turn of phrase. Rudi is both catalyst and support for Harry and you'll feel on a first name basis as well when you enter this world. Three actors take on multiple roles throughout, including Alliance Rep member Gus Ibranyi, playing Bob Hull, Eddie Capuano as Dale Jennings, and Michael Lasry as the bespectacles Chuck Rowland. Bob is a bit queen-y and he and Chuck were lovers back home in Minnesota prior to moving to California. Dale and Bob have a relationship that ends badly for Dale, precipitating his entrapped arrest in a California men's room. When these five founders of the Mattachine come together to discuss strategy, they decide that Dale will plead "Not Guilty," a break from previous practice on its own, but will come out as homosexual to show that police were taking advantage of men, who would do nearly anything to stay out of the public eye, when accused of public lewdness, which everyone knew was code for homosexual activity. Dale's bravery and the support of his friends made groundbreaking news that unbeknownst to many have literally set the stage for advances made today–about two decades and the breadth of a country before Stonewall ever happened. Ibranyi, Capuano, and Lasry should get whiplash from how quickly they change characters and costumes, but in the best Shakespearean tradition, they are chameleons moving effortlessly among personas and even a pause has punch in this brilliant work.
David Munro's set is reminiscent of the late '40s/early '50s and the clever use of posts, set with what look like destination signs at crossroads, help define the scenes for the audience who do not know the particulars of the play or the history behind it. For those who saw the play in 2009 or 2010 across that mile-wide Hudson, this production has several aspects that make it special, but you'll need to meet me there to see for yourself.
Tickets are available via Edison Valley Playhouse' site: http://www.evplayhouse.com/ or you can telephone 908/755-4654. Remember, the play only runs through April 7, so make your plans now. I'll see you there!