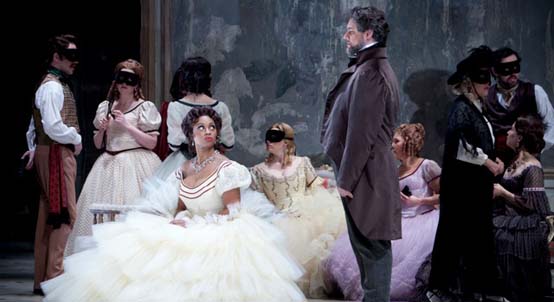 photo by Pavel Antonov

Laquita Mitchell & David Pomeroy in "La Traviata," Act Two, Scene Two
.......................................................................................................................................................................................
This listener, for one, is relieved that the New York City Opera (NYCO), for all its problems, is having a season after all, and is not at all displeased to have the company in residence at Brooklyn Academy of Music this month, instead of at the Lincoln Center theater, formerly known as the New York State Theater, which now bears the name of an avid Tea Party supporter. First, the acoustics in the Howard Gilman Opera House are excellent and, second, I'm quite thrilled to have NYCO in, more or less, my own neighborhood.
Opening day of the NYCO season was on February 12, the work was Giuseppe Verdi perennial "La Traviata" and, far from feeling hackneyed, the well-sung performance boasted immediacy and vitality aplenty, as guided by conductor Steven White and directed and choreographed, in Jonathan Miller's production, by Elena Araoz.
Laquita Mitchell made an affecting Violetta Valéry, and was particularly moving in "Sarò là, tra quei fior … Amami, Alfredo," her farewell to Alfredo, unbeknownst yet to him, in Act Two, Scene One; "Alfredo, Alfredo," after he publicly insults her, in the next scene; and "Addio! del passato!" (one verse), when she's close to death, in Act Three. While Mitchell's Violetta laughed at her Alfredo's protestations of great affection, when she first met him, there was warmth behind the laughter. She smiled as she thought of him during "È strano" and "Ah, fors' è lui" (also one verse), her recitative and cavatina at the end of Act One, which she sang lyrically and delicately, though underpinnings of darker hues in her soprano were already evident. She unleashed that honeyed, duskier tone fully in "Follie! follie!" and "Sempre libera," her next recitative and bravura cabaletta, without any consequent impediment to her florid singing. No high E-flat capped the scena, but the high Cs near the end of the aria sufficed. In her duet with Giorgio Germont, in Act Two, Scene One, and elsewhere, Mitchell did not hesitate to sing with her back to the audience—something of a trademark of Beverly Sills, who was this operaphile's first NYCO Violetta—but could always be heard.
In second act cavatina "De' miei bollentì spiriti" and cabaletta "Oh, mio rimorso" (one verse, with no concluding high C), lyric tenor David Pomeroy, making his NYCO debut, as Alfredo Germont, displayed a tendency to explode onto some notes just above the passagio, that is, some moderately high notes, but they made their mark and sounded secure nonetheless. Pomeroy's denunciation of Violetta at Flora Bervoix's party, "Ogni suo aver tal femmina," was especially ringing. Duets between Mitchell and Pomeroy, "Libiamo" and "Un dì, felice," in Act One, and "Parigi, o cara," in Act Three, were outstanding, with their florid passage together, in the second of these, meriting mention in particular. White paced their heated confrontation, "Mi chiamaste? Che bramate?" in Act Two, Scene Two, and excited last encounter, "Amato Alfredo!/Mia Violetta! Oh gioia!," in Act Three, notably briskly, which helped give these pages their requisite tautness and tension.
After his initial apt belligerence and gruffness with Violetta, Stephen Powell, as père Giorgio Germont, disclosed lyric sensitivity in his "Pura siccome un angelo," when singing about his daughter, Alfredo's sister, and "Un dì, quando le veneri … Siate di mia famiglia/L'angiol consolatore," as he worked at convincing Violetta to leave his son. The high tessitura of "Di Provenza il mar, il suol" (shorn of cabaletta "No, non udrai rimproveri), his melting guilt trip to Alfredo, did not faze Powell.
Karin Mushegain (debut) and Jennifer Tiller gave their Flora and Annina, respectively, a bit of an edge, which aided in making them distinctive. Worthy contributions also came from John Maynard as Baron Douphol, Kenneth Overton as Dr. Grenvil, and Krassen Karagiozov as the Marquis d'Obigny, all making NYCO debuts, and from Jeffrey Halili as Gastone, Viscount de Letoriéres. The Act Two, Scene Two Spanish gypsy and bullfighter entertainment was sung and danced by the soloists and chorus, with no corps de ballet in sight, which was fine. Miller favors shades of white and gray for his productions and these characterize Isabella Bywater's sets and costumes, with Violetta's Act Two, Scene Two ball garb more white wedding dress than drop-dead dark gown. After New Yorkers have gotten used to some lavish Franco Zeffirelli trappings for "Traviata," the gray walls, with some mirrors and chandeliers, looked rather low-key, but were actually sufficient, though Violetta's sad bedroom, after her health and fortunes have declined, differed little from the earlier ballrooms.
Remaining performances of "La Traviata," at BAM, at this writing, take place on February 14, 16 and 18 at 7:30 p.m. The local premiere of Rufus Wainwight's "Prima Donna," starring Melody Moore, Rebecca Bottone, Taylor Stayton, and Randall Turner, conducted by Jayce Ogren, follows on February 19 at 1:30 p.m. and 21, 23 and 25 at 7:30 p.m. The season continues with Wolfgang Amadeus Mozart's "Così Fan Tutte," at the Gerald Lynch Theater at John Jay College, in Christopher Alden's new production, on March 18, 20, 22 and 24, and the company premiere of Georg Philipp Telemann's "Orpheus," at El Teatro del Museo del Barrio, on May 12, 15, 17 and 20. For tickets, visit www.nycopera.com or telephone 212/870-5600.