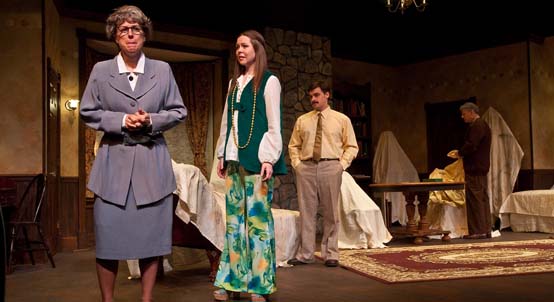 photo by Warren Westura

scene from "Veronica's Room:" Cissy's Dead

.......................................................................................................................................................................................
Charlotte Perkins Gilman wrote her classic story "The Yellow Wallpaper" in 1892. A woman was taken by her husband for a "rest cure," for her depression, at a summer house that they rented. She was locked in a room where she was forbidden to read, write or do anything but rest. Whether or not Ira Levin's classic chiller "Veronica's Room" is influenced by this proto-feminist story remains to be seen, but there are marked similarities between the two.
We are in New England, circa the 1970s, when the curtain opens on a home that was likely built around the end of the Gilded Age. It looks like a perfectly preserved museum room that time has somehow forgotten. Maureen and John are an elderly couple (Deborah Whitfield and Rick Delaney), who have met Susan and Larry (Rosemary Glennon and Michael Manahan) in a restaurant and remarked upon Susan's resemblance to their employers' daughter, who is now deceased. They have convinced Susan and Larry, against Larry's better judgement, to show them a photo of Veronica, the daughter whom this modern era young woman resembles. Surely enough, Susan does bear a striking resemblance to the deceased Veronica and John and Maureen convince her portray Veronica for a visit to the dying sister, who still believes her to be alive. Cissie is 56 but, dying of cancer, she has regressed back to 1935, when she thinks she and Veronica are teenagers and Veronica is angry at her, forbidding Cissie to see her. Here the story begins its dizzying headlong descent down the slippery slope into the maw of madness.
Susan is a modern young woman, much like Levin's Johanna Eberhardt in "The Stepford Wives." She is a progressive, forward-thinking woman, in charge of her destiny and assured of her strong place in the world. She's got everything figured out. Who among us didn't feel bulletproof during our twenties? The world and the worm turn, however, and even good people end up in bad situations despite their best efforts. You can almost sense the Fates weaving and measuring Susan's final lengths of life, and you wait for the scissors to make a final cut. I guarantee you will not see the end when it comes–and this play will leave you buzzing all the way home.
Madness spins through the different chapters of a life. The convoluted paths of the brands of madness in this show keep turning and re-turning back on themselves, like a Moebius strip, or an Escher drawing. No matter where you put the finger of your mind's eye to trace the origin, you always return to where you began. Therein lies the genius of Ira Levin and of this Bickford Theatre production.
Tickets for this Bickford classic are available for performances through February 12, via www.MorrisMuseum.org. While you're there, be sure to visit the Art of the Brick exhibit. I'll see you there!